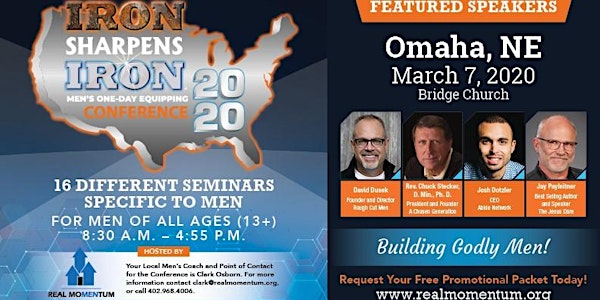 2020 Iron Sharpens Iron Men's Equipping Conference Omaha, NE
When and where
Location
Bridge Church 3223 N. 45th Street Omaha, NE 68104
Description
Iron Sharpens Iron is a 1-Day Equipping Conference for Men. The day will include national keynote speakers, masculine worship, 16 different equipping workshops led by leaders from all over the country, and resources specific to men. Men register and attend with other men from their church.
At the end of the day, men are challenged in every area of their life and leave inspired, challenged and better equipped to lead their families, churches, and communities.
Request your church promotional packet today!
https://interland3.donorperfect.net/weblink/weblink.aspx?name=ironsi&id=2
You don't want to miss this!
Here is a list of the seminars that will be presented at the conference:
Rob Thorpe All In Marriage Spiritual Warfare: Winning the Battles Against Your Marriage and Family
Jay Payleitner The Jesus Dare What Your Wife Needs From You
Chuck Stecker A Chosen Generation The Power of a Father's Blessing
David Dusek Rough Cut Men What's Your Story?
Art Remington Promise Keepers Locking Arms and Shields as One
Steve Demme Building Faith Families How to Get Started Having Regular Times of Family Worship
Jack Ward Rugged Faith Ministries Using Outdoor Adventure to Disciple Men
Rob Thorpe All in Marriage The Marriage You've Always Wanted
Art Remington Promise Keepers Locking Arms and Shields as One
Clark Osborn Real Momentum How to Effectively Reach the Men in Your Church
Jay Payleitner The Jesus Dare 26 Things Kids Need From a Dad
Dave Howe Live Pure Ministries Winning The Purity Battle
David Dusek Rough Cut Men Batter Ready Brotherhood
Chuck Stecker A Chosen Generation Creating an Inter-Generational Ministry to and Through Men of all Ages
Steve Demme Building Faith Families Tips For Being A Faithful Dad