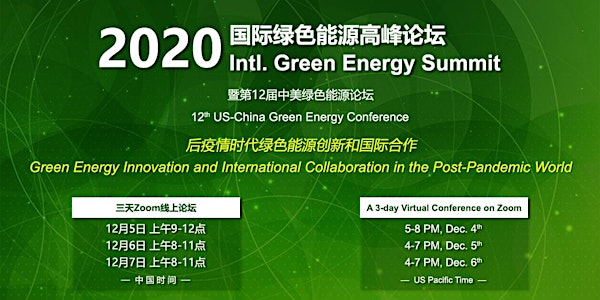 2020 International Green Energy Summit
Green Energy Innovation and International Collaboration in the Post-Pandemic World
About this event
This 3-day virtual summit has invited prominent speakers worldwide to discuss how to achieve a sustainable recovery from COVID-19 crisis in the near term, as well as how to deal with the more serious challenge of climate change in the long run. Technology innovation and international collaboration are two most important enablers to solve both issues.
The Summit's keynote speakers include:
Steven Chu, Nobel Laureate, Former U.S Secretary of Energy, Chairman of AAAS;
Stanley Whittingham, 2019 Nobel Laureate, Founding Father of Rechargeable Li-ion Battery, Member of U.S. Academy of Engineering
Shi, Dinghuan, Former China's State Councilor; Former Chairman of China Renewable Energy Society;
Qili Huang, Academician of Chinese Academy of Engineering
Robert Weisenmiller, Former Chairman of California Energy Commission; Advisor of US-China Green Energy Council
C.C. Chan, Fellow of U.K. Royal Academy of Engineering, Academician of Chinese Academy of Engineering, Founding President of World Electric Vehicle Association
Drew Kodjak, Executive Director of International Council on Clean Transportation
Key topics will be covered in the Summit, including but not limited to:
Global energy outlook
Trend on clean energy technology development
International collaboration on climate change
Carbon neutrality
Next generation of Li-ion battery
Energy Storage
Energy Internet
Intelligent transportation
Zero Emission and autonomous vehicle
More….
Summit Program:
Day 1: Opening remarks and keynote speeches
Day 2: Keynote speeches and global decarbonizaton forum
Day 3: Keynote speeches, clean transportation and energy storage forum
U.S. West Coast Time:
Day 1: 5:00-8:00 PM, Dec. 4th, 2020
Day 2: 4:00-7:00 PM, Dec. 5th, 2020
Day 3: 4:00-7:00 PM, Dec. 6th, 2020
中国时间:
第一天:12月5日 上午9点 - 12点
第二天:12月6日 上午8点 - 11点
第三天:12月7日 上午8点 - 11点
The Zoom link will be sent to you after registration.
Get more detail, please visit our website: http://www.ucgec.org/events/2020iges
** Day 1 **
Opening Remarks
Moderator: Michael Hsieh, Vice President of UCGEC
Eleni Kounalakis, Lieutenant Governor of California
Shu, Yinbiao, President of International Electrotechnical Commission, Chairman of China Society for Electric Engineering, Chairman of China Huaneng Group Co., Ltd
Jeffrey Sachs, President of the UN Sustainable Development Solutions Network, Former Advisor to UN Secretary-General, Professor at Columbia University
Kang, Chongqing, Chairman of Energy Internet Research Institute, Tsinghua University
Paolo Frankl, Head of the Renewable Energy Division of International Energy Agency
Qi Wang, CEO of US-China Green Energy Council
Keynote Speech:
Moderator: Liang Min, Board Director of UCGEC
Steven Chu, Nobel Laureate, Former U.S. Secretary of Energy, President of American Association for the Advancement of Science, Professor at Stanford University
Stanley Whittingham, Nobel Laureate, Member of National Academy of Engineering, Distinguished Professor at Binghamton University (SUNY)
Fireside Chat with Nobel Laureates
Moderator: Qi Wang, CEO of UCGEC
Keynote Speech:
Shi, Dinghua, Former President of China Renewable Energy Society, Former Counsellor of the China State Council
Huang, Qili, Member of Chinese Academy of Engineering, Senior Advisor to China State Grid Corp.
** Day 2 **
Forum 1: Global Decarbonization Forum
Moderator: Michael Hsieh, Vice President of UCGEC
Keynote Speech:
Robert Weisenmiller, Former Chairman of California Energy Commission, Senior advisor to US-China Green Energy Council
Paolo Frankl, Head of the Renewable Energy Division of International Energy Agency
Panel Speeches:
Zhang, Xiliang, Executive Director of the Institute of Energy, Environment and the Economy, Tsinghua University.
Kaina Pereira, Senior Advisor, Business Development and International Trade, California State Government
Gao, Feng, Deputy Director of Energy Internet Research Institute, Tsinghua University
Ma, Zhao, Chair Professor of Shandong University, Special Expert of China EPRI
James Caldwell, President of E3 Regenesis Solutions, Inc, Chair of Smart Eco-city Task Force, US-China Green Energy Council
Panel Discussion
Moderator: Liang Min, Board Director of UCGEC
** Day 3 **
Forum 2: Clean Transportation and Energy Storage Forum
Moderator: Mengning "Frank" Zhou, Vice President of UCGEC
Keynote Speech:
C.C. Chan, Fellow of the Royal Academy of Engineering, U.K. and the Chinese Academy of Engineering
Drew Kodjak, Executive Director of International Council on Clean Transportation
Panel Speeches:
Tyson Eckerle, Deputy Director of Zero-Emission Vehicle, California Governor's Office
Tony Han, CEO and co-founder of WeRide.ai
Rajit Gadh, Founder & Director, UCLA Smart Grid Energy Research Center and UCLA Connected Autonomous Electric Vehicle Consortium
Yunshi Wang, Director of the China Center for Energy and Transportation, University of California at Davis
Sean Yan, CUSPEA Institute of Technology
Panel Discussion
Moderator: Qin Wang, Vice President of UCGEC