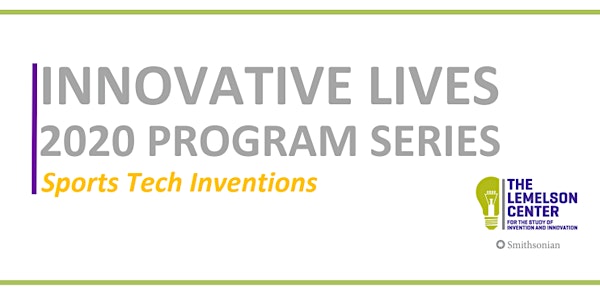 2020 Innovative Lives Series
Location
Smithsonian National Museum of American History
1300 Constitution Avenue NW
Washington, DC 20001
Description
***POSTPONED***
As a public health precaution, the Smithsonian is postponing or canceling all public events, programming and gatherings through June 1, 2020. We appreciate your understanding.
The Lemelson Center is working to reschedule the April 1 and May 6 programs for later dates in 2020 TBD. If you have not done so already, please consider subscribing to the Lemelson Center newsletter to be the first to know about rescheduled and upcoming programs: https://americanhistory.si.edu/connect/email-newsletter.
At this time, all Smithsonian museums and the National Zoo are temporarily closed. We are closely monitoring the coronavirus situation. The health and safety of our visitors and staff are a top priority, and we are monitoring the guidance of local public health officials and the CDC. Please consult our calendar of events, museum websites and si.edu for the latest updates.

---
The Lemelson Center's award-winning public program series, Innovative Lives, brings diverse audiences face-to-face with inventors and innovation leaders. Typically held on the first Wednesday of the month in Coulter Plaza at the National Museum of American History (NMAH), Innovative Lives programs feature inventors, innovators, and entrepreneurs from diverse technical and business fields speaking about their pioneering work and careers, including inspirations, successes, and challenges, all while framing a discussion around how members of the public can participate in innovation.
Full List of Event Dates and Speakers:
FEBRUARY 5: Adaptive Skateboarding, WCMX, and Inventing Your Own Path with AARON FOTHERINGHAM, OSCAR LORETO JR, and DAN MANCINA
MARCH 4: Jogbra inventors LISA LINDAHL, HINDA MILLER, and POLLY PALMER SMITH
*POSTPONED* APRIL 1: Quickie Wheelchair inventor MARILYN HAMILTON
*POSTPONED* MAY 6: Paralympic skier SARAH WILL
*NEW DATES TBA
Registration for each program is free but required. All ages are welcome.
Doors for each program will open at 6:00 p.m. at the Constitution Avenue entrance to the National Museum of American History.
A light reception will begin at 6:00 p.m. and conclude at 6:30 p.m.*
Program will begin at 6:45 p.m. and conclude at 7:45 p.m.
*Please note that this program format is new for 2020 - the reception will take place before program begins instead of at the program's conclusion.
The National Museum of American History welcomes visitors of all ages and abilities. American Sign language interpretation will be provided. For all other accessibility services, including real-time captioning (CART), please email nmahprograms@si.edu, or call 202-633-3150. Two weeks' notice is preferred.