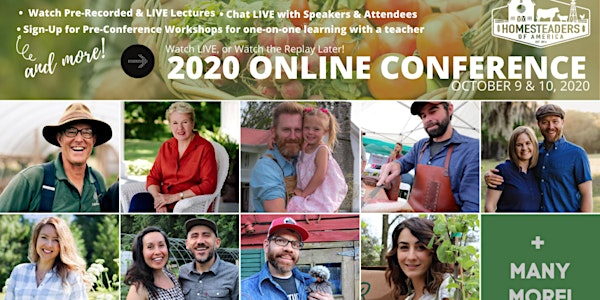 2020 Homesteaders of America Conference
Welcome to the 2020 Homesteaders of America conference!
About this event
Our conference is a two-day event held on Friday and Saturday, October 9th & 10th.
Speaker Line Up
Joel Salatin, Polyface Farms
Rory Feek, singer & songwriter
Justin Rhodes, The Justin Rhodes Show
Sally Fallon Morell, author Nourishing Traditions
Melissa K. Norris, Pioneering Today
Andy Lane & Doug Wharton, Hand Hewn Farm
Jason & Lorraine Contreras, Sow the Land
Darryl Patton, The Southern Herbalist
Kaylee Richardson, The Honeystead
Katie Millhorn, The Millhorn Farmstead
Alexia Kulwiec, Farm to Consumer Legal Defense Fund
Greg & Travis Key, Hoss Tools
Jason Smith, Cog Hill Farm
Find out more about the 2020 Homesteaders of America conference HERE.
Conference Sponsors
A big thank you to our sponsors for making this event possible!
Refund Policy: No refunds