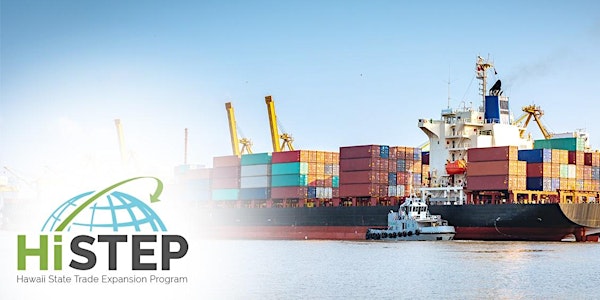 2020 HiSTEP Kick-off Seminar Maui!
2020 HiSTEP Kick-off Seminar Maui!
When and where
Location
Maui Research Technology Center: Suite 159 590 Lipoa Parkway Kihei, HI 96753
About this event
Are you interested in new opportunities to boost your business with export training and assistance for YOUR target markets?
Please join us to learn more about the 2020 Hawaii State Trade Expansion Program, also known as HiSTEP. The program is designed to assist small businesses in Hawaii with growing their export business in markets around the world.
The HiSTEP program has three key components that you will learn about in the seminar:
1. Export Readiness Program – training and mentoring
2. Company Assistance – awards up to $7,500
3. Hawaii Pavilions – support at major trade shows
The Export Readiness Program (HiSTEP-ERP) will help you to begin or expand your export market development through training and mentoring. The Company Assistance component (HiSTEP-CA) provides Hawaii companies with export development funds up to $7,500. Finally, companies are supported through Hawaii Pavilions (HiSTEP-HP) at major trade shows such as the Tokyo International Gift Show.
The world is open for your business, so come learn how you can start or further develop your export strategy!
HURRY! SPACE IS LIMITED - Secure your place at the 2020 Kick-off Seminar and register today!
Seminar Schedule
November 4, 2019, Monday
8:45am Registration
9:00am Program Overview
10:00am Q&A
10:30am Networking
11:00am Pau
Session Information
Maui Research & Technology Center
Suite 159
590 Lipoa Pkwy
Kihei, Hawaii 96753
Cost: FREE!