The Plaza and Healthcare Association of Hawaii Present the 3rd Annual Hali'a Memory Care Conference - A Day of Virtual Learning
About this event
Join us for our 3rd annual HALI'A MEMORY CARE CONFERENCE featuring nationally and internationally renowned experts in the field of Alzheimer's disease and other forms of dementia.  The HALI'A MEMORY CARE CONFERENCE is designed to provide both care partners and those within the professional community, a unique opportunity to learn more about the latest in dementia research, as well as the medical and non-medical approaches to dementia care, in one setting.  
With a $55 donation to The Alzheimer's Association Aloha Chapter, registrants will receive the follow:
Admission to the Virtual Conference (conference 8a-330p)
5.5 Contact Hours for Nursing and Social Work
Topics and presenters to include:
Moving Evidence-Informed Assessment and Management of Behavioral Symptoms of Dementia into the Real World
Helen Kales, MD, Geriatric Psychiatrist and Chair of the U.C. Davis Department of Psychiatry
The Changing Face of Intimacy and Sexuality
Dan Kuhn, LCSW, Social Worker, Educator, VP of Education at All Trust Home Care
Help and Hope in Alzheimer's and Dementia: The Latest in Brain Health Science
Elizabeth Edgerly, Ph.D., clinical psychologist and Executive Director Northern California/Northern Nevada Alzheimer's Association
All proceeds from the HALI'A MEMORY CARE CONFERENCE will go toward supporting the Alzheimer's Association's Aloha Chapter.
ALZHEIMER'S ASSOCIATION ALOHA CHAPTER
The Alzheimer's Association Aloha Chapter serves the residents of Hawaii, with staff located on Oahu, Maui, Kauai and the Big Island. They help all those facing Alzheimer's disease and other dementias by providing local support groups and educational resources, while advancing crucial research and public policy initiatives.
Mission: To eliminate Alzheimer's disease through the advancement of research; to provide and enhance care and support for all affected; and to reduce the risk of dementia through the promotion of brain health.
Vision: A world without Alzheimer's®.
To find out more about how you can get involved, go to www.alz.org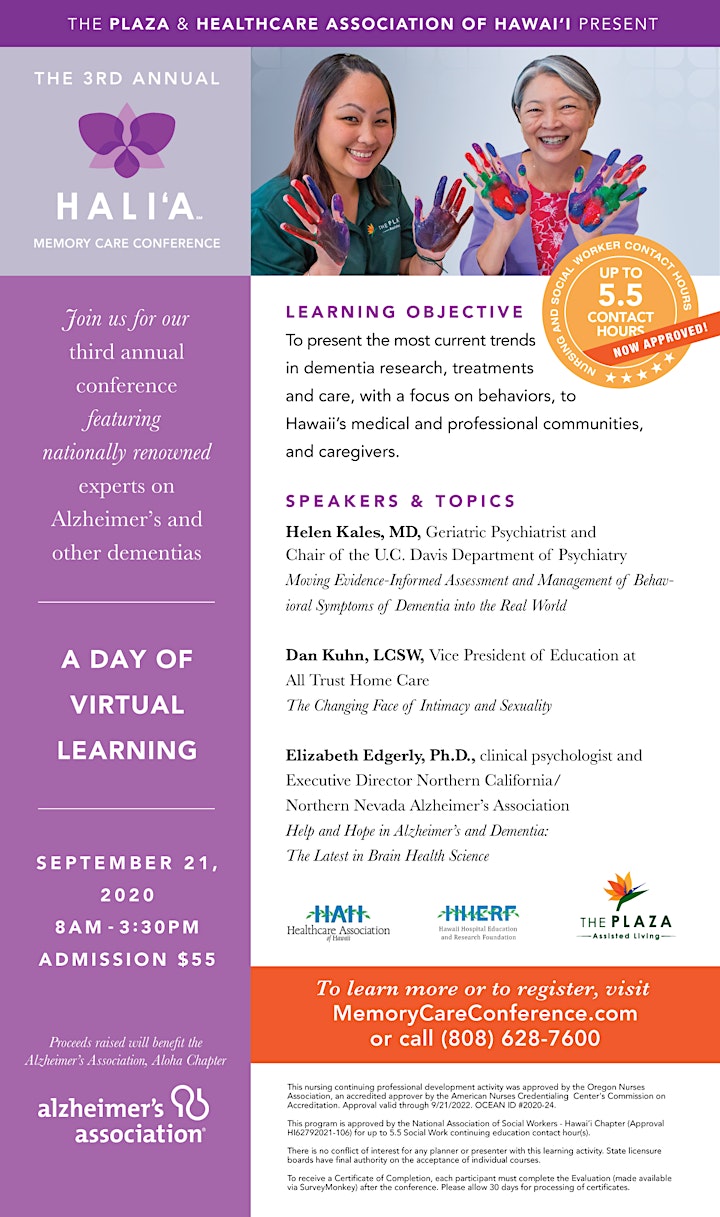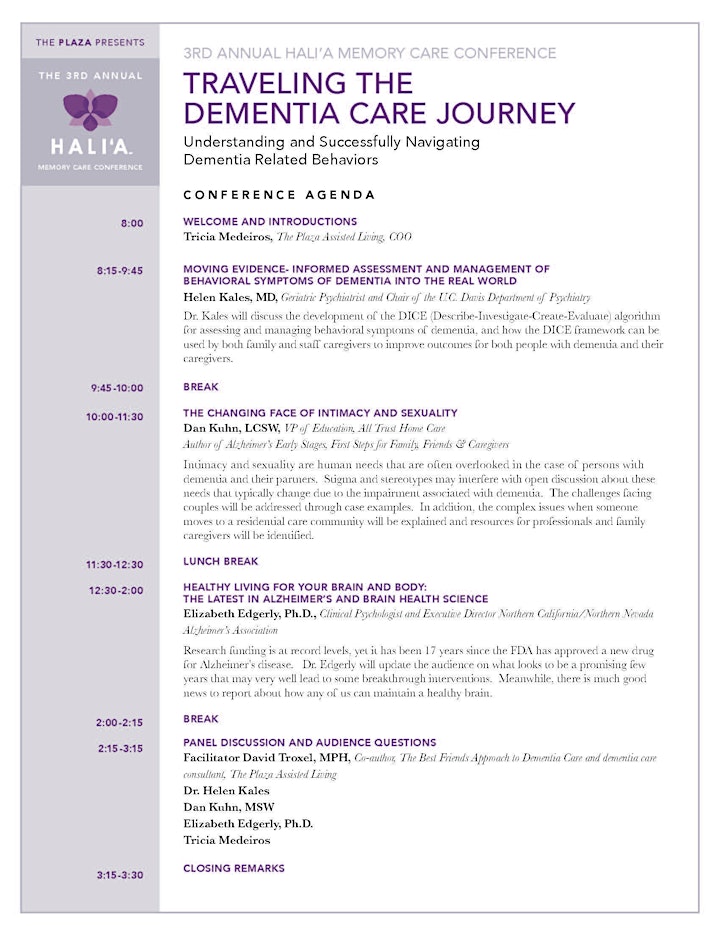 Date and time
Location
Refund policy
Organizer of 2020 HALI'A MEMORY CARE CONFERENCE (VIRTUAL)
The Plaza Assisted Living provides high-quality rental apartment living options for Oahu's seniors, offering residents an array of comprehensive care programs, including Independent Living, Assisted Living and Memory Care.  Since 2004, The Plaza Assisted Living has been dedicated to providing a comfortable, caring and dignified living environment, in which Hawaii's seniors can enjoy their retirement years. The Plaza Assisted Living currently serves Hawaii's seniors from five, soon to be six, senior assisted-living properties throughout Oahu, including Punchbowl, Mililani, Moanalua, Pearl City, Waikiki and Kaneohe (open Summer 2019). For more information, please call (808) 377-5292 or visit www.PlazaAssistedLiving.com.