2020 Hacking Public Health - POSTPONED
Description
#HackingPublicHealth - POSTPONED UNTIL FALL 2020
For one day, undergraduate and graduate students across Harvard and Massachusetts colleges will come together to create new ideas promoting public health. Pick a track / theme, work with a team of peers, and pitch your idea for a chance to win up to $1,000 in your theme and a potential spot in the MGH MESH Incubator.
Enjoy delicious meals, a supportive environment, and a reception to celebrate our hard work!
Curious to learn more? Read about our first-ever event in 2019.
Women, people of color, LGBTQ, service members/vets, and other communities are encouraged to participate. No tech skills required; all levels and disciplines welcome.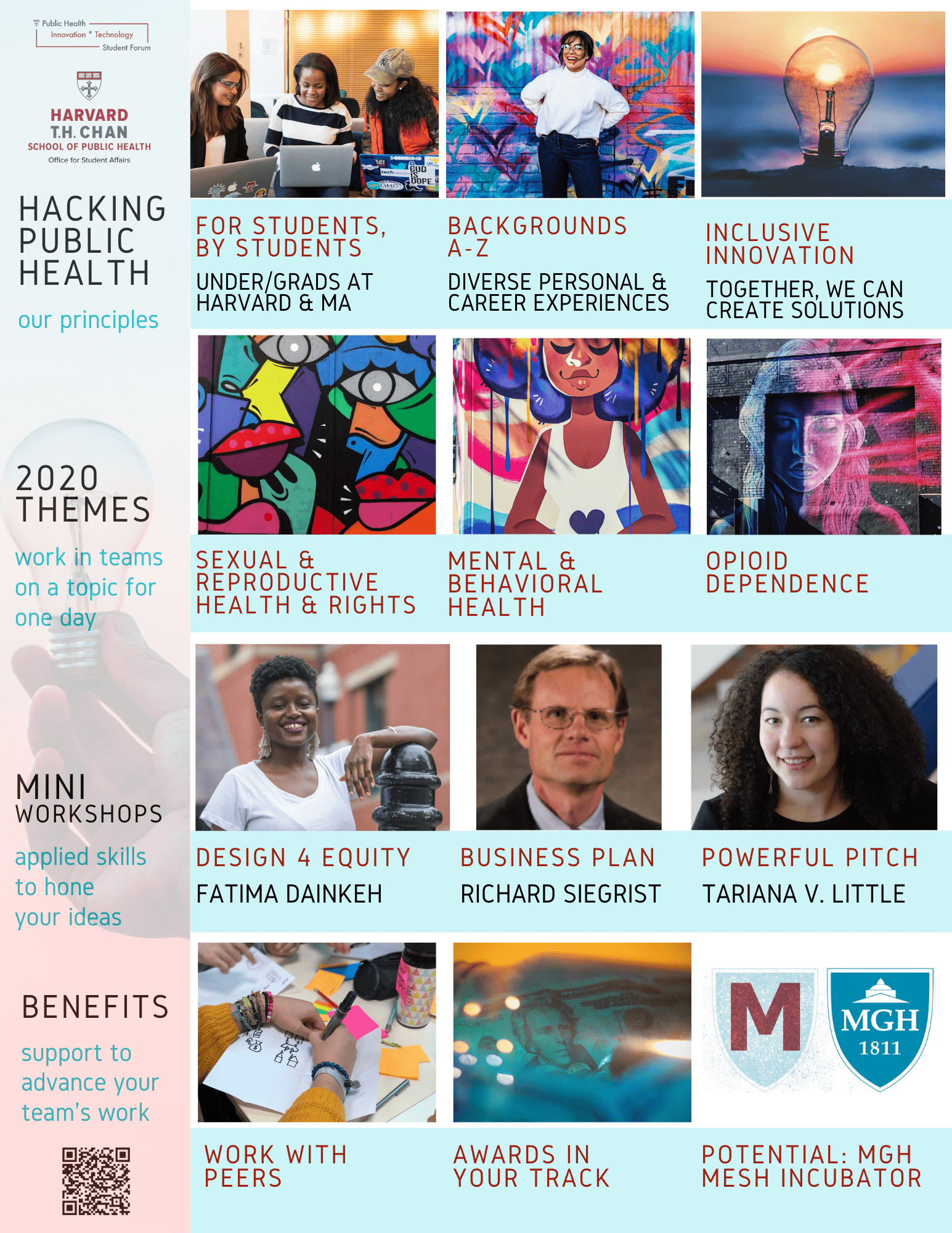 ---

---
Frequenty Asked Questions
What is a hackathon?
A hackathon is an time-bound "invention marathon" where people from different backgrounds come together to learn, build, and share their creations in a supportive setting.
Who can sign up to participate?
Created by students for students, Hacking Public Health is designed for graduate and undergraduate students across Massachussets. We seek representation from all backgrounds ("A-Z") personally and professionally.
Is the event free? When is the deadline to register?
Participating is free, but students must register to confirm your attendance because of the limited number of spots. We encourage you to register as early as possible.
What can I expect?
The day of, you will meet other peers in your track / theme, form teams to brainstorm ideas and design solutions, and pitch proposals in your theme. Students will learn from team mentors, workshop leaders, and judges, and will have the chance to win awards in your theme.
Do I need to have a technical or technology background?
Not at all! We value and need diverse backgrounds and experiences to create a dynamic, collaborative environment where we can all develop ideas to promote public health. We welcome students from a spectrum of tech backgrounds, from none to expert.
What if I don't have an idea?
That's normal. Most people don't have an idea before the event (don't worry about that). Come curious to learn and ready to participate!
Do I need to have a team? How will participants form teams?
You don't need a team to sign up! After hearing other students' pitches, teams will form organically based on people's interest in working on the same idea that was pitched. You can join a team around someone else's pitch or form a team around something that you pitched.
Which track should I participate in?
Rank the tracks according to your interests, skills, etc. - whatever resonates with you! We will do our best to accomodate your preferred theme ranks.
What should I bring to the hackathon? What resources will be provided?
First, bring your enthusiasm! Second, bring a laptop, tablet, or smartphone, etc. - whatever might be useful. We will hold workshops to support your work.
Will food be provided?
We will provide breakfast, snacks, and lunch, followed by a post-event reception. We encourage participants to bring their own snacks too.
How do I connect to a wireless network during the hackathon?
Students can access the Harvard Secure or Guest network.
How do I get to the Harvard T.H. Chan School of Public Health?
We strongly encourage participants to use public transit because HSPH is on the Green "E" Line (stop: Brigham Circle), the #66 bus line, and a 5 minute walk from the HU Shuttle to Longwood. MBTA has an online planning tool to plan your trip.
How can I contact the organizer with any questions?
You can reach us at hackathon@hsph.harvard.edu