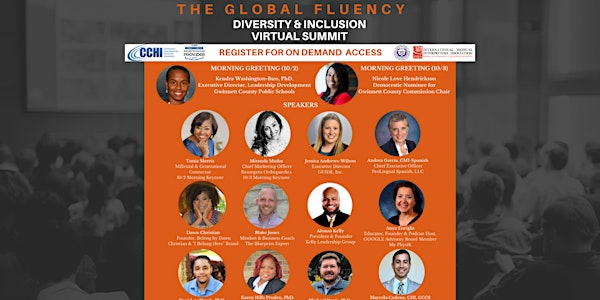 2020 Global Fluency Virtual Diversity & Inclusion Summit - On Demand
Inclusion, Allyship & Belonging: Building Community and Cultivating Corporate Culture
About this event
The 2020 Global Fluency Diversity & Inclusion Virtual Summit is now available ON DEMAND!
Join us for this transformational event to explore a range of topics, while creating a culture of inclusion and belonging. The content will provide everyone from millennials to seasoned professionals with the necessary tools to create, manage and thrive in an inclusive professional environment. Seats are expected to sell out quickly for this event.
So, what does this mean for you?
Well, first - you're invited to attend!
Second - you can enjoy our full speaker line up from the comfort of your own home! (That's more than enough for us, LOL. But, if you need more details, here we go!)
**When you purchase your ticket to the Summit, you will be granted 14-day access to the ON DEMAND event !** So, you have the option of getting to see your favorite speakers multiple times during your 14-day access period!
Still want more? Well alrighty, then! We've got you covered!
This Summit is also eligible for SHRM, NBCMI, CCHI and LPCA CEU credits!
- Expert speakers from across the country
- SHRM, CCHI (approved for 7 CE credits), NBCMI (approved for 4.5 CEUs) and LPCA CEU credits
You bring the coffee and snacks. We'll bring everything else!(P.S. No shoes required... because, well, you'll be attending from home!)