Description
Full Moon Horseback Prairie Chicken Dance Tour
An incredible dawn horseback excursion to the Prairie Chicken Lek is scheduled for three days surrounding the full moon in April, April 6, 7 and 8.
The tour departs at 3:00am from the North Platte Visitors Bureau at 101 Halligan Drive for the Barner Ranch north of Wallace, a drive of approximately an hour. The Visitors Bureau is closed at this time. However, there is a 24-hour service station next door if you need to use the rest room or purchase supplies for the trip. From there you will mount up and enjoy an incredible moonlight horseback ride about five miles to the lek where you will dismount and make your way to the blind. No experience is necessary!
You will be treated to the beautiful night sky as the Milky Way stretches from horizon to horizon, dimmed only by the brilliance of the full moon. Light pollution is minimal, with only faint glows on the horizon marking far away towns. As dawn approaches, the prairie awakens. Crickets will be heard chirping in the grass, Meadowlarks will begin their full throated calls. Families of Coyotes will begin to sing, teaching the pups born earlier in the spring to greet the coming day. And then a low thrumming will begin reverberating through the air. The earliest risers among the Greater Prairie Chickens are getting warmed up for their performances.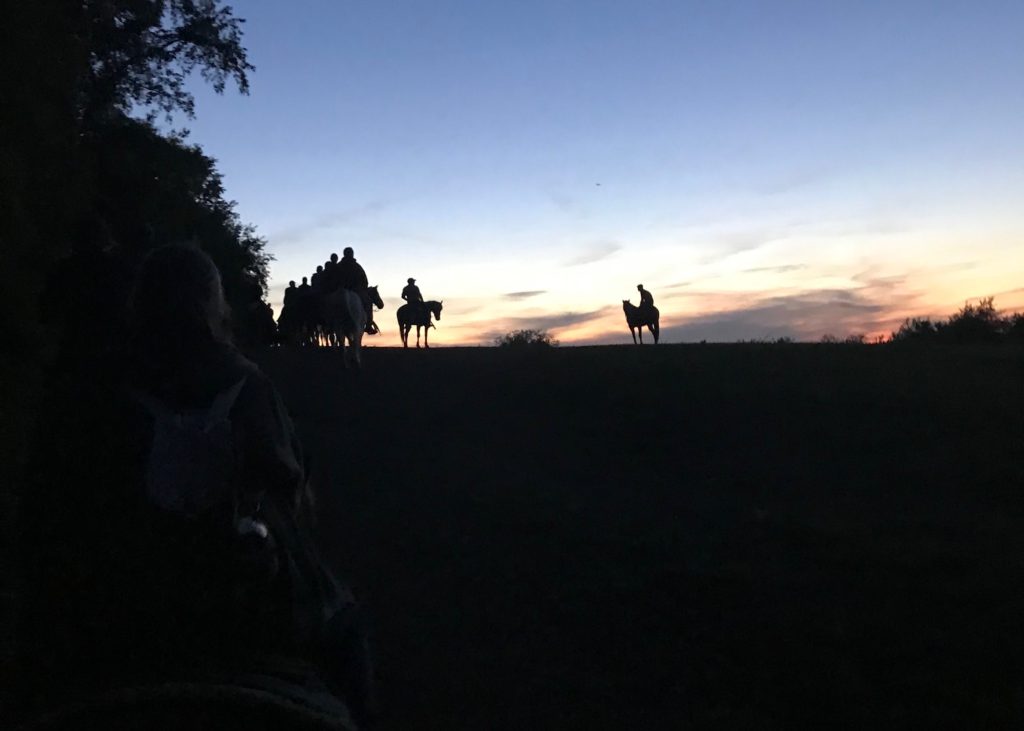 Dusty Trails LLC is North Platte's premiere outdoor outfitter. Each year hundreds of visitors enjoy trail rides through the Buffalo Bill State Recreation Area hosted by Dusty Trails. Girl Scouts from across the state have enjoyed Dusty Trails Trail Rides in areas such as the Halsey National Forest and along Nebraska's Cowboy Trail. Dusty Barner's expertise, the professionalism of his wranglers, and his experienced, gentle horses will make even the most timid rider feel comfortable.
Please dress warmly. Hats, gloves, thermal underwear, heavy outerwear and sturdy boots will be necessary. Because everything must be packed in on horseback, only minimal camera equipment is appropriate on this excursion.
Coffee, juice and breakfast pastries will be served on the bus. Bottled water will be provided at the lek. On the excursion you'll build up an appetite, so you'll be hosted to a hearty breakfast at the Barner Ranch following your adventure. The tour will be back in North Platte at approximately noon.
Tour prices are $250.00 per person for everyone 12 and over. This tour is not appropriate for children age 11 and younger.
The fine print:
Tickets to these excursions are nonrefundable. Refunds will only be made if a particular tour is not held. The tours will go on even in inclement weather unless it gets so bad as to be a safety issue.
Dusty Trails has no control over the wild animals these tours will be viewing or the weather. There are no guarantees as to how many birds will be seen, or what they will be doing

While you're in town for this incredible horseback adventure, be sure to check out these other experiences: