Join us for the virtual 2020 French and Indian War Seminar with world class scholars speaking on various topics related to the time period.
About this event
Due to the unprecedented impact of Covid 19, we are holding a "virtual seminar" this year. All presentations will be online and hosted at Fort Ligonier, where a live panel will also gather for Saturday's final session.
Upon registration, you will be sent a link to log in to the online session that start at 10 AM on Saturday. We have reduced the registration fees accordingly, but want you to know that all proceeds above the costs of this event will be donated to our partner historic sites: Jumonville, Fort Ligonier, the Braddock's Battlefield History Center, and Fort Necessity National Battlefield. With loss of visitor revenues, this year more than ever, it is vitally important that we do so.
Speakers include:
Dr. Michael McConnell - Michael is History Professor Emeritus at the University of Alabama--Birmingham. A native of Western Pennsylvania with a lifetime interest in the French and Indian War, he is the author of "A Country Between: The Upper Ohio Valley and Its People, 17241774" (Nebraska, 1992), "Army & Empire: British Soldiers on the American Frontier, 1758-1775" (Nebraska, 2004), and forthcoming "To Risk It All: General Forbes, the Capture of Fort Duquesne, and the Course of Empire in the Ohio Country" (University of Pittsburgh Press, Oct. 2020).
Colonel Samuel Russell - Colonel Sam Russell(USA, Ret) had 29 years of active service with the United States Army. He is a graduate of the Virginia Military Institute, the Army's Command and General Staff College, and the Army War College. He is the editor of "Coulon de Villiers: An Elite Military Family of New France (Russell Martial Research,: 2018).
Schedule of Seminar:
Friday Night Teaser - November 6, 2020
7:00 pm We will post info on speakers, book sales, and support options for our partner history sites to our BRPA Facebook page at 7:00 pm. After that we will launch a virtual tour of the Braddock Road from Fort Necessity.
Saturday - Nov. 7, 2020
10:00 am Opening Remarks by Dr. Walter Powell 10:15 am
1st Session - Dr. Michael McConnell - Topic - The Treaty of Easton and the Forbes Campaign: Some Considerations
11:00 am Follow-up panel discussion with Dr. Erica Nuckles and Doug Cubbison
11:15 pm Announcements and Logistics
11:30 pm Lunch Break 1:00 pm
2nd Session - Colonel Sam Russell, Topic - Coulon de Villiers Family
1:45 pm Follow-up panel discussion with Dr. David Preston, Dr Walter Powell, Colonel Sam Russell, Dr. Michael McConnell, and Brian Reedy
2:00 pm Closing Remarks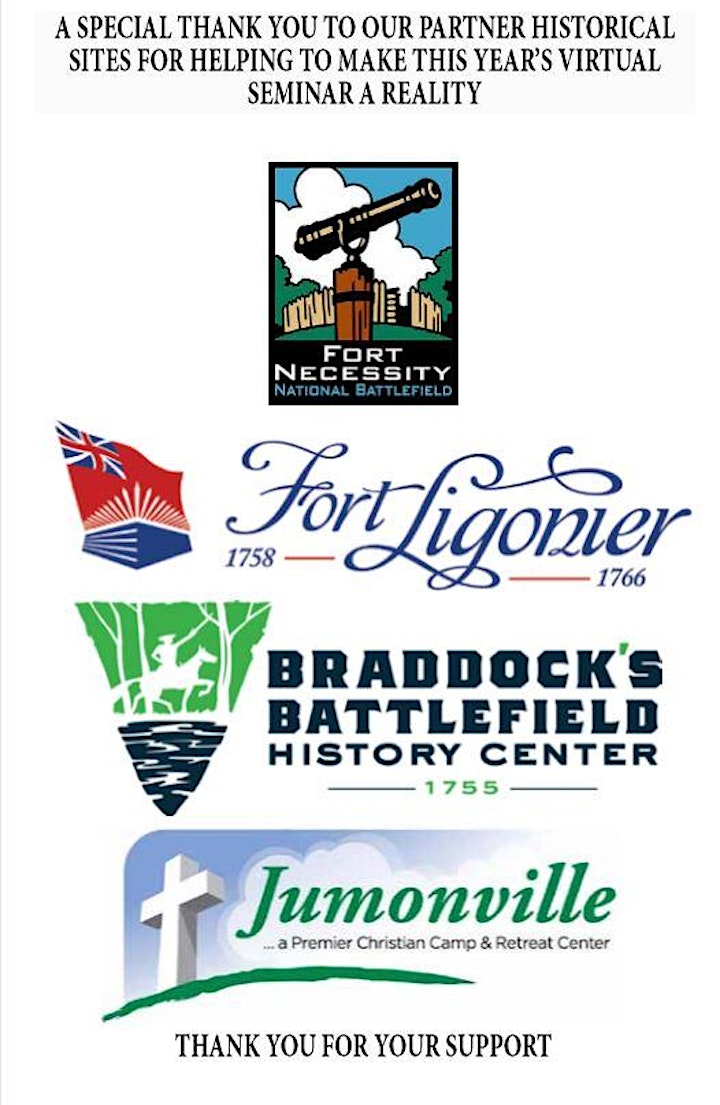 Organizer of 2020 French and Indian War Seminar
Journey back to the 18th century to a place where the flag of His Majesty King George still flies. During your visit to Fort Ligonier, you will discover the museum galleries, world-class exhibits and extensive archaeological collections and explore the impressive Fort, a full-scale, on-site restoration/reconstruction of the 1758 – 1766 original, situated on a commanding hilltop in the beautiful Laurel Highlands.