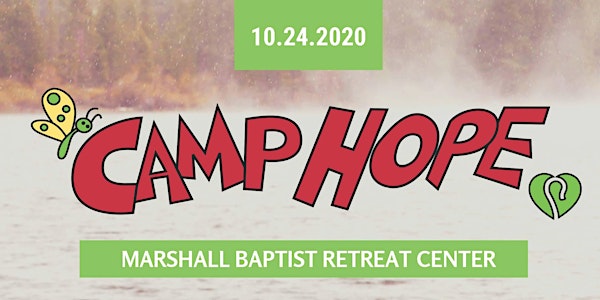 2020 Fall FAMILY DAY Camp HOPE hosted by Shepherd's Cove Hospice
The 2020 Fall Family Camp HOPE is open to school aged youth and their families who have experienced the loss of a significant person.
When and where
Location
Marshall Baptist Retreat Center 271 Baptist Camp Road Guntersville, AL 35976
About this event
The Shepherd's Cove Hospice 2020 Fall FAMILY Camp HOPE is a day camp, offered at no cost to school aged children/teens and their families within the community who have experienced the death of a significant person. This event is being offered in lieu of the In School Bereavement Fall Camp HOPE field trip. The person that died did not have to be under the care of Shepherd's Cove Hospice. Camp HOPE introduces families to various activities and skills that may help individuals cope with grief in a positive way. At least 1 adult needs to attend with a youth. The event will be less structured so families may come/go.
Please be mindful that the event is being held outdoors. The event is held on the grounds of the Marshall Baptist Retreat Center. It is an uneven terrain. Outdoor elements will be a factor to consider. The activity sessions are spread out on the grounds, therefore a lot of walking may be involved dependent upon the sessions you choose to participate in.
SPACE IS LIMITED. Pre-registration is required by October 19, 2020. Activities include horse grooming, arts & crafts, canoeing and outdoor rec activities. All activities are centered on promoting positive coping skills for school aged children.
Due to COVID-19 the event will NOT be offered in the traditional manner. Ensuring the safety of everyone involved will be the priority. Social distancing will be enforced. At present, masks will be required when social distancing cannot be ensured. Handwashing stations will be set up at each activity station. Also, we request that families stay together. We will attempt to group families together when participating in activities. Participates will receive a phone message confirming registration. Updated information will be communicated via email or via phone. In the event of rain the event will be modified.
Breakfast and Lunch will be provided.
All attendees MUST wear closed-toe shoes (like tennis shoes) in order to participate in the equine activity, as well as weather appropriate attire.
Participants are encouraged to bring the following items:
Sunscreen
Lawn chair or blanket (not required)
Towel and modest swimsuit if participating in canoeing and change of clothes in the event soaked while canoeing.
No nurse will be onsite for this event only CPR and First Aid Certified Staff
Shepherd's Cove  will not be responsible for any lost or broken items. Please do not bring expensive electronics.
You will receive information via email or phone messaging confirming your event registration and detailed information.
For the safety and overall family experience, NO CHILDREN UNDER THE AGE OF 5 YEARS OLD MAY ATTEND. Activities are not geared for children under the age of 5. No childcare is provided.
PLEASE NOTE THIS IS A SMOKE FREE ENVIRONMENT
Call Shepherd's Cove Hospice Bereavement Team for additional information or questions. 256-891-7724

Call Shepherd's Cove Hospice Bereavement Team for additional information or questions. 256-891-7724