Description
❤Yes! The TRAC Bridal Show is back again! More vendors, more fun, more awesomeness!

Do you believe in love forever & happily ever after? Come enjoy a fun afternoon and meet with local, talented weding professionals, vendors & businesses ready to make your wedding dreams come true!
Sunday, January 12th, 2020 11am-4pm NEW THIS YEAR: 2 CHECK IN TIMES! Last year, we had so many attendees rush in at once, we are breaking up check in times to cut down on crowding. We will also have 2 beautiful fashions shows so no one misses out on the shows!
First check in attendees do NOT need to leave at any particular time, you can stay all day!
---
❤Understanding Ticket Options: We have several types of tickets to choose from, and we keep our ticket prices low so you can bring friends to the show!
First, pick your check in time 11am or 1pm. You do not have to arrive exactly at your check in time, just please not before.
Two, pick your ticket type:
VIP Tickets: Sorry, sold out.
Bride or Groom + One Guest of Honor: bring your fiancé, maid of honor, best man, mother, wedding planner or other special guest to the show! BUY ONE TICKET- IT WILL ADMIT 2 PERSONS

Bride Tribe or Groom Troop: Bring up to 10 awesome people who you love and trust to help you plan your big day! BUY ONE TICKET- IT WILL ADMIT UP TO 11 PERSONS

General Admission: Buy a general admission ticket if you are not a bride or groom, or if you need to add addtional people to your group. BUY ONE TICKET PER PERSON

Tickets are also available for purchase in person at the following locations:
Adore Formal Wear & Bridal Boutique 5222 Outlet Drive Broadmoor Park Mall, Pasco WA
---
❤Ticket Add-Ons:
Limited availability. Upon check out you will have the option to reserve front row seats at the fashion show, choose early entry into the show, or buy this super awesome, must have Wedding Planner, with handy dandy checklists, tips, pockets & more!
---
❤Fashion Shows:
12pm Featuring Fashion Corner, David's Bridal and Men's Warehouse
2pm Featuring Adore Formal Wear & Bridal Boutique and Fashion Corner

---
Eastern Washington's Largest Bridal Expo & Fashion Show!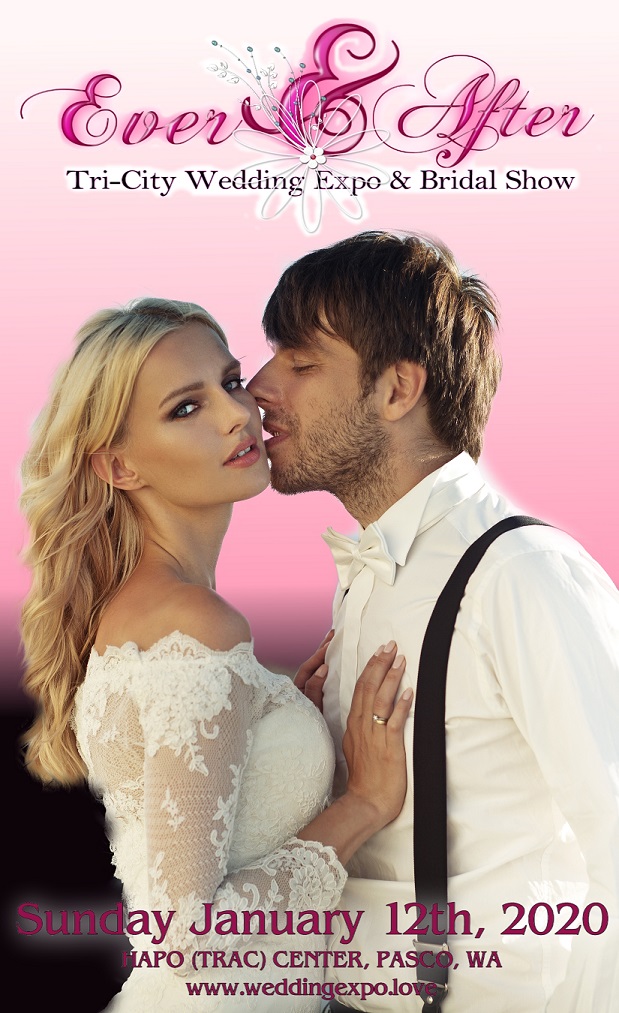 This show is made possible by the following amazing show sponsors:
STONE RIDGE EVENT CENTER ❤ STONE RIDGE ESTATES ❤ UNIQUELY I DO WEDDING OFFICIANTS ❤ DRAGON ENTERTAINMENT ❤ JORDAN KELM PHOTOGRAPHY ❤ EVENTS BY EDZ ❤ FLOWERS BY KIM ❤ CG PUBLIC HOUSE ❤ BONSAI AUDIO ❤ FASHION CORNER ❤ THE HIGH HEEL HOUSEWIFE & MORE!