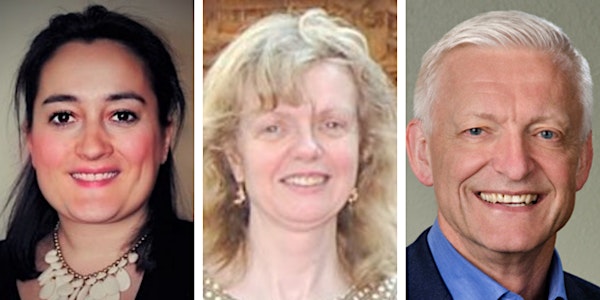 2020 Election Series: Trade - Has Trump's isolationist stance paid off?
SIS professors will discuss the issues of international trade as they relate to the current Trump administration and the upcoming election.
About this event
Donald Trump won the 2016 election with a promise to put "America First" and bring back manufacturing and industrial jobs to the US. His policies of tariffs on steel, aluminum, washing machines, solar panels, and billions of dollars of goods from China represented a return to an isolationist trade stance not seen in the US since the 1930s. So, how's it worked out? Join us for a discussion of Trump's trade policies with economic and trade scholars with expertise in China, the EU, and the intersection of trade and environmental policies. An audience Q&A will follow the discussion.
Event attendees should log into the Zoom webinar using this link: https://american.zoom.us/j/97509845158
Biographies
Claire Brunel is an assistant professor at SIS. Her research focuses on issues at the intersection of environmental economics and international economics. In particular, she studies the links between environmental policies and international competitiveness in terms of technological innovation, manufacturing production, and international trade. She is also interested in providing evidence of the effects of climate change on migration. Prior to coming to SIS, Professor Brunel worked for the Research Department of the World Bank, the Peterson Institute for International Economics, and at the Embassy of France as Trade Policy Attaché.
Michelle Egan is an SIS professor who focuses on comparative politics and political economy. She works on Europe and the United States, with a focus on issues of federalism, trade, governance and law. She is past Chair and Vice Chair of EUSA, the EU Studies Association, and is editor of series on EU with Palgrave. She also is the co-director of SIS's Transatlantic Policy Center, a Global scholar at Wilson Center, and has been recipient of Wilson Fellowship.
Miles Kahler is a distinguished professor at SIS. He teaches and conducts research in the fields of international politics and international political economy, including global governance, international monetary and financial cooperation, and Asia-Pacific regionalism. Recent publications and projects have centered on the changing role of emerging economies in world politics and global governance and the emergence of complex global governance, sources of cosmopolitanism and parochialism in contemporary politics, and challenges to the nation-state as a dominant unit in the international system. Professor Kahler has completed projects on the competitive and complementary relations between global and regional institutions, innovation in global governance, and international efforts to combat illicit financial flows.
Carole Gallaher (moderator) is the senior associate dean at SIS. Her research has focused on organized violence by non-state actors and urban politics She has examined the politics, internal dynamics, and patterns of violence of militias, paramilitaries, private military contractors, and drug cartels. Her work has resulted in two books: On the Fault Line: Race, Class, and the American Patriot Movement (Rowman and Littlefield 2003) and After the Peace: Loyalist Paramilitaries in Post-accord Northern Ireland (Cornell 2007). Her second area of focus is on urban politics. As a human geographer living and working in a large metropolitan area, she looks at the major changes ongoing in DC. She is working on a book manuscript tentatively titled, The Politics of Staying Put: Tenant Right to Buy in Washington DC.