2020 DSM Civil & Human Rights Symposium: Strategizing for the Harvest
Description
Once ticket capacity has been filled registration will close, so register early!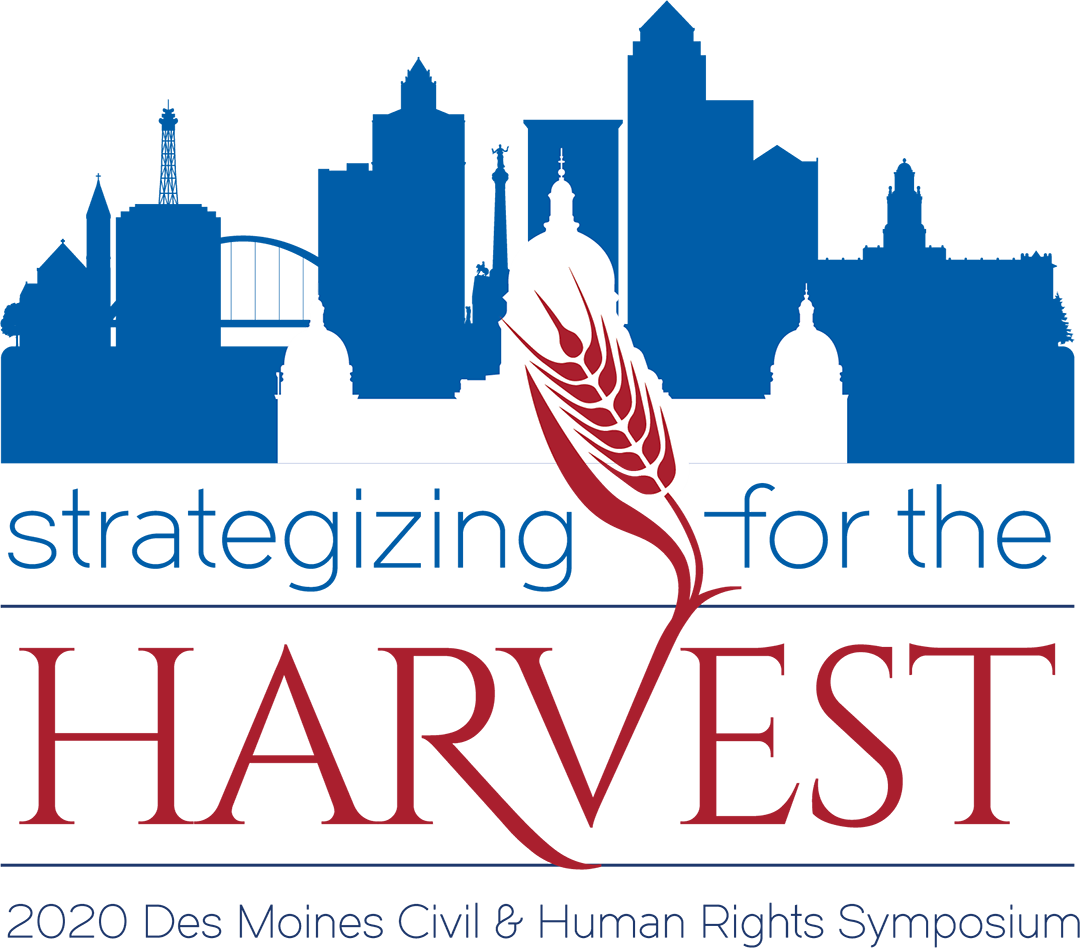 On March 18, 2020, the Des Moines Civil and Human Rights Commission will hold its 34th annual Civil & Human RIghts Symposium at Drake University's Olmsted Center (NEW LOCATION). This year's theme is "Strategizing for the Harvest". This theme highlights the symposium goal of helping people focus on the real work and planning that needs to happen in order to reap the prize, i.e. harvest of socio-economic advancement for all persons in the Greater Des Moines Region. The goals that we are focused on this year's symposium include:
Stable Housing for Stronger Communities Track

Economic Inclusion & Prosperity Track

Reflective Representation in Workforce & Leadership Track

Culturally Responsive and Anti-Racist Community Track
These goals (tracks) were identified by our community as issues we need to address to move our community forward during last year's Bridging the Gap Project conducted by the Commission. We had over 700 persons participate in that deliberative dialogue process of increasing opportunity and justice in Des Moines and we are continuing that discussion during our symposium. To achieve progress and reach your goal, we believe that you must execute like a farmer by diligently planning and working every season:
Winter Session: Planning, Strategizing for Success

Spring Session: Work, Execution (Planting), Awakening Time

Summer Session: Sustaining, Tending, Looking for Weeds

Fall Session: Harvest Time, Preserving, and Preparing for the next Harvest
Each track will flow based on the season and ultimately conclude with the Harvest endnote conducted by Marisa Cummings, member of the Omaha Tribe and the Director of Native Student Services at the University of South Dakota. The lunch keynote will be given by Darrick Hamilton of the Kirwan Institute for the Study of Race and Ethnicity.
Your $20 registration fee covers a full day of interactive, educational activites, event materials, breakfast, lunch, an afternoon snack, and a day of interacting with people who want to positively impact our community.
Professional continued education credits being applied for include: Legal (CLEs), Human Resources (SHRM & HRCI), Social Workers (CEUs), Real Estate (CEUs). We will update the page as credits are announced.
**Please consider sponsoring a "Pay it Forward" Ticket. Sponsoring a ticket offers youth the opportunity to attend and experience (at no cost). Learn more at: https://www.dmschools.org/2016/03/roosevelt-group-gets-to-the-c-o-r-e-of-issues/
If there is a hardship to pay the registration fee, please email us at humanrights@dmgov.org with the subject "Hardship Exemption" for assistance and explain your hardship.