2020 Cook County Human Trafficking Task Force Virtual Conference
Event Information
Refund policy
Refunds up to 7 days before event
The Cook County Human Trafficking Task Force is pleased to host our first virtual conference this year!
About this event
The Cook County Human Trafficking Task Force is pleased to host our first Virtual Cook County Human Trafficking Task Force Conference on August 4th, 5th, and 6th, 2020.
See the full conference agenda below!
A total of 15 CEUs (1.5 CEUs per session) are being offered this year.
If you have any questions, please contact stop-it@usc.salvationarmy.org or contact Cook County Human Trafficking Task Force Coordinator Shaina Fuller at 773-957-4028.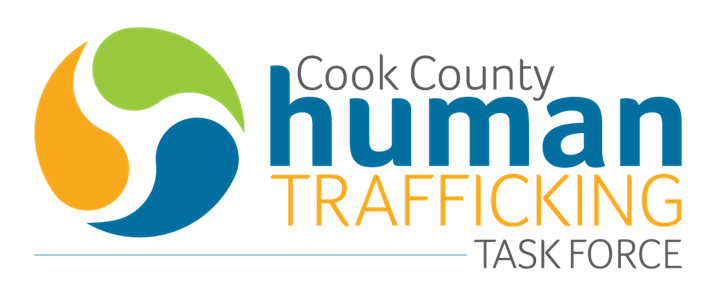 2020 Conference Agenda
Tuesday, August 4th
Survivor Engagement for System Professionals | 10-11:30 am
Speakers: Amanda Colegrove & Bukola Oriola
Too often "trauma informed" is a part of the industry lexicon with no understanding of what that means in action, especially within complex organizations. Hear from an advocate with lived experience and the MN Dept. of Health on what it means to act in a trauma informed when engaging with survivors in order to build real collaborations and partnerships. We will discuss how different factors such as environment, subject matter, time constraints, and purpose impact the engagement process. Creating a safer and more equitable process for partnering with survivors is an important step toward going beyond the foundational "survivors should be compensated" message.
Human Trafficking Myths and Misconceptions in Service Provision | 2-3:30 pm
Speakers: Sam Baeten & Jenn Harvey
In this session, participants will be challenged in their understanding of human trafficking. Presenters will provide a list of common myths and misconceptions with an in-depth response that debunks the myths and explains the realities of service provision. Presenters will speak on case studies from their time working with survivors and utilize supporting information to complete the explanation. For each myth listed, the presenters have created discussion questions for the participant to think through and bring back to their team. Additionally, following each myth there is a small list of applicable service provisions to prompt participants in practicing the skills that relate to the specific concept. The presenters will speak on the myths surrounding the definition and awareness of human trafficking, the survivor experience, rescue mentality, spirituality and healing, the survivor/service provider relationship, and the approach in service delivery.
Wednesday, August 5th
Labor Trafficking and the Platform Economy | 10-11:30 am
Speakers: Gabriel Marcano & Renan Salgado
This will be an advanced presentation for the audience to engage in the complications of the future of labor trafficking in a Platform/Gig Economy (such as phone apps like Uber, Grubhub, etc.). Two presenters from the Worker Justice Center of NY will put forward the current state of this platform economy, existing cases of labor violations and criminal cases which have yet to create case-law due to settlements, and analyze the lack of overseeing bodies which would investigate and respond to claims of wage theft, sexual harassment, assault, kidnapping, and possible labor trafficking. This presentation will put forward WJCNY's preventive strategy of calling for such an overseeing body and for attendees to make informed decisions on how to respond to this new problem in the field of Human Trafficking.
Evaluating the Impact of Chicago's Prostitution & Trafficking Prevention Court | 2-3:30 pm
Speaker: Madeleine Behr
This presentation focuses on how trafficking intervention courts do and do not identify, intervene in and respond to trafficking, using research from Chicago's as an example in comparison to other courts.
Thursday, August 6th
Housing Choice: Rapid Rehousing, Transitional Housing and Long-Term Solutions for Survivors of Human Trafficking | 10-11:30 am
Speakers: Micaela Garrido, Summar Ghias, Ronti Ghosh, Angela Green, & Katy Russell
Housing continues to be the number one resource survivors of human trafficking describe needing after leaving a trafficking situation. It is also the most difficult resource to secure. Through years of exploration, anti-trafficking organizations in the Chicagoland community have learned that it takes advocacy within housing systems, creative collaborations, and the creation of innovative housing services that give survivors agency in where they live, in what community, and with whom, to offer true housing justice to all survivors of human trafficking. This intermediate panel will explore the various rapid rehousing, transitional housing, and housing choice voucher programs that exist in the Chicagoland area. Panelists will dive deeper into program structure, exploring how survivor choice dictates the housing that is provided, describe lessons learned in the implementation of these various programs, and provide recommendations for local and national stakeholders.
Cultivating Effective Outreach Strategies:
A Brainstorming Workshop | 2-3:30 pm
Speakers: Marina Burka, Andrea Garcia, Micaela Garrido & Mayra Salgado
This workshop is designed for an audience engaged in conducting outreach in a variety of industries and to various individuals and communities. It will be an opportunity to exchange ideas on how to design and implement an outreach strategy that is safe, trauma-informed, and effective. It will be a space where outreach workers can impart their concerns, experiences and lessons learned in order to share best practices and increase knowledge and understanding for all participants.
Webinar Series
Friday, August 7th | 10 – 11:30 am
Human Trafficking for Healthcare Professionals: Identification of Human Trafficking in the Healthcare Setting and Providing a Trauma-Informed Survivor-Centered Response
Speakers: Traci Kurtzer & Jaclyn Rodriguez
The target audience for this workshop will be Medical and Mental Health Care Professionals (HCP). We will address the healthcare sector's role in Identification and Response and present the Model Human Trafficking Training Curriculum for Healthcare Professionals developed by members of the Healthcare Subcommittee. The second part of the presentation will cover the neurobiology of trauma and recognizing physical and non-verbal signs that a patient may be a survivor of human trafficking trauma. We will also cover how to provide a trauma informed setting and interactions with patients to provide both emotional and physical safety for them and best avoid re-victimization. Additionally, we will focus on how health care professionals can best provide survivor centered care for our patients.
Thursday, August 13th | 10 – 11:30 am
Putting the "Net" into Healthcare Network-Using Healthcare Coordination to Create a Human Trafficking Safety Net
Speakers: Chenel Vanden Berk, Renee Dursun & Sara Zamor
This presentation examines the ways professionals in a variety of healthcare settings can have a meaningful impact by helping victims and survivors of human trafficking. Our panel will offer viewpoints from the Emergency Department, Public Health Clinic and Home Maternal Healthcare. We will discuss the types of red flag health issues that may be seen by a medical professional and how those differ based on the type of healthcare setting. We will examine and compare screening processes, responses, multi-disciplinary collaboration and follow-up resources available in various healthcare settings. Finally, we will present case studies from each of those types of healthcare settings to show how this is applied in real life situations. Our goal is to highlight what worked well, and look to opportunities for improvement and a strengthened response in the future.
Thursday, August 13th | 2 – 3:30 pm
MN Youth Human Trafficking and Exploitation Identification Tool and Guide
– Adapting Your Own Tool
Speakers: Amanda Colegrove & Terry Forliti
This presentation will discuss the new Minnesota tool for identifying human trafficking and exploitation among youth ages 13-17 and provide space for attendees to begin brainstorming to create their own tool. The Minnesota tool is designed for those who work with youth, but may not be serving them in the same way or at the same level as those dedicated to human trafficking services. It is intended for professionals within schools, juvenile detention centers, and other settings that serve youth. This tool focuses on the identification of trafficking situations, both labor and sex, as well as exploitation, that are occurring or have occurred in the past based on the federal and the Minnesota definitions of human trafficking. We will explore the process of development, the content of the guide, and the tool itself. Attendees will be able to develop or adapt an identification tool specific to their state, region, or organization.
Tuesday, August 18th | 10 – 11:30 am
Preventing Deportation of Survivors: Strategies for Removal Proceedings
Speakers: Hilary Chadwick, Erika Asgeirsson & Uzoamaka Emeka Nzelibe
This seminar will discuss best practices in representing trafficking survivors in the Chicago Immigration Court. In particular, we plan to discuss the 2018 USCIS Policy Memo that eliminated protections previously offered to survivors of trafficking and other crimes, as well as a brief overview of common forms of relief for survivors who are in removal proceedings, including T visa, U visa, Asylum/Withholding/CAT and VAWA Cancellation. We will discuss how to prepare motions requesting Administrative Closure and Continuances in removal proceedings, as well as how to terminate removal proceedings upon grant of another form of relief (e.g. T visa). We will have a discussion on tips for negotiating with and responding to ICE attorneys and judges who may be unfamiliar with the relevant regulations and case law in support of trafficking survivors, as well as the importance of law enforcement advocacy on behalf of a survivor. Finally, we will discuss best practices for trauma-informed representation in removal proceedings, so that advocates and survivors are prepared for their day in court.
Location
Refund policy
Refunds up to 7 days before event