Sales Have Ended
Registrations are closed
Whoops! Looks like your time expired on this page. Never fear, you can still register to attend ... visit: www.ConciergeMedicineFORUM.com. See you soon! :)
Sales Have Ended
Registrations are closed
Whoops! Looks like your time expired on this page. Never fear, you can still register to attend ... visit: www.ConciergeMedicineFORUM.com. See you soon! :)
VIRTUAL CONFERENCE FOR Doctors, PAs, RNs, FNPs | Concierge Medicine Today's 2020 CONCIERGE MEDICINE FORUM, Online CONFERENCE | Nov 2020
About this event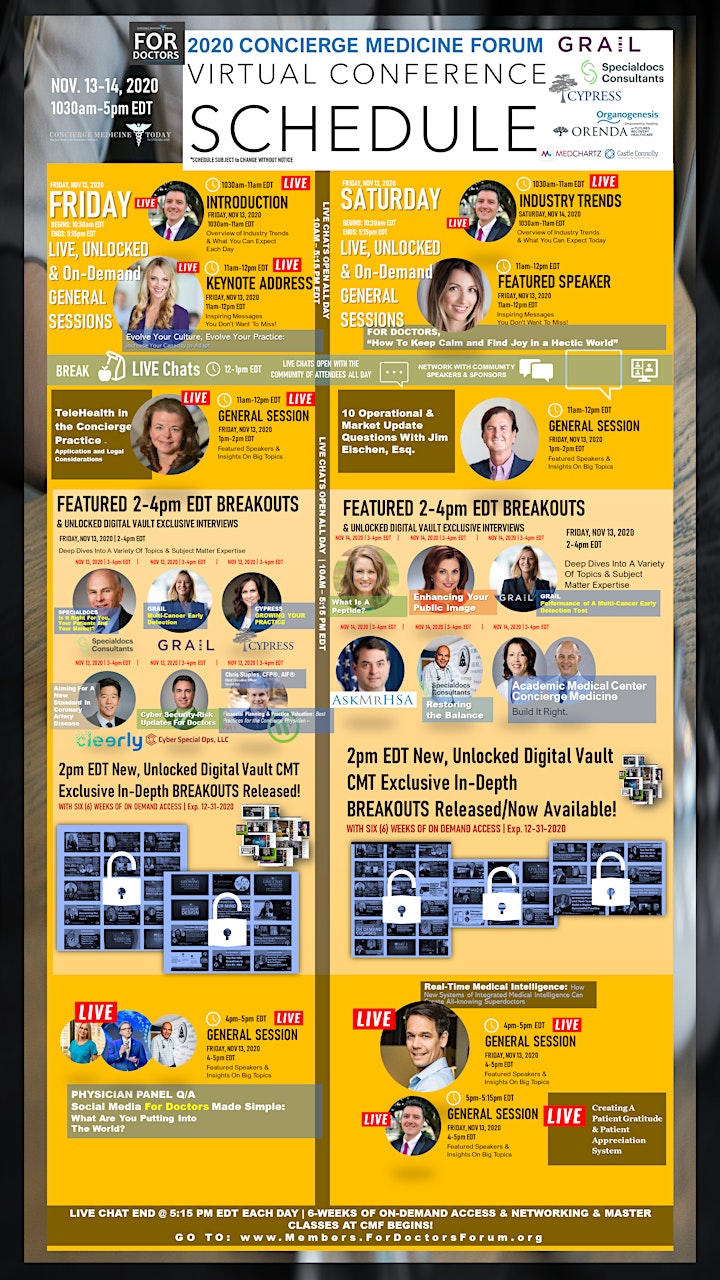 We are coming to your laptop, TV, and even your phone for this November 12-14, 2020!
You'll also get 24/7 on-demand access to our entire Digital Vault of exclusive, in-depth, subject-specific, speaker interviews, access to Master Classes taught by Physicians, industry experts, leaders in the field of medicine and CMT educational staff.
Our entire virtual conference is designed to answer YOUR most-asked questions—all without the need for a flight, hotel, or meals budget!
During the 3-day conference (November 12-14, 2020), you'll receive access to our LIVE keynotes and LIVE Chats and Q&A sessions with speakers, sponsors, industry experts and more.
Can't watch live? We got you covered! In fact, we're giving you six (6) weeks to watch!
Got patients to see? No problem. This is a "concierge, on-demand, at your convenience-service" conference! Just log in and watch any of the replays, speaker sessions or unlocked in-depth breakouts and streams afterward. Watch them on your own time, on your schedule until December 31, 2020 at midnight. That's six weeks of access when the usual virtual conference out there only gives you a few days!
Theme
"Culture of Collaboration In Medicine"
Where Do I Register?
Questions
Call 770-455-1650 ext 151 or email editor@conciergemedicinetoday.com
What You'll Receive
The 2020 Concierge Medicine Forum hosted is by the industry trade publication Concierge Medicine Today and can be experienced as a LIVE Stream, on-demand and at your convenience as many times as you'd like after the event until 12/31/2020 at midnight! That's six (6) full weeks of conference/education content just for you!
Front row seats for EVERYONE!!!!!!
MEANINGFUL CONNECTIONS
How-To's and practical advice that's in-practice, not theory.
We'll discuss proven strategies for better performance.
Leave empowered to create unique, memorable and personal experiences for your Patients.
Learn the steps needed to create a practice-work environment of teamwork and exceptional patient service so that the needs of your Patients and your staff are met.
Learn how to build strong relationships, remarkable word of mouth moments in your local community with a little "sweat equity" ... and create Patients for life!
NEW TRENDS RISING in Patient Customer Service
EXITING COVID and UPDATES in TELEHEALTH for Doctors
EARLY CANCER DETECTION TECHNOLOGIES
Full, LIVE access to presentations and panels of practice invigorating content
GIVEAWAYS!
REFINING YOUR PRACTICE CULTURE
Virtual networking and "Ask the Speakers" Q&A with industry leaders
DISCOVER LOCAL DOCTORS
This is not something you just need; it is something you deserve!
Access to the exclusive Digital Vault of tools, materials and content
Leave with a new sense of confidence and energy as you set the stage for your practice in 2021!
On demand access of the entire event
Concierge Medicine Today (CMT) is pleased to host a national gathering of all types of Physicians, Nurses, PAs, RNs and healthcare professionals from a variety of specialties and backgrounds all from the comfort of your office, home or office.
You will be able to access content 24/7 from your laptop or phone. This means you can involve your entire team!
When/Where/Dates
WHEN
WHERE
ALL ONLINE!
We are coming to your laptop, TV, and even your phone for two weeks in November! You'll get 24/7 access to online master classes designed to answer YOUR most-asked questions—all without the need for a flight, hotel, or meals budget!
CMTs 2020 Concierge Medicine Forum will be accessible on iOS devices, Android devices, Macs, PCs, and even on your large-format TV using AirPlay and Chromecast.
LEARN MORE: www.ConciergeMedicineForum.com
Winter 2020 Topics Will Include:
(Not limited to): Marketing/Promoting Your Practice; Immunotherapy Advancements; Alzheimer's; Diabetes Management; Heart Attack and Stroke Research; CBD; Peptides; Social Media FOR DOCTORS; Hybrid Concierge Care Models; Implementing Genomics into Medicine; Reporting Tools in Precision Medicine; Evaluating Clinical Decision Support Tools for Genomic Care In Your Practice; Social Prescribing Medical Research Presentations; Behavior-focused Studies & Evidence Based Practice Design; Medical Marijuana Safety & Effectiveness; Practically Applying and Using Genomic Medicine in the Clinic; A.I. Integration Into Healthcare; Navigating Payor/Insurance Issues; Managing the Trust and Expectations of High-Need Patients; H.R. (Hiring; Retaining Staff; Letting Go of Medical Office Staff); Medical Marijuana Safety and Data/Research; Better Tax Preparation/Organization For My Practice Come Tax Season; Pharmacogenomics Testing; Determine if pharmacogenomic data improves care; How to Better Handle Employee Conflict; Performance Standards in Concierge Care; Research, Vitamins/Supplements; Effectiveness & Safety; Delivery Design & Strategies; Osteopathic Concierge Care; Hospital-based Concierge Medicine Models; Managing anxious, demanding, or dependant patients; Entrepreneurship & the Business of Concierge Medicine; High Performance Diabetes Care; How to Navigate Patient Needs On the Phone Better; Functional Concierge Medicine; Develop ways to use evidence-based medicine data in routine care; Importance of Data Sharing and Data Privacy; High Cholesterol Treatment; Depression Research; Better Health Outcomes; Digital Tech & Telehealth engagement; etc.
Organizer of 2020 Concierge Medicine FORUM | Virtual Conference
About Concierge Medicine Today
Concierge Medicine Today (CMT) is a news organization and the Concierge Medicine industry's foremost national trade publication for the Concierge Medicine and Membership Medicine marketplaces. Its website is the online destination for businesses, consumers, physicians, legislators, researchers and other stakeholders to learn about the history of this industry, various business aspects of the marketplace, trends, breaking news and more that drives the conversation that Concierge Medicine and free market healthcare delivery is creating on a national and international level.
For more information, visit: