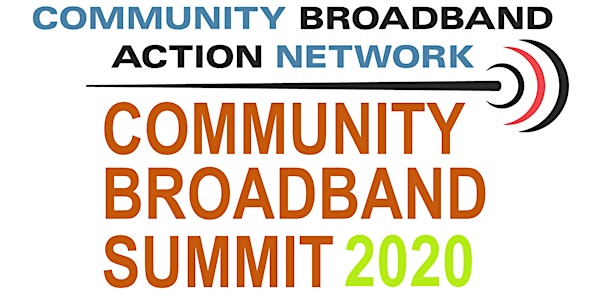 2020 Community Broadband Summit
When and where
Location
Holiday Inn Des Moines Airport 6111 Fleur Drive Des Moines, IA 50321
Description
The 3rd Annual CBAN Summit is a half-day exploration of better broadband for communities and rural areas. CBAN members of all classifications can benefit from participating in the Summit!
Key takeaways include:
For Community Leaders: Learn more about how you can take ACTION to bring better broadband to the people you serve and network with people who can help you achieve your goals.

For Providers: Serve as mentors for communities and rural areas seeking to build networks and identify opportunities for partnerships.
For Advocates: Network with others who have moved better broadband to the forefront of discussion in their communities through advocacy.
For Vendors: Discover which communities are exploring community-based broadband solutions to more effectively communicate with them about your solutions.
Summit Agenda
12:30pm-1:00pm Registration and Networking
1:00pm-1:15pm Welcome (Curtis Dean, CBAN)
1:15pm-2:00pm Understanding The Value of Public Ownership (Christopher Mitchell, ISLR)
2:00pm – 2:15pm Networking Break: Grab a snack and visit with CBAN Vendor Members and other attendees!
2:15pm – 3:00pm New Market Tax Credits—A Financing Mechanism for Broadband (Myriam Simmons, Ryan)
3:00pm – 3:15pm Networking Break
3:15pm – 4:45pm Roundtable discussions: Attendees will break into groups and make the rounds to different topic tables to discuss various aspects of better broadband. After spending approximately 25 minutes at each table everyone will rotate to a different table.
1. Financing for Community Broadband (Michael Maloney, DA Davidson)
2. Building the Buzz for Better Broadband (Kurt Karr, MonkeyThis)
3. Creating A Utility from the Ground Up (Todd Kielkopf, CBAN)
4:45pm – 5:00pm Closing remarks
5:00pm-6:00pm Happy Hour with Networking and Vendor Tables (Sponsored by Power & Tel)
CBAN membership is FREE for communities, advocates, and providers and is required for attendance at the Summit.
Joining is easy! Just visit http://broadbandaction.com/join-cban/ and select the membership category that fits. If you have questions, reach out to curtis@smartsourceconsulting.com.