The 5th Annual has been rescheduled for August 6,2020. We will update attendees via email about event details.
About this event
THE 5th ANNUAL CMA HAS BEEN RESCHEDULED TO AUGUST 6, 2020. DETAILS ABOUT THE EVENT WILL BE SENT VIA EMAIL.
The 5th annual Colorado Manufacturing Awards recognize excellence and innovation across the region's manufacturing industries and economy.
The CMA program brings together business leaders in a celebration of the modern manufacturing economy — a multi-industry, consumer and technology-driven sector reshaping America's rich industrial legacy.
Finalists and winners are selected in 11 distinct manufacturing industries. Winners are announced at the gala on April 2, 2020.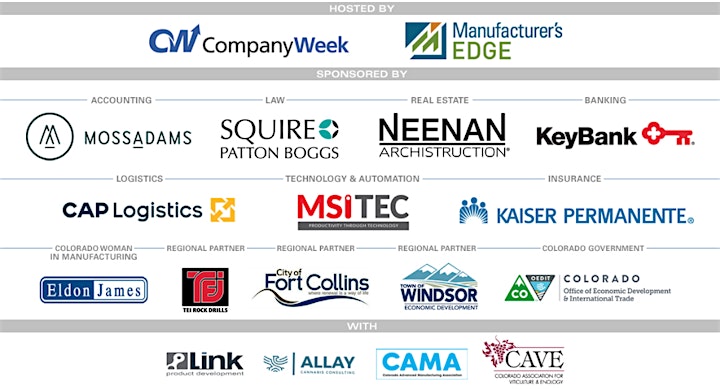 Organizer of 2020 Colorado Manufacturing Awards
CompanyWeek is the Voice of Rocky Mountain Manufacturing
Contact Bart Taylor, btaylor@companyweek.com, 303-888-2832