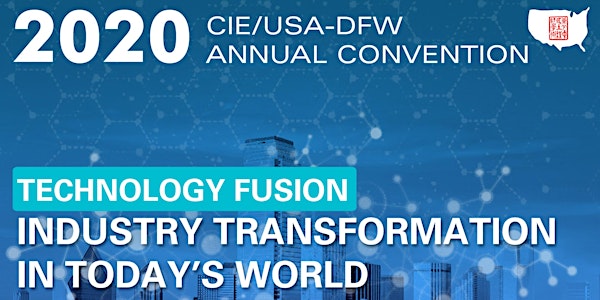 2020 CIE/USA-DFW Technical Executive Forum
Technology Fusion – Industry Transformation in Today's world
Date and time
Saturday, August 8, 2020 · 8 - 10am PDT
About this event
Zoom Webinar
Webinar ID: 886 2341 1474
Objectives
This distinguished technical forum for Asian American Engineer of the Year (AAEOY) awardees, industry experts, and executives from sponsor companies to join together and discuss topics associated with the conference theme: "Technology Fusion – Industry Transformation in Today's world".
Panelists will begin this interactive discussion by sharing their global perspective on Technology Fusion and the associated challenges, creative solutions to address these challenges, and opportunities for future collaboration. Attendees will have the opportunity to ask questions and interact with the panelists.
Program Content - August 08
Opening remarks
Panel introduction
Panel discussion
Question and answer session
Survey and closing
Forum Chair: Dr. Claire Jung
Engineering Director
Texas Instruments Incorporated
(2019 AAEOY Awardee)
Claire Jung was born and raised in Taiwan. In her current role at Texas Instruments Incorporated (TI) as an Engineering Director, Claire manages program management, product engineering, and sustaining teams that enable TI to bring new, next-generation application agnostic safety/non-safety products to the marketplace and accelerate growth for the company's existing product portfolio. During the past four years, Claire started and has led an important TI-wide Functional Safety Initiative with the goal of defining a Functional Safety strategy for TI and supporting business growth in the new and evolving Functional Safety area. She earned her Ph.D at the University of Arizona in Tucson and also holds a Master's Degree in Materials Science and Engineering. On TI's Technical Ladder, Claire was elected to Senior Member of the Technical Staff (SMTS) in 2002. She has four U.S. patent awards and several published technical papers.
Forum Host: Mark Carpenter
Senior Vice President, T&D Operations
Oncor Electric Delivery Company
Mark Carpenter is Senior Vice President of Transmission & Distribution Operations at Oncor where he has spent his entire 44 year career. Throughout his career, he has focused on developing people and creating high performance teams. Mark earned a BSEE degree at Texas Tech in 1975 and is active in numerous professional activities. He is also active in the community as demonstrated by his involvement with the Chinese Institute of Engineers DFW Chapter and as President of Family Promise of Irving. He is active in his church and is married with five kids, four daughters-in-law, and eight grand kids.
Forum Moderator: Dr. Mary Cooley
Chief Operating Officer
Dynofit
Dr. Mary Cooley currently serves as Chief Operating Officer of Dynofit, a medical device start-up. She places a high value on giving back to the community, and joined the CIE DFW Board of Directors this year. After serving for 3 years as Section Chair of IEEE Dallas, she became a Certified Mentor for SCORE. In this role, she mentors entrepreneurs and small business executives in a broad range of businesses, and is also the EVP Elect for the Dallas chapter of SCORE.
Prior assignments have included engineering and marketing leadership roles at Hewlett Packard, Xtendwave, Convex Computer and Texas Instruments. While at HP, she led the architecture and development of multiple generations of Superdome, the largest computer developed by the company.
Panelist: Bing Xie
Senior vice president, Sales and Applications
Texas Instruments Incorporated
Bing Xie is a senior vice president of Texas Instruments responsible for the Sales and Applications organization. Prior to this role, he served as the vice president and deputy manager of the worldwide Sales and Applications or-ganization. Throughout his career, he has held a number of leadership roles in the Sales and Applications organization in Asia and the Americas. He was president of TI China for six years. Earlier, Xie served as the general manager of the sales and marketing organizations for Greater China, including China, Hong Kong and Taiwan. Xie joined TI in 1999. He earned a Bachelor of Sci¬ence in electronics engineering from Xidian University in China and a Master of Business Administration in international business from Clemson University in South Carolina.
Panelist: Dr. Zhijian 'James' Chen
Professor, Investigator of Howard Hughes Medical Institute
University of Texas Southwestern Medical Center
(2019 AAEOY Awardee)
Zhijian 'James' Chen received his B.S. degree in Biology in 1985 from Fujian Normal University and his Ph.D. degree in Biochemistry in 1991 from the State University of New York at Buffalo. After his postdoctoral training at the Salk Institute, Chen joined Baxter Healthcare in 1992 as a Research Scientist to work on Cancer Immunotherapy. In 1994, Chen became a Senior Scientist at ProScript Inc, a start-up biotechnology company where he helped discover the proteasome inhibitor VELCADE, a medicine used for the treatment of multiple myeloma and mantle cell lymphoma. In 1997, Chen joined the University of Texas Southwestern Medical Center (UT Southwestern) as an Assistant Professor and rose through the rank to become a Professor in 2005. Since 2005, Chen has been an Investigator of Howard Hughes Medical Institute. He is also George L. MacGregor Distinguished Chair in Biomedical Science and Director of Inflammation Research Center at UT Southwestern.
Chen has made a series of discoveries that transformed our understanding of cell signaling and innate immunity. These include the discovery of MAVS and cGAS, two proteins that play a central role in the recognition of bacteria and viruses as well as cancer cells by the body's immune system. These discoveries have led to intense efforts in the pharmaceutical industry in developing effective therapies against cancer and autoimmune diseases.
For his work, Chen has received numerous honors, including the National Academy of Science Award in Molecular Biology (2012), the American Society of Biochemistry and Molecular Biology (ASBMB) Merck Award (2015), and the Lurie Prize in Biomedical Sciences (2018). In 2018, Chen received the Breakthrough Prize in Life Sciences, the largest science prize in the world. Chen is a member of the National Academy of Sciences.
Panelist: Dr. Tsu-Jae King Liu
Dean and Roy W. Carlson Professor of Engineering
College of Engineering, EECS Department, UC Berkeley
(2019 AAEOY Awardee)
Tsu-Jae King Liu is internationally recognized for her innovations in semiconductor devices and technology, and is highly regarded for her achievements as an instructor, mentor and administrator. As a researcher at Xerox Palo Alto Research Center, she helped develop thin-film transistor technology used in HD flat panel displays. Her technical contributions, including her work on the FinFET transistor design, have enabled the semiconductor industry to continually improve the performance of leading-edge microchips. She has authored or co-authored more than 500 publications and holds 96 U.S. patents in the field of integrated-circuit devices and technology. Liu's numerous honors include election as fellow to the Institute for Electrical and Electronics Engineers and to the National Academy of Inventors, and induction to the National Academy of Engineering and to the Silicon Valley Engineering Hall of Fame. She serves on Intel's Board of Directors, and in 2018 she was named dean of UC Berkeley's College of Engineering. Liu earned her B.S., M.S. and Ph.D. degrees in electrical engineering at Stanford University in 1984, 1986 and 1994, respectively.
Panelist: Jorge Varela
CEO
Bio North Texas
Jorge Varela believes that businesses improve the quality of lives through the commercialization of new discoveries and through economic growth. He is a businessman who started or was part of the executive team at numerous companies in diverse industries with financially profitable exits. In the past 10 years he mentored and coached startups in the life sciences whose financial successes exceeded $3 Billion.
Jorge is CEO of Bio North Texas, the nonprofit that represents, connects, and promotes the biotech industry in North Texas. He is also Managing Director of AltusVista, a consultancy that works with leaders to build better companies, non-profits and executives.
Prior to Bio North Texas, he was Co-Founder and CEO of VelocityTX, an innovation district in San Antonio offering incubation, mentorships, and seed investments to startups. VelocityTX is a wholly-owned subsidiary of the Texas Research & Technology Foundation (TRTF) where Jorge served as Executive Vice President of Innovation & Investments.
From 2012 to 2017 Jorge served as Director at TECH Fort Worth where he coached founders of life sciences companies with innovative technology.
Jorge's passion is working with leadership to develop and grow for- and non- profit organizations to enable:
• financial independence and the creation of economic opportunities globally; and,
• to improve the quality of life through the commercialization of new technologies.
About the organizer
The CIE/USA-DFW Area Chapter was established in January 1989 and registered in the state of Texas as a non-profit organization idn 1992. Over the years, the CIE/USA-DFW chapter has established close ties with major corporations and government bodies around the world to promote the awareness and advancement of Science, Technology, Engineering and Mathematics (STEM).