Description
North America's Biggest Toy & Game Fair Open to Kids of All Ages!
What are you planning for the holidays? Come join us for a wonder-inspiring weekend at the 17th annual Fair brought to you as part of the Chicago Toy & Game (ChiTAG) Week - the largest non-hobby toy and game fair open to the public in North America! Enjoy the many special events that appeal to all ages 0 to 100!
We understand the vital role that play has in the educational process. Educators and librarians receive free admission to the Chicago Toy & Game Fair. Additionally, we provide the following programs with your needs in mind.
If you want to bring a class or school group, please contact us for a special group discount.
Play in Education Conference Saturday at Fair
Educators will learn about incorporating play in the classroom, enjoy lunch, receive CPDU/CE Credits, free entry for you and your family to the Fair, Chance to win prizes at the end of the Conference
https://www.chitag.com/2019-play-in-education-conference
Young Inventor Challenge
One of the fair's signature events, the Young Inventor Challenge provides kids ages 6 to 18 a place to showcase their ideas to fair-goers and industry professionals alike! Materials are provided for educators and librarians to organize their own Inventor Workshops in their classrooms and youth departments. No cost to enter, and great prize packages to be won!
Like us on Facebook and follow us on Twitter for updates and special promotions!
Parking and Directions: https://www.chitag.com/directions
Play in Education Resource This online resource provides educators, librarians and home-schoolers with the tools they need and suggestions for ways to bring play into the classroom. Be sure to sign up for the Play in Edcuation Monthly Newsletter!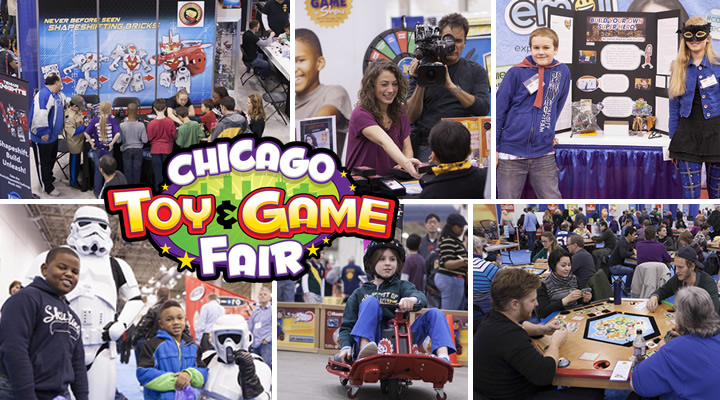 Check out other events happening at ChiTAG Week:
Toy & Game Innovation Awards (TAGIEs) ($250)
More details: http://www.chitag.com/tagies


Organizer of 2020 Chicago Toy and Game Fair: Educators and Librarians
We're the Chicago Toy & Game Group and you can call us "CHITAG" – pronounced SHY-Tag – for short. We produce ChiTAG Week, a series of events promoting and celebrating play and innovation that welcomes industry, consumers and traditional and social media the week before Thanksgiving. Our main events include:
Chicago Toy & Game Fair (since 2003). The first and the largest public toy and game fair in North America targeting families. 

Inventor and Innovation Conferences (since 2006) The largest gathering of professional inventors, new inventors and product acquisition executives in the world. Attendees come from approximately 25 countries to pitch ideas, network, learn and celebrate the toy and game inventor community. 

Play in Education (PIE) Conference - (Since 2006) Studies show a focus on play means better performance in academics and social competence. This conference discusses strategies for bringing play into the classroom and provides CE credits.

Toy & Game Innovation Awards (TAGIEs) (since 2008). The TAGIEs are an elegant and playful evening gala that brings together industry leaders from inventors to manufacturers to retailers as well as the public for a celebratory evening of innovators and inventors from around the world for their exceptionally innovative spirit of fun, philanthropy, and humanitarianism.

Young Inventor Challenge (YIC) (since 2006). The YIC provides an opportunity for children ages 6 to 18 to showcase their original toy and game inventions to industry professionals, members of media and the general public. All entrants receive feedback from industry executives and inventors and licensing agreements with toy and game companies. 

PlayCHIC (since 2012) Fashion sells. The PlayCHIC Fashion Event celebrates dress-up by inspiring play through a new avenue - fashion.