Explore Innovation for the Greater Good on October 15th. Join us virtually for this year's Day of Innovation conference.
About this event
Expect energizing and interactive virtual sessions on equity, education, and community building—and how these relate to innovation. Whether you're new to the innovation team or have been leading growth projects for years, there is something for everyone. Day of Innovation is Indiana's premier full-day innovation event that brings together leaders and practitioners from all sectors and backgrounds.
What's in it for you?
Virtually connect with innovators in Indiana and beyond
Get inspired with new ideas and connections from across sectors
Learn immediately applicable methods and tools to innovate within your own organization
Spend the day listening to and learning from innovative experts
New this year!
Virtual happy hour
Tiered pricing structure, starting at just $10
20% of Day of Innovation proceeds benefit the Madam Walker Legacy Center
Emcee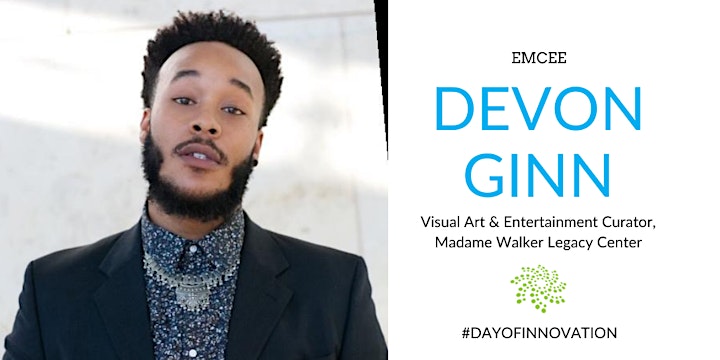 Devon Ginn
Visual Art & Entertainment Curator, Madam Walker Legacy Center
Devon Ginn has established long-lasting relationships by working alongside influential arts and culture hubs over the past nine years. Ginn is a curator, Americans for the Arts 2019-2020 Arts & Culture Leaders of Color Fellow, creative placekeeper & placemaker, and poet. As a freelance teaching artist, Ginn travels from state-to-state implementing his performance poetry and creative writing lesson plans for high school & college students. Deliberately collaborating with ground-breaking institutions and creatives on the forefront of change, his work as a visual artist, writer, nonprofit administrator, and performance artist is a reflection of all his learned and unlearned experiences.
Keynote Speaker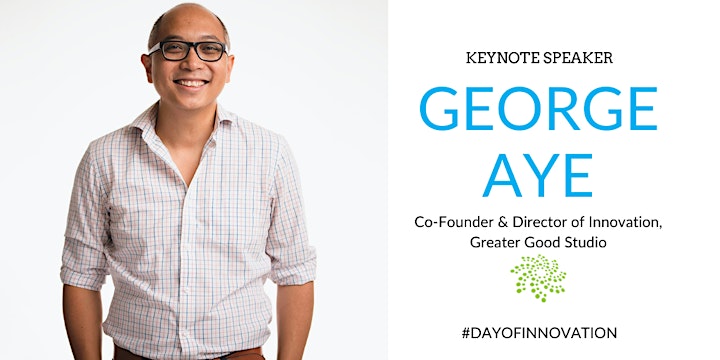 George Aye
Co-founder & Director of Innovation, Greater Good Studio
George co-founded Greater Good Studio with the belief that design can lead to positive behavior change. Previously, he spent seven years at global innovation firm IDEO before being hired as the first human-centered designer at the Chicago Transit Authority. Since founding Greater Good, he has worked across multiple social issues including autism, criminal justice, education, public health and health care. He has facilitated discussions with small executive leadership teams and workshops with 150+ participants to help uncover hidden opportunities for innovation. George is an adjunct full professor at the School of the Art Institute of Chicago.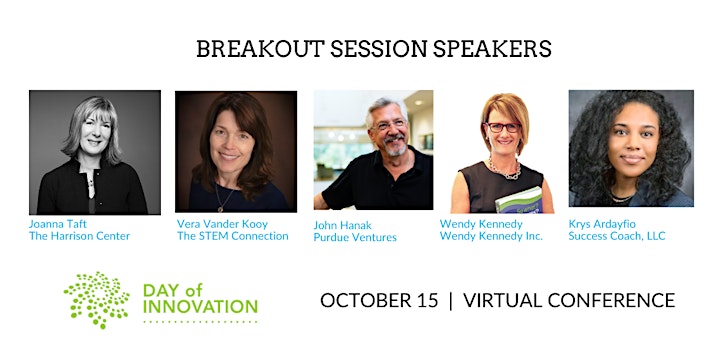 Breakout Session 1
Vera Vander Kooy
Founder & Executive Director, STEM Connection
Children are the Innovators of the Future - In our current world, the need for inclusive experiential learning for all children is more evident than ever. Discover how Vera took a passion and founded a nonprofit to make a difference. Join her to learn how The STEM Connection removes barriers to reach all children encouraging curiosity, discovery, and grit. Hear how the organization pivoted in March to offer virtual and new opportunities. Let's be Innovators that join together to make the world a better place for children.
Vera Vander Kooy is the founder and executive director of The STEM Connection. She is a highly regarded STEM educator and naturalist who has facilitated hands-on standards-based STEM learning experiences for over 20 years. In 2017 she received the Joe Wright Recognition of Excellence Award by the Environmental Educators Association of Indiana, and along with the entire STEM Connection team, the Hoosier Chapter Soil And Water Conservation Society's Education and Communications Award in 2018, and the TechPoint Foundation for Youth (TPF4Y) Bridge Builder Mira Award in 2020.
The STEM Connection brings STEM - science, technology, engineering, and math - to life by connecting STEM to today and tomorrow. The STEM Connection was founded in 2014 to share a whole new way of educating youth and preparing them for future careers in STEM. We facilitate hands-on, minds-on, feet-on-the-ground science, technology, engineering, and math experiences at Moore Road Farm, The STEM Connection's 30-acre fresh air learning site as well as other learning sites. The farm provides an innovative and accessible environment full of seasonally changing opportunities to engage 5,300 students per year in the world of STEM. We also work with those that work with youth to empower them to be able to provide meaningful STEM experiences for the youth they serve. We emphasize engaging those underrepresented in STEM careers: women, people of color, and people with disabilities.
Joanna Taft
Founding Executive Director, Harrison Center for the Arts
Joanna Taft serves as Founding Executive Director of the Harrison Center, a leader in grassroots cultural development; Founder and Board Chair Emeritus of Herron High School, ranking the top 3% of public schools nationwide; She is a pioneer in the field of creative placemaking. For these endeavors, she has received the Indianapolis Business Journal Women of Influence Award, the Girls Inc. Touchstone Award, Arts Council of Indianapolis ARTI Award, Jefferson Award, Monumental Award, and two Cultural Vision awards. She is a graduate of the Stanley K. Lacy Class XXXII and was a 2012 Creative Renewal Fellow. She also serves on the boards of Marion County Board of Zoning Appeals (Chair), Indianapolis Public Library Foundation, Allen Whitehill Clowes Charitable Foundation and the Katharine B. Sutphin Foundation (President).
Join Joanna and learn about:
- Neighborhood revitalization
- Creative placemaking for equity
- COVID-19 pivots
Breakout Session 2
John Hanak
Managing Director, Purdue Ventures
Wendy Kennedy
Founder, WKI
Starting with the importance of building a solid foundation for articulating the value of an innovation, then describing the frameworks necessary to create the innovation's overall market approach, to preparing the innovator or founder to move the innovation into the marketplace – whether as a startup or part of a larger organization – this session will provide step-by-step guidance. This will also include elements of ideation and pitch development specific for financing purposes. The participants will leave the session with tools and approaches to immediately assist their clients' in building that strategy.
John Hanak is the Managing Director, Purdue Ventures at the Purdue Foundry. Formerly, he served as the Statewide Director of the Purdue Technology Centers. He has held officer-level positions at a Fortune 500 metals manufacturer, a middle-market machine-building company and a technology product development firm. Additionally he co-founded a technology commercialization and consulting firm and a small investment partnership.
Wendy Kennedy is the creator of the popular entrepreneurial design thinking methodology, So what? who cares? why you? Organizations, advisors, coaches, faculty and more are certified to use our methodology to support innovators and entrepreneurs on their journey to entrepreneurial success.
Krys Ardayfio
Vice President, Success Coach, LLC
More like an unimaginable movie plot, Krystal survived both a stranger abduction and a hostage situation during childhood. These, among other powerful experiences, left her curious about people...who wins, who doesn't, and why. Surviving imbued her with a purpose to live life to the fullest AND encourage others to do so as well.
Krystal has served in formal and informal roles in diversity, recruitment, retention, and development, across many sectors in many arenas such as academic medicine, government, non-profits, healthcare, religious organizations, and more. Krystal has identified the greatest areas of opportunity and dedicated herself to developing strategies for success and sharing them with you through Success Coach.
About this session:
Q: Who am I? Why am I here?
A: At one time or another, you've asked yourself those fundamental life questions. Maybe you just pondered it lightly. Maybe you embarked on a complete existential crisis.
Q: Sound too crunchy? Too esoteric?
A: Stay with me. It's practical. It's methodical. It's science and evidence-based.
Q: But why are these questions so relentless, and why is understanding your purpose so important?
A: Answers to those fundamental questions seem elusive, yet finding and understanding your purpose is at the center of the human experience.
Q: So, what if you could learn a simple method for discovering your purpose? And what's more, what if you could learn to harness purpose like a superpower?
A: You can. Purpose has been linked to creativity, motivation, satisfaction, performance, happiness, and yes, INNOVATION.
Researchers actually have answers, methods, techniques, and information. And Krys Ardayfio will share that with you. She will share with you how she transformed the senseless and unimaginable experiences in her life into the purpose that fuels innovation. It's more simple than you might think.
10th Annual Indiana Innovation Awards
Day of Innovation includes the presentation of the Indiana Innovation Awards. Established in 2011, the Indiana Innovation Awards are the only broad-based innovation awards focused on Indiana. The awards seek to recognize those individuals and organizations who are successfully leading the innovation charge in Indiana.
Lifetime Innovation Award
Centric will posthumously award the organization's Lifetime Innovation Award to Madam C.J. Walker, one of the twentieth century's most successful, self-made women entrepreneurs. A'Lelia Bundles, Walker's granddaughter, will accept the award.
Agenda
9:30 AM Welcome Message
9:45 AM Keynote Speaker: George Aye - Designing for the Social Sector
10:40 AM Breakout Session 1
Vera Vander Kooy - Innovation in Education
Joanna Taft - Cultural Innovation: Leveraging the Power of the Arts
11:30 AM Virtual Networking & Lunch
1:00 PM Breakout Session 2
John Hanak & Wendy Kennedy - Thinking Tools for Innovation and Design
Krys Ardayfio - The Intersection of Life Purpose and Innovation
2:00 PM Indiana Innovation Awards
Lifetime Achievement in Innovation award: Madam CJ Walker
3:00 PM Happy Hour
Event debrief and discussion
A few speakers will be in attendance
Organizer of 2020 Centric Day of Innovation Conference - Online
Centric is a 501c3 nonprofit that connects, educates and celebrates Indiana's innovators.
Centric's mission is to increase recognition of the state of Indiana as a global center of innovation by equipping individuals and organizations with the critical thinking skills and cultural frameworks needed to drive innovation forward. Centric fosters a community of individuals who are passionate about helping each other, their companies and their communities succeed.