About this Event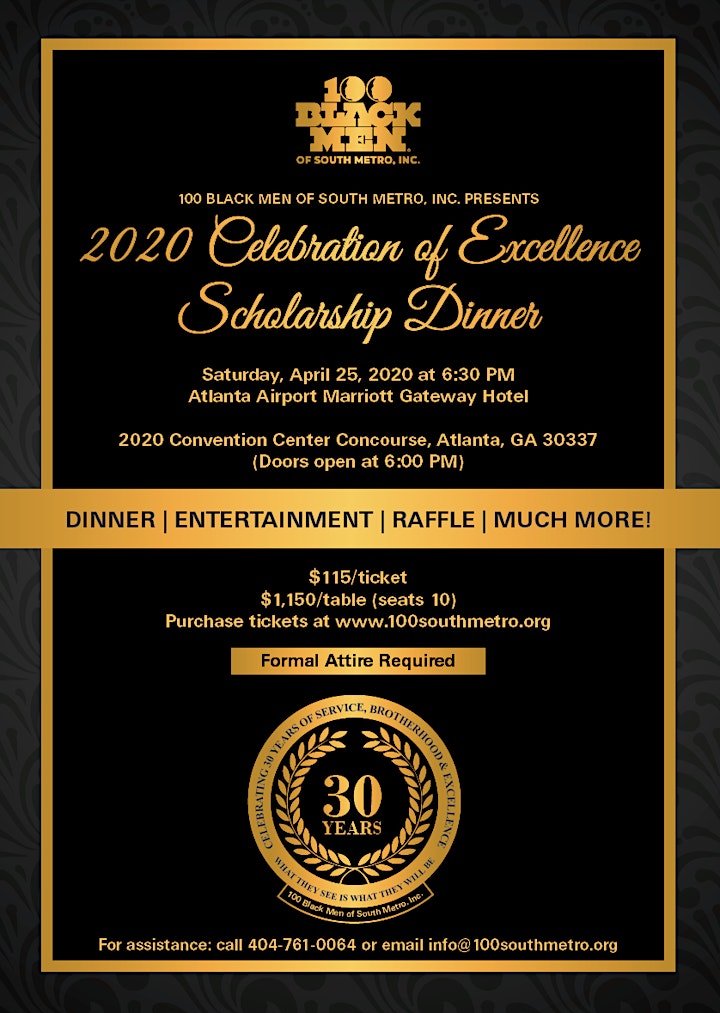 The 100 Black Men South Metro, Inc. is proud to present the 2020 Celebration of Excellence Dinner on Saturday, April 25th at 6:30 PM at the Atlanta Airport Marriott Gateway Hotel.
This event is held every year in support of the South Metro Rites of Passage Academy (ROP) mentoring program's scholarship fund. ROP is the South Metro chapter's award-winning mentoring program for boys of color in grades 8-12. The Academy currently has 50+ participants with alumni mentees awarded over $3.5 million in scholarships! Visit www.100southmetro.org/rites-of-passage for more info!
This year's celebration is extra special as the South Metro chapter of the 100 Black Men of America, Inc. celebrates its 30th anniversary! We are proud to have served the South Metro Atlanta community and beyond since 1990!
It is with your help that we will be able to continue our efforts in providing excellent service to the youth we mentor and to the community at large! With over 700 guests in attendance, the Celebration of Excellence Scholarship Dinner is well-attended by family and friends of The 100, as well as local and national dignitaries and a host of media outlets.
You can show your support by purchasing tickets ($115 each) or a table ($1,150 each) to this regal affair! Raffle tickets are also available for $10; enter for your chance to win up to $500! Your purchase is tax deductible to the fullest extent of the law. For additional information, please feel free to contact us info@100southmetro.org or 404-761-0064.
Thank you in advance for your support! The investment you make today is an investment into our young men and our future. We will see you soon!
The 100 Black Men of South Metro, Inc. is a 501(c)(3) nonprofit organization that serves to improve the quality of life within our communities and enhance educational and economic opportunities for all African Americans.