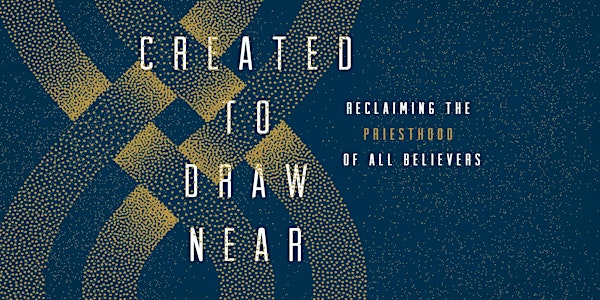 2020 CCEF National Conference
CCEF's annual National Conference is now virtual for 2020.
About this event
Created to Draw Near: Reclaiming the Priesthood of All Believers
Important Notes
Deadline – Individual registrations will be accepted through Saturday, October 3rd at 5pm (EST). 
Refunds – Refunds are no longer available. 
Substitutions - Due to administrative implications, we cannot make substitutions past Tuesday, September 15th, 2020. We ask that you do not request an exception to this policy.   
Unique Email Address - As you register, please use a unique email address for each purchased ticket. Should our event go virtual, the email address associated with each ticket will give you access to the virtual event page. 
COVID-19 Update:  
Our plan had been to offer a hybrid approach to this year's conference—meeting onsite for those of you comfortable doing so, and broadcasting online for those restricted from attending—but increased restrictions in Pennsylvania have now made that impossible. We are so disappointed not to see you in person this year, but because we no longer need to prepare on two fronts, we have become doubly excited about taking advantage of the online format. We are going to do everything in our power not only to bring you all the rich content you're accustomed to, but also enable you to experience the personal touch you've always enjoyed. Toward that end, we will be hosting and streaming the general sessions live (complete with our regular conference giveaways), taking you behind-the-scenes with our faculty, partnering with WTS Books to provide a specially-created online conference bookstore, and providing a variety of avenues for you to connect with each other.