Support and Education for family and other informal caregivers of older adults
About this event
The CAREGIVING SYMPOSIUM, brought to you by the Boulder County Area Agency on Aging has been rescheduled for September 30th. This the popular educational and support event for informal/family caregivers of older adults (and for the general public) is not to be missed! (Scroll down for the full agenda.)
Included this year:
Introductory session for all
Presentations on Caregiving Topics
Facilitated support sessions
Registration is $5 and includes lunch when registered by September 15th.
Respite (substitute care for an older adult) financial assistance is available, for more information call 303-441-1617.
Reasonable accomodations will be provided upon request for persons with disabilities. Please contact Julia Yager, Boulder County ADA Coordinator, or the BC Human Resources Division, at 303-441-3525, at least 48 hours prior to the event.
Public Transportation: If it is feasible for you, we recommend taking advantage of public transportation in getting to this event. RTD's JUMP has scheduled stops at both 55th and Arapahoe, and 63rd and Arapahoe, and one can request a stop between these two, at Oreg and Arapahoe. From here it is a very short walk (400 feet) to the JCC.
Directions to the Jewish Community Center (JCC): The JCC is at 6007 Oreg Ave, in Boulder. To get there turn south onto Oreg Ave from Arapahoe, between 55th and 63rd. The JCC will be on your right. There will be some parking at the JCC with parking attendants to guide you, as well as remote parking at the Flatirons Golf course. Buses will be available to transport those parking at the golf course, back and forth to the JCC. Please allow extra time for parking and bus transport to the event, should you need to park remotely.
Directions to remote parking at Flatirons Golf Course: The golf course is located 0.7 miles West of the JCC, at 5706 Arapahoe Ave.
Once you arrive at the JCC, please use the smaller entrance on the West portion of the building.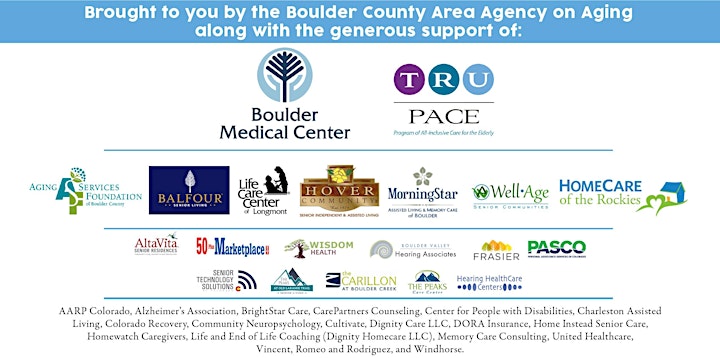 AGENDA
8:30 - 9 a.m.
Check in
Resource fair opens
Opportunity to sign up for short massage sessions begins
9 - 10:15 a.m. - Introductory Session (Levin Hall)
To Be Announced as we get closer
10:15 a.m. - first raffle winner announced in Levin Hall
10: 45 - 11:45 a.m. - Workshops
For Evolving Carers: Ten Lessons, and Staying Well, presented by Megan Carnarius, RN, NHA, LMT, author and owner of Memory Care Consulting. (Levin Hall)
The Conversation Project—Planning for Care Preferences Throughout Life, presented by Amanda Meier with the Conversation Project and Tru Community Care. (Room L130)
11:45 a.m. - 1:15 p.m.
Lunch (please contact us to let us know if you have a dietary restriction we need to know about at infocaregiver@bouldercounty.org)
During the long lunch break, we are hosting 30 minute facilitated support sessions. Please feel free to gather your lunch and bring it with you.
12 - 12:30 p.m.- Caring for a Parent, with Van Otto ( L130)
12 - 12:30 p.m. - Open to Anyone/Any Issue, with Suan Schnell and Claire McCorrison (F168)
12:40 - 1:10 p.m. - Caring for Someone with Dementia, with Brandy Queen (L130)
12:40 - 1:10 p.m. Caring for a Spouse, with Don Dick and Jerry Podgorski(F168)
1: 15 - 2:15 p.m. - Workshops
Medicaid Mysteries: How to pay for long term care without going broke, presented by Rick Romeo, Elder Law Attorney with Vincent, Romeo & Rodriguez, LLC. (Levin Hall)
"What's the difference between Alzheimer's and dementia?": An overview of disease, disorder, and caregiving , presented by Dr. Anthony Stabler with Community Neuropsychology (Room L130)
When Care Needs Change: Navigating difficult conversations, presented by Lisa Yordy, Medical Social Worker, LCSW, with Boulder Community Home Care. (Room F168)
2:30 p.m. Raffle ( Gym)
3 - 4 p.m. Workshops
Taking the Reins: Concrete ways to reduce caregiver stress syndrome by applying horse handling skills (without ever having to handle a horse), presented by Dave Wyner, MA, LPCC, NCC, President and Lottie Grimes, MA, Eds, LPC, Executive Director, both with Groundwork Ranch Equine-Assisted Empowerment Center of Colorado, Rebecca Boxer, MD, MS, Medical Director of Clinical Trials, Kaiser Permanente, and Evan Plys, PhD, Palliative Care and Aging, University of Colorado. (Levin Hall)
Layers of Loss: Understanding Grief as a Caregiver, presented by Julie Thomas, MA Counseling, Director of Grief Support Services at Halcyon Hospice & Palliative Care. (Room L130)
Caregiving and the Family - using Tech to Stay Connected, presented by Patrick Egan, a member of Area Agency on Aging's Aging Advisory Committee, formerly VP of Human Resources for the Global HealthCare Exchange, and his mother Sharon Wegscheider-Cruse, Counselor, Trainer, Consultant, has appeared on programs such as The Oprah Winfrey Show. Both are co-authors of "Caregiving - Hope and Health for Caregiving Families." (Room F168)
Resource Fair Closes at 3