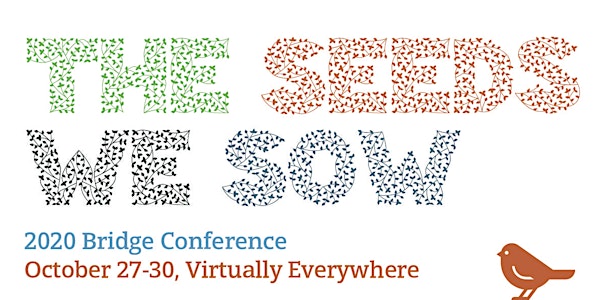 2020 Bridge Conference: The Seeds We Sow
The Seeds We Sow emphasizes intention in the act of reimagination — How can we nourish all our young people's excellence & right to thrive?
By School's Out Washington
Date and time
October 27, 2020 · 9am - October 30, 2020 · 12:30pm PDT
Refund Policy
Contact the organizer to request a refund.
About this event

School's Out Washington's annual Bridge Conference is a multi-day regional convening focused on exploring, celebrating, and influencing our collective field(s) through the act of solidarity and unified learning. Expanded learning professionals, community organizers, school district representatives, funders, policymakers, and systems leaders will gather to engage in a digital landscape for a unique virtual experience designed for participants to:   
Engage with a diverse range of knowledge, people, and perspectives. 
Identify the specific ways that racial inequities impact youth, expanded learning opportunities, and educational outcomes.
Experience a sense of belonging to nourish social connection and professional networking.  
Learn how to implement tangible practices that promote an equitable expanded learning opportunity ecosystem. 
Strive to recognize power dynamics throughout programs and systems and begin to strategize how to co-create stronger partnerships across sectors.

The Four Day Schedule
SOWA has thoughtfully created a schedule to allow for ample breaks and a variety of professional development and learning opportunities — that incorporate best practices in delivering engaging, interactive workshops through a virtual platform.
DAY 1 — Tuesday, October 27, 9:00am – 1:00pm
DAY 2 — Wednesday, October 28, 9:00am – 2:30pm
DAY 3 — Thursday, October 29, 9:00am – 2:30pm
DAY 4 — Friday, October 30, 9:00am – 12:30pm

Registration Rates
$225 - Early Bird Registration — From July 1 - 31, 2020
$250 - Standard Registration — From August 1 - October 9, 2020
$300 - Late Registration — From October 10 - 20, 2020
$150 - Standard Registration for School-Age Licensed Care Providers in Washington State
$65 - Plenaries Only Ticket — October 9-23, 2020
Cancellation and Refunds
Registration Cancellations will receive a:
PARTIAL REFUND, if submitted BEFORE Friday, October 3, 2020. These requests are subject to a 10% cancellation fee, and you will be refunded 90% of the total cost of your registration. (e.g. an individual will receive a refund of $225.00 for a $250.00 ticket)
NO REFUND, if submitted AFTER Friday, October 3, 2020. This is considered a late cancellation.

Scholarship Fund Donation
Seeking to support youth development professionals in financial need? During these unprecedented times, please consider adding a tax deductible donation at checkout. Donating to our Scholarship Fund allows SOWA to support individuals who have requested scholarship assistance to attend the Bridge Conference, and other professional development opportunities.
Request Scholarship Assistance
Seeking financial support to attend the Bridge Conference? If you are interested in receiving information about scholarships, please fill out this Scholarship Interest Form. At this time, School's Out Washington has reserved scholarships for specific initiatives. We will contact you if additional funds become available in the Scholarship Fund.
Group Discount
Group Discount: Register 9 people for Bridge, receive 1 complimentary Conference ticket. (10% discount)
Contact bridge@schoolsoutwashington.org with any questions about the group discount and complimentary conference ticket.
DCYF Training Reimbursement
If you have a STARS ID, you can qualify for DCYF Training Reimbursement. Please follow these steps to request reimbursement:
Head to the DCYF Training Reimbursement webpage.
Scroll down and navigate to 'Training Reimbursement' to learn more on how to apply. Individuals can apply for up to $250 worth of training reimbursement each year.
If you have any questions, please contact our training team at training@schoolsoutwashington.org

Does your company or organization offer a great resource for educators and youth development professionals? With our three exhibiting tiers, you can reach over 500 enthusiastic conference attendees who will love to see what you have to offer. We are excited to showcase exhibitors on our website, social media and virtual conference platform.
Download our Bridge Exhibitor Application and Agreement, and access the Exhibitor code to submit your application via Eventbrite.
For more information about exhibitor opportunities, see our Bridge website or contact Clara Rosebrock at bridge@schoolsoutwashington.org
Exhibitor Rates
$350.00 - BIPOC-Led Organization Price
$550.00 - Government/Nonprofit Organization Price  
$750.00 - Standard Exhibitor Price

Any questions about 2020 Bridge Conference?
Customer Service Email: Contact us at bridge@schoolsoutwashington.org
Customer Service Support Number*: Call us at (205)-286-9058
* Please note that this is not a local #206 number
For more information head to our 2020 Bridge Conference Webpage!