2020 Braver Than You Believe 1M, 5K, 10K, 13.1, 26.2 -Rochester
Description
2020 Braver Than You Believe 1M, 5K, 10K, 13.1, 26.2
*THIS IS A VIRTUAL RACE!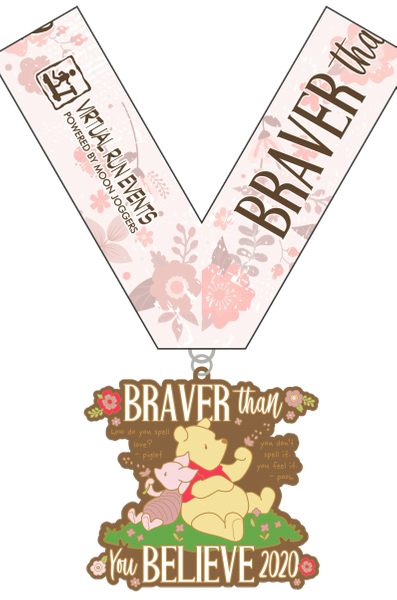 Did you know that January 18, 2020 is National Winnie the Pooh Day? To celebrate our favorite bear we are hosting our third annual Braver Than You Believe 1M, 5K, 10K, 13.1, 26.2! The medal says, "How do you spell love?" – Piglet. "You don't spell it. You feel it." -Pooh
Plus, we will be donating at least 15% of each registration to
Soles 4 Souls
. Since 2006 Soles4Souls has collected and distributed 26 million pairs of shoes to those in need in 127 countries around the world and all 50 states in the U.S.
*For a limited time you can purchase an official t-shirt and/or hoodie
HERE!
What:
This is a 1M,5K, 10K, 13.1, 26.2 virtual run (or walk) to celebrate National Winnie the Pooh Day and being BRAVE! You choose which distance you will complete.
When:
Complete your race any time in January 2020, even better if it's January 18, Winnie the Pooh Day!
*Medals and bibs will start shipping out mid-December 2019. After that they will ship out within 2 to 5 days of signing up.
Where:
You choose the course and you time yourself (you'll report your finishing time to us).
Why
: Because this is our way of celebrating our favorite bear!
Cost:
The price is $22 and that includes your medal, bib and shipping. Plus, at least 15% of every entry will be donated to
Soles 4 Souls
.
*We are in no way affiliated with this charity, we like to choose a different charity for each of our races and are happy to raise funds for them.