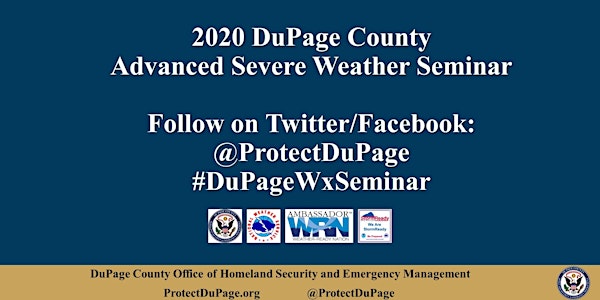 2020 Advanced Severe Weather Seminar
When and where
Location
Wheaton College - Todd M. Beamer Center 501 College Ave, Wheaton, IL 60187 (This event is not a function of Wheaton College.) Wheaton, IL 60187
Description
The 29th Annual DuPage County Advanced Severe Weather Seminar
Twitter/Facebook @ProtectDuPage #DuPageWxSeminar
Saturday, March 14, 2020
Sponsored by the DuPage County Office of Homeland Security and Emergency Management, the seminar will be held on Saturday, March 14, 2020 from 8:30 AM until 3:30 PM. Doors open at 7:00 AM (presentations will begin promptly at 8:30 AM, however, attendees are encouraged to arrive by 8:00 AM to provide enough time for checking in, finding a seat and to enjoy a continental breakfast).
The Advanced Severe Weather Seminar is geared toward those individuals who will be on the front line of the weather warning system, including spotters, amateur radio operators, emergency management personnel, police, fire, educators, public works and utility workers. This seminar is designed to provide continuing education to trained spotters who wish to broaden their understanding of advanced weather phenomena.
LOCATION
The seminar will be held in the Coray Auditorium, located in the Beamer Center, on the campus of Wheaton College. Please note the campus, including all parking and outdoor areas, are non-smoking areas.
Todd M. Beamer Center
501 College Ave, Wheaton, IL 60187
(This event is not a function of Wheaton College)
REGISTRATION INFORMATION
Advanced Severe Weather Seminar - $40.00
Registration fee includes a continental breakfast, hot buffet lunch, commemorative T-shirt, and an opportunity to win a door prize.
All registrations with payment must be received no later than Noon on Thursday, February 27, 2020.
PLEASE NOTE:
PAYMENT MUST BE MADE AT THE TIME OF REGISTRATION, OR THE REGISTRATION WILL NOT BE ACCEPTED.
NO WALK-IN REGISTRATIONS OR PAYMENTS AT THE DOOR WILL BE ACCEPTED.
REGISTRATION OPTIONS
1. ONLINE REGISTRATION (Preferred Method):
Online registration and payment is available at http://2020dupagewxseminar.eventbrite.com/
2. MAIL-IN OPTION: Mail-in registration and payment by completing the registration form, located on the weather seminar website, and returning it with a check payable to:
DuPage County OHSEM, 418 N. County Farm Rd., Wheaton, IL 60187
A registration confirmation notice will be e-mailed to you upon receipt of registration. In addition, regular updates will be emailed. As such, please provide an email address for each attendee.
REFUND POLICY
Registered individuals who find it necessary to cancel must contact the DuPage County Office of Homeland Security and Emergency Management at (630) 682-7925 as soon as possible. Cancellations received on or before the refund cut-off date of Thursday, February 27, 2020 by 12:00 p.m. (noon), will receive a full refund. Refunds will not be possible for cancellations received after February 27 as materials and food will already have been ordered.
Please note: Presenters and topics are subject to change without notice.