2020 A+C Festival | Screening/Discussion: "5 Blocks"
"5 Blocks" explores the complex questions of income disparity, changing demographics, and the very nature of place.
About this event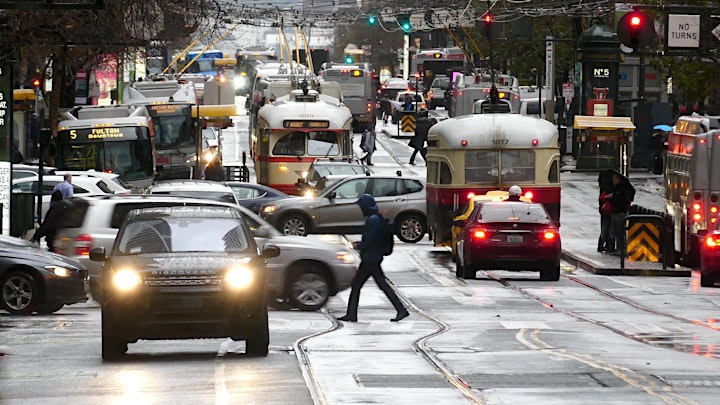 NOTE: Due to the COVID-19 crisis, the original program date/time has been updated. Questions? Contact info@aiasf.org
Agenda | Trailer
Video link will be sent to all registrants for viewing at least 3-5 days prior to this discussion. It will remain available for 7 days after the program.
San Francisco's Market Street was once the grandest boulevard in America, but decades of neglect have ground this once vital neighborhood to the nub. When the late Mayor Edwin Lee enacts legislation exempting businesses in the Central Market Street neighborhood from payroll tax in 2011 and dangles it in front of major tech companies to keep them from leaving town, the so-called Twitter tax break triggers an avalanche of changes. 5 Blocks explores the complex questions of income disparity, changing demographics, and the very nature of place.
Interweaving cinema vérité scenes, interviews with 16 individuals, and archival film and photos, 5 Blocks reveals the challenges of attracting new, wealthy residents and workers to an area with a 50-year history of housing and serving a very poor population. Everyone involved wants to see less crime, cleaner streets, and an end to open drug use. But the needs of the existing population – inexpensive stores and restaurants that serve as gathering places for those who live in tiny subsidized hotel rooms and consider the street an extension of their living space – are often in conflict with the trendy, high-end places favored by the young tech workers.

L-R: Michael Fox, Dan Goldes / Robert Corlandt, Amy Cohen, Jasper Rubin
MODERATOR
Michael Fox, Film Critic + Journalist, KQED Arts
Michael Fox has covered the Bay Area film scene for dozens of publications since 1987, and currently writes for KQED Arts. He curated and hosted the CinemaLit film series at the Mechanics' Institute for 14 years. Fox is an instructor in the OLLI programs at U.C. Berkeley and S.F. State, and a member of the San Francisco Bay Area Film Critics Circle.
SPEAKERS 
Dan Goldes – Producer/Director
Dan Goldes is a graduate of the San Francisco School of Digital Filmmaking and his first film, "ub2", a short documentary about language relating to HIV, has screened at 40 U.S. and international film festivals. His 2015 short documentary, "Equal Justice Under Law, premiered in San Francisco before playing at 20 other U.S. and international festivals.
Robert Cortlandt, Producer/Director (1959 – 2016), Urbanstreet Films
Robert Cortlandt was an award-winning photographer, filmmaker, and media artist whose work has been displayed in the U.S and internationally. He was the recipient of a Prentice and Paul Sack Award for Outstanding Photography and his work has been exhibited at the San Francisco Museum of Modern Art, SOMArts, San Francisco Arts Commission Gallery, Still Lights Gallery, and 22 Gallery. His photographs are held in private collections in the United States, Guatemala, and Colombia.
Amy Cohen | Director, Neighborhood Program Development,  San Francisco Office of Economic and Workforce Development
Amy Cohen brings expert teams, resources, and creative, community-centered activation approaches to places that are holding back neighborhoods. Amy's current portfolio includes the Civic Center Initiative, a collaborative cross-sector effort to unify and activate the public spaces linking Market Street and City Hall; the Citywide Public Space Initiative, a $2 million effort to improve public spaces throughout the City, and a citywide storefront vacancy strategy.  Amy has worked on public-private partnerships to revive abandoned buildings and led the first phase of a multi-year effort to revitalize Mid Market from 2011 to 2016.  Amy is a graduate of a Masters program in community development at University of California, Davis and has a BA from Bowdoin College in Brunswick, Maine. Amy lives in the Portola district of San Francisco with her husband and two school-aged children.
Jasper Rubin, Ph.D., Associate Professor in Urban Studies and Planning, San Francisco State University 
Before joining the University, Jasper worked as a planner and senior policy analyst at the San Francisco Planning Department. There he was the manager of the Central Waterfront Neighborhood Plan, a part of the Better Neighborhoods and Eastern Neighborhoods planning and rezoning programs. Much of his work involved negotiating a balance between protecting some of the city's remaining industrial land and identifying areas that could be developed to accommodate housing and commercial uses. He was also deeply involved in community-based planning efforts in the Showplace Square/Potrero and Mission neighborhoods. Rubin has also been a planner in a (now defunct) San Francisco environmental consulting firm, where he was involved in CEQA analysis for large redevelopment projects including Mission Bay. 
Organizer of 2020 A+C Festival | Screening/Discussion: "5 Blocks"
Serving the Bay Area for more than a century, the American Institute of Architects, San Francisco Chapter (AIASF) offers professional development and networking opportunities as well as public forums, tours, lectures, and gallery exhibitions that provide architects and design enthusiasts with many opportunities to explore the local built environment.
The Center for Architecture + Design enhances public appreciation for architecture and design, both locally and internationally, through exhibitions, lectures, tours, films, and other programs that reveal the richness of the design arts. Founded in 2005, the Center for Architecture + Design is a collaborative environment where design organizations and affiliates share not only space, but ideas.