2020 A+C Festival | Neighborhood Series: Chinatown
Sales Have Ended
Ticket sales have ended
Thank you for joining us for the Exhibition Opening Reception: "Villages of West Africa". Questions? Contact auomalley@aiasf.org
Sales Have Ended
Ticket sales have ended
Thank you for joining us for the Exhibition Opening Reception: "Villages of West Africa". Questions? Contact auomalley@aiasf.org
Hear about the fascinating details about Chinatown's master plan — its past, present, and future.
About this event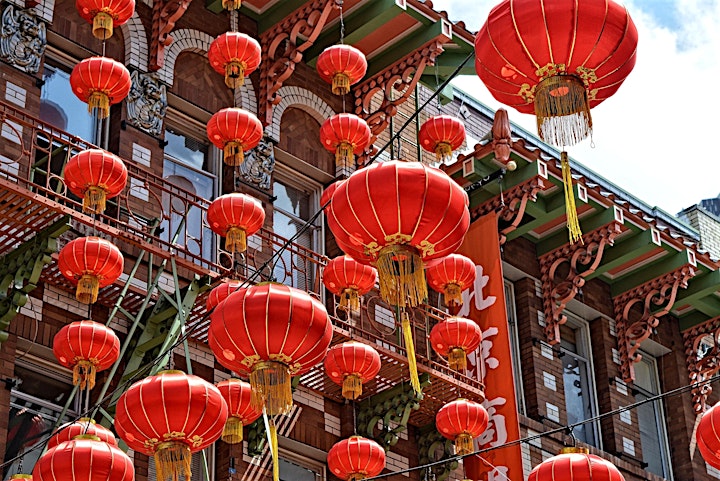 NEIGHBORHOOD SERIES: Chinatown
San Francisco's Chinatown has undergone many changes and continues to evolve even amidst today's challenges. Be part of this conversation that will take a deep-dive into this neighborhood's incredibly interesting past, present, and future.

L-R: Darlene Chiu-Bryant, Darlene Jang, Betty Louie, Lydia So, Malcolm Yeung
Darlene Chiu Bryant, Founder/Executive Director, GlobalSF
Darlene is founder and executive director of GlobalSF, a global not for profit platform committed to bringing together key stakeholders in the public and private sectors to create sustainable economic growth for San Francisco and the Bay Area. Prior to founding GlobalSF, Darlene was appointed by the late San Francisco Mayor Edwin M. Lee to head up ChinaSF, a public private partnership of the City of San Francisco. She oversaw efforts that brought in more than $5.1 billion in Foreign Direct Investment to San Francisco Bay Area.
Darlene has had a diverse career in both the public and private sectors, in international trade overseas working for German, Japanese and Chinese multinational firms and in her native San Francisco to work in communications and public affairs for Mayor Gavin Newsom, East West Bank, United Commercial Bank and Pacific Gas & Electric Company.
Darlene currently serves as boardmember of the Angel Island Immigration Station Foundation, founding board member of the Asian Pacific American Leadership Foundation, and as advisory board member to the University of San Francisco Chinese Business Studies Initiative.
Recently nominated one of the most influential businesswomen in the Bay Area by the San Francisco Business Times, in 2015 Darlene was named the "Fixer" for Chinese Companies wanting to make hay in San Francisco in San Francisco Magazine
Darlene Jang, Principal, Barcelon Jang Architecture
Darlene is Principal of Barcelon Jang Architecture which focuses on the cultural enrichment of communities. Through the firm's work on fine arts museums, educational facilities, community centers, and affordable housing, BJA explores the surrounding environment to present clients with modern design possibilities for a sustainable future.
BJA won awards from the National Trust for Historic Preservation, California Preservation Foundation, and San Francisco Beautiful for their adaptive reuse design converting the Julia Morgan YWCA building on Clay Street in Chinatown to a museum and learning center for the Chinese Historical Society of America.
In a joint venture with EHDD, they designed the CCSF Chinatown-North Beach campus at the corner of Kearny and Washington streets, incorporating the work of world-renowned artists on the exterior.
BJA's other Chinatown projects include the design of the community-initiated Washington Hyde Park, filling the historic void of outdoor play areas for children, and the renovation of the historic First Chinese Baptist Church on Waverly Street.
Betty Louie, Chinatown Merchants Association
Native born San Franciscan Betty Louie attended public schools from elementary through University and completed the Harvard's Owner Presidents Management Program, tailored to small businesses.
For over 40 years, she operated a small business in Chinatown, managing up to 6 stores and over 200 employees. She is very active in the Chinatown business community and serves as an Advisor to the Chinatown Merchants Association. Since 2013, she has worked to revitalize Chinatown, beautifying the streets with greenery, public sculptures, and murals, along with bringing in new restaurants and retail shops to the area. She served on several San Francisco non profit boards which missions range from the arts, sports and hospitals.
Lydia So, AIA, LEED AP, Principal + Founder, SOLYD Architecture
A native of Hong Kong, Lydia moved to San Francisco after college 20 years ago. It was San Francisco's commitment to freedom, diversity and equality that inspired her to call it home. As a licensed architect, Lydia's work has made positive impacts on regional economic growth, transit oriented developments and sustainability. She is the founder of SOLYD, a full service architectural, interior design, project management, art selection and specialty consulting company for retail, wellness, office and residential properties.
Prior to founding her own architecture and consulting firm, Lydia held a real estate design and management position at Apple which redefined the status quo of retail real estate development. Prior to that, Lydia was the first minority woman architect promoted to Technical Associate at the preeminent architecture firm, Skidmore, Owings & Merrill. She honed her design and preservation skills and trail-blazed the technical aspects of architecture, engineering and construction practice. While at the architecture firm of Bohlin, Cywinski, & Jackson, Lydia advised her client, Steve Jobs, on the design and creation of the first nine Apple Stores.
An advocate for improving policies and design for urban planning, preservations, arts and racial equity, Lydia currently serves as the Historic Preservation Commissioner in the San Francisco Planning Department. She previously was the Arts Commissioner overseeing the civic design of the City and the 1%-for-art-program, in which capacity she served as the liaison to the Mayor's Office of Housing and Community Development.
Lydia recently completed the Certificate of Commercial Real Estate Analysis and Investment at MIT. Lydia holds a Bachelor's degree of architecture with a Minor in Business Administration from University of Oregon.
She serves on the Board of Directors of the American Institute of Architects, San Francisco Chapter (AIASF), the Chinese Historical Society of America (CHSA), the Asian American Architects & Engineers, and she is a member of the Business Advisory Council at BART.
Malcolm Yeung, Executive Director, Chinatown Community Development Center (CCDC)
Malcolm is the Executive Director of the Chinatown Community Development Center (CCDC), a San Francisco based affordable housing and community development organization. In 2011, Malcolm served as a Senior Advisor to Mayor Edwin M. Lee, during which time he focused primarily on City affordable housing policy and programs. Malcolm practiced tenants rights and consumer protection law at the Asian Law Caucus from 2003 to 2008 and was a litigation and corporate associate at O'Melveny & Meyers LLP and Perkins Coie LLP from 2001 to 2003. Malcolm served in the first National AmeriCorps class, teaching English as a Second Language at the Houston Chinese Community Center and is a Houston native.
Malcolm is a member of the San Francisco Airport Commission, Board of Directors of Chinese Chamber of Commerce of San Francisco, and the Rose Pak Community Fund. He also serves as a member of the Steering Committee of the API Council, a coalition of over 50 non-profit organizations serving San Francisco's Asian American community. In 2011, Malcolm Yeung was President of the Asian American Bar Association of the Greater Bay Area, the Bay Area's largest minority bar association with over 1,000 members. He has previously served on the Boards of the Community Housing Partnership and Non-Profit Association of Northern California.
Malcolm graduated with a J.D. from the Berkeley School of Law in 2001, a Masters in History from the University of Colorado at Boulder in 1997, and from undergrad at Duke University in 1994. Malcolm has been a member of the State Bar of California since 2001.
About the Architecture + the City Festival (September 11-30)
Co-presented by AIA San Francisco and the Center for Architecture + Design, the 17th annual Architecture + the City goes virtual and will continue to offer behind-the-scenes programs, walking tours, literature, live presentations and more that provide an excellent opportunity for all communities to experience architecture and design in a myriad of ways throughout the city. Every September, the festival reveals the many facets and layers of San Francisco, and how ­architecture and design play a key role in this ever-changing urban landscape.
For more info visit www.archandcity.org
Organizer of 2020 A+C Festival | Neighborhood Series: Chinatown
Serving the Bay Area for more than a century, the American Institute of Architects, San Francisco Chapter (AIASF) offers professional development and networking opportunities as well as public forums, tours, lectures, and gallery exhibitions that provide architects and design enthusiasts with many opportunities to explore the local built environment.
The Center for Architecture + Design enhances public appreciation for architecture and design, both locally and internationally, through exhibitions, lectures, tours, films, and other programs that reveal the richness of the design arts. Founded in 2005, the Center for Architecture + Design is a collaborative environment where design organizations and affiliates share not only space, but ideas.