2020 A+C Fest | Film Screening/Discussion: "Skin of Glass"
Event Information
Refund policy
Contact the organizer to request a refund.
Eventbrite's fee is nonrefundable.
Follow the journey of filmmaker Denise Zmekhol who unearths an incredible narrative about her father's legacy as an architect.
About this event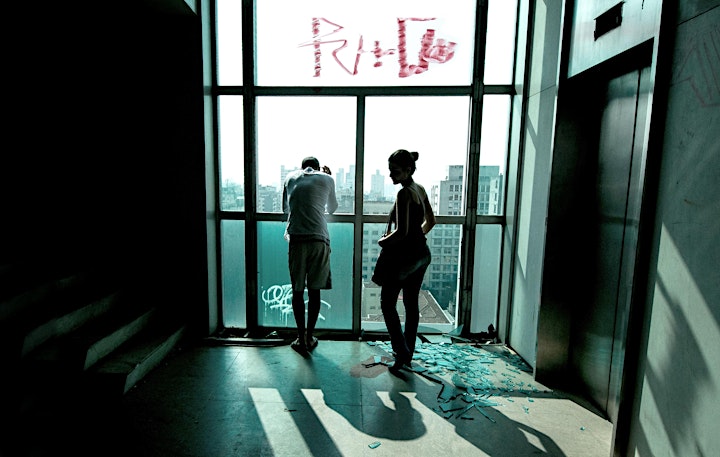 L-R: Denise Zmekhol, Francesco Perrotta-Bosch, Ray Telles
Join us for this preview of a work-in-progress film, "Skin of Glass", the story of São Paulo's tallest high-rise favela [slum], a 24-story office tower that is a treasure of mid-20th century architecture and the masterpiece of Roger Zmekhol, the late father of filmmaker Denise Zmekhol. Just 32 years old when her father imagined the "Pele de Vidro" building in the 1960s, it was a time of hope and prosperity in Brazil.
A military dictatorship took over the country before the building was completed, and for decades it served as the federal police headquarters. Then it was abandoned, becoming an empty and decaying home for impoverished immigrants and people living at the margins of society. Denise discovered the building in this state in 2017, four decades after her father's death.
The film follows her journey to discover her father's threatened legacy as an artist, as she confronts the harsh reality of inequality destroying the city her father loved. Her personal search forces her to face the brutal reality of a global crisis: one in six people in the world are squatters. The film evolves as a poetic essay on displacement, and her narration, in the form of a letter to her father, guides us.
MODERATOR
Raymond Telles | Director/Producer
Raymond Telles' 35-year career in film and television includes the production of numerous documentaries and segments for PBS, ABC, NBC, National Geographic, Discovery and Univision. Among the documentaries Telles has produced and directed are: PEDRO E. GUERRERO: A PHOTOGRAPHER'S JOURNEY (American Masters), THE STORM THAT SWEPT MEXICO, THE FIGHT IN THE FIELDS: CESAR CHAVEZ AND THE FARMWORKERS; STRUGGLE, CHILDREN OF THE NIGHT (Frontline) and THE PERIL AND THE PROMISE- 6 of the PBS series "LATINO AMERICANS." Among the honors these programs have received are the Columbia DuPont, Peabody, Emmy and Alma awards.
PRESENTERS
Denise Zmekhol | Filmmaker
Denise is a Brazilian-American journalist, an award-winning producer and director of documentary films and media projects that span the globe. Her documentary films, commercials, and innovative transmedia projects have been recognized for their elegant visual style and deft storytelling. Her feature documentary CHILDREN OF THE AMAZON was supported by the Independent Television Service and broadcast on PBS, as well as on European and Latin American television. Through captivating photos and interviews, CHILDREN OF THE AMAZON tells the story of struggle and hope to protect the world's largest tropical rainforest and its inhabitants. The film won multiple awards at film festivals around the world. Denise co-produced and co-directed DIGITAL JOURNEY, an Emmy Award winning PBS series exploring emerging technologies in their social, environmental and cultural contexts. Denise co-directed BRIDGE TO THE FUTURE, a short for PBS/TED Talks and was co-producer on Amir Soltani's DOGTOWN REDEMPTION that was exhibited on the PBS series Independent Lens. Recently Denise presented the story of her current film SKIN OF GLASS at the Pop-Up Magazine Spring 2019 tour in seven cities and with women from around the world at the TEDWomen BOLD + BRILLIANT conference in Palm Springs.
Francesco Perrotta-Bosch | Architect
Francesco is an architect and essayist. He graduated from the Catholic University of Rio de Janeiro (PUC-Rio) and received his master's degree at the University of São Paulo (FAU USP) where he is also currently pursuing his PhD. His 2013 essay THE ARCHITECTURE OF THE INTERVALS won the Prize Serrote, a prize promoted by the Instituto Moreira Salles. He was the curator of the exhibitions IRRADIAÇÕES - FABIO PENTEADO (Casa da Arquitectura, Matosinhos, Portugal, 2019), HOUSING PROJECT and FIGHT, SQUAT, RESIST (both with Pedro Rivera in Studio X Rio, a Columbia University institution in Rio de Janeiro, 2017). He was Curatorial Assistant of the Brazilian Pavilion of the Venice Architecture Biennale (2016). He organized the book BISELLI KATCHBORIAN (Acacia Cultural, 2019) and he is the coauthor of ENTRE. ENTREVISTAS COM ARQUITETOS POR ESTUDANTES DE ARQUITETURA (Viana & Mosley, 2012). Francesco is a writer for Folha de São Paulo (Brazil), Plot and Summa+ (Argentina), Architectural Design and Architectural Review (England). He is a permanent member of the architectural jury of the Associação Paulista de Críticos de Arte (APCA).
Date and time
Location
Refund policy
Contact the organizer to request a refund.
Eventbrite's fee is nonrefundable.
Organizer of 2020 A+C Fest | Film Screening/Discussion: "Skin of Glass"
Serving the Bay Area for more than a century, the American Institute of Architects, San Francisco Chapter (AIASF) offers professional development and networking opportunities as well as public forums, tours, lectures, and gallery exhibitions that provide architects and design enthusiasts with many opportunities to explore the local built environment.
The Center for Architecture + Design enhances public appreciation for architecture and design, both locally and internationally, through exhibitions, lectures, tours, films, and other programs that reveal the richness of the design arts. Founded in 2005, the Center for Architecture + Design is a collaborative environment where design organizations and affiliates share not only space, but ideas.