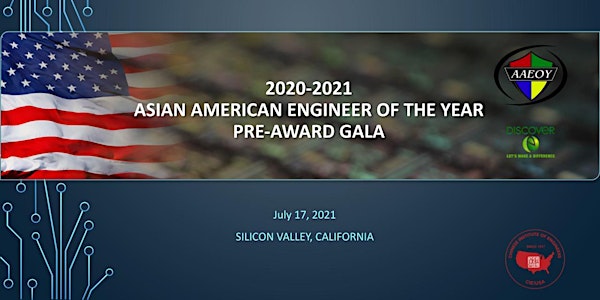 2020-2021 Asian American Engineer of the Year (AAEOY) Pre-Award Gala
Welcome to live AAEOY Gala event for celebration, mingling, and honoring of outstanding Asian American professionals
By Chinese Institute of Engineers(CIE) San Francisco Bay Area Chapter
Date and time
Saturday, July 17, 2021 · 1:30 - 3pm PDT
About this event
Introduction:
AAEOY Pre-award Gala is an invitation-only event for awardees, speakers, sponsors, committee members and important guests. As an AAEOY tradition, it connects the participants, congratulates this year's AAEOY award recipients, and prepares them for the next day's award ceremony.
This year, due to the pandemic, we are unable to meet in person and therefore, our volunteers crafted a unique online venue specifically designed for AAEOY: with a ballroom, tables with seating arrangement, exhibitions, welcome stations, a photo booth, etc. We will welcome you at the entrance of the virtual venue.
Program:
The AAEOY gala starts with guests mingling and exploring the interactive exhibitions, followed by the main program that will be hosted by the MC in the virtual ballroom.
During the reception session, guests will have opportunities to chat privately and take group pictures while toasting virtually on screen (in a virtual space mimicked from the real convention center).
From the virtual TV screen in the hallway, you will find exhibitions dedicated to showcase this year's awardees, highlight AAEOY memorable moments, acknowledge the generous sponsors, and appreciate the hard-working volunteers.
MC and AAEOY Chair will start the main program, followed with a welcome remark from Dr. William James Perry.
Remarks will also be delivered to appreciate all the participating entities, volunteers, and sponsors. Awardees will be introduced to all attendees on stage and will take group pictures.
The program will end with a briefing of the subsequent AAEOY activities including the award ceremony, career fair, and free networking time.
Attire: Business Casual
Virtual venue: https://gather.town/
Test space: https://gather.town/i/GlQht8OQ
About the organizer
CIE/USA-SF is a non-profit and non-political organization serving engineers and students in San Francisco Bay Area enginnering community. The missions of CIE/USA-SF are to promote technological advancement, networking, and communicating among engineers and scientists, and to promote well-being of engineering community.