Event Information
Location
Fremont Community Center
40204 Paseo Padre Parkway
Fremont, CA 94538
Description
邀請函 Invitation
MHACC Celebration Lunar New Year Potluck Party!
歡歡喜喜過大年!
美國華裔精神健康聯盟 誠摯邀請您歡慶2019中國農曆新年!
時間D&T: 2019/2/3 Sun 週日11:00am-2:30pm
地點Place: Fremont Community Center
40204 Paseo Padre Parkway Fremont CA 94538
Free admission, Online booking
免費憑票入場(位置有限,網上報名從速): https://020319.eventbrite.com
音樂,表演,卡拉OK,遊戲 ,抽獎等
Music, Performance, Karaoke, Raffle, Festive Food etc
注:每家(四口人)請自帶兩道佳餚,報名請註明菜名。
Each family please bring two dishes.
請大家穿過年的衣服,盛裝出席。Please wear your Traditional Chinese clothing.
Free Parking 免費停車
*歡慶會即日正式啟動首屆美華精神健康日项目!
*一起創造歷史,即日登記成為聯盟第一批會員!年費5 元!會場有會員登記處。
*来宾领取精美豬年福字挂歷,聯盟为您送上新年祝福!
祝福 新春愉快!全家安康幸福!
恭候光臨!我們不見不散!
Welcome to join us! Your participation will make the party fun and joyful!
Contact: Elaine Peng 510-362-1456
聯繫人: 彭一玲 510-362-1456
電郵Email: info@namichinese.org
www.mhacc-usa.org
美國華裔精神健康聯盟 敬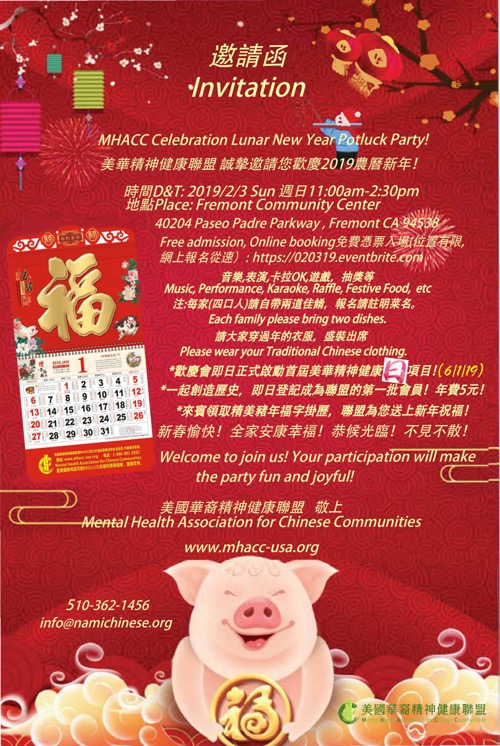 Date and time
Location
Fremont Community Center
40204 Paseo Padre Parkway
Fremont, CA 94538