Description
The YPiA Executive Breakfast Forum is designed to connect young professionals with today's agriculture executive (C-Suite level) leaders. During the breakfast, members will be seated at a table with a few executives and several young professionals. The goal of the forum is to provide a guided discussion between young professionals and executive leaders and hear from our "Innovation in Agriculture" panel discussion, moderated by Billi Hunt, Executive Director of the Cultivation Corridor.
"Innovation in Agriculture" Panel
Innovation and technology have critical roles to play in developing a more productive and sustainable agricultural landscape. This year's Young Professionals in Agriculture Executive Breakfast Forum brings together innovators, business leaders, young professionals, and farmers to discuss how we can foster and inspire innovation within companies. Join us in Ames, Iowa to hear perspectives from a panel of startups, accelerators, and established agriculture companies.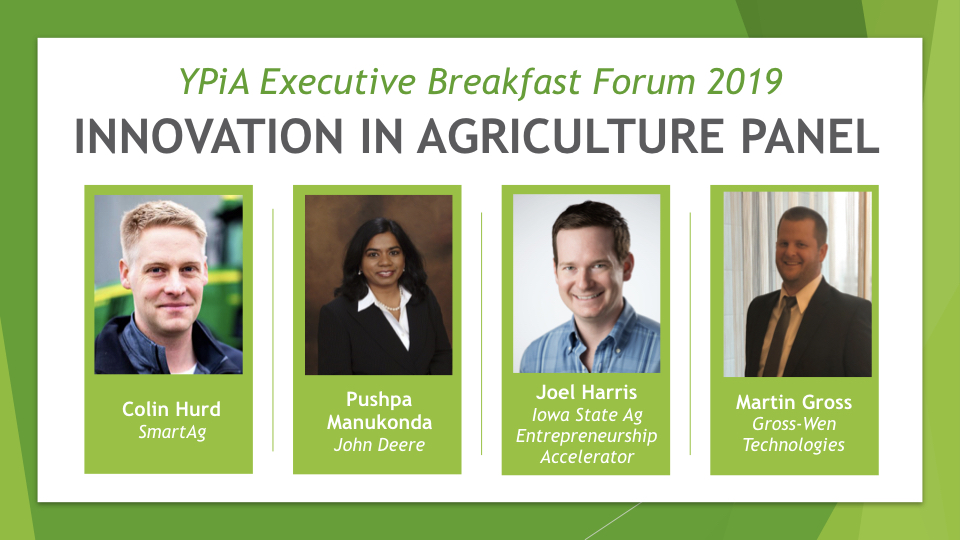 See the panelist's full bios here: https://www.youngprofessionalsinag.org/executive-breakfast-forum-1
The cost of a 2019 YPiA membership/membership renewal and breakfast ticket is $45 – a $55 value! If you wish to only attend the breakfast and not purchase/renew membership for 2019, the cost is $35. YPiA membership includes an invitation to all 2019 YPiA events/activities, YPiA e-newsletters, unique social networking opportunities, industry meet-ups, professional growth, committee membership opportunities, and leadership development.

The registration deadline to have your YPiA member nametag printed for the breakfast is Friday, March 1. The final deadline to register for the breakfast is Tuesday, February 26 - 6:00 p.m. There are a limited number of seats available, so please purchase your ticket today!
If you have questions, comments or suggestions, please contact Joanna King, YPiA Special Events Chair, via king.joanna.93@gmail.com.