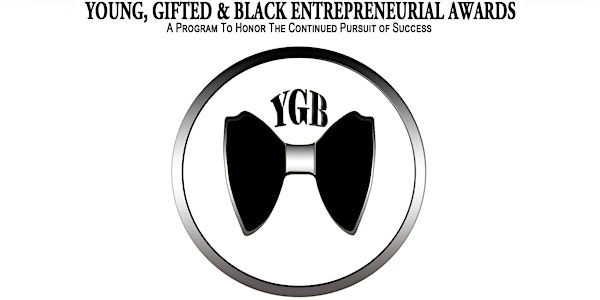 2019 Young, Gifted & Black (YGB) Entrepreneurial Awards - Media Registration
By YGB Entrepreneurial Awards
Date and time
Wednesday, February 27, 2019 · 5 - 11pm EST
Location
26 Bridge Street 26 Bridge Street Brooklyn, NY 11238
Description
Dear Media Partners:
Please confirm your attendance to cover the 2019 Young, Gifted & Black (YGB) Entrepreneurial Awards.

The YGB Entrepreneurial Awards will issue complimentary media passes to a select list of Journalist & Photographers. All media must register and complete our media accreditation form.
Media Confirmation Email:
Registration Does Not Grant You Access To Attend The Awards. Approved Media Will Receive The "Media Confirmation Email"
Media Requirements:
Media pass entitles approved personnel to cover our vip /press cocktail reception; personnel is entitled to the complementary 1 hour open bar & pass hors d'oeuvre during the vip/press cocktail reception

Media pass entitles approved personal to cover dinner & awards presentation; personnel is not entitled the complimentary dinner & open bar with the main dining area

Media personnel who wish to be seated for dinner must purchase a discount vip ticket

Media can also make a donation to ygb educational assistance program

Media Check-In:
Media Personnel Must Check-In Between 5:30pm - 6:00pm To Cover Vip Reception, Conduct Interviews & Photographs.

Approved Media Must Agree To The The YGB Entrepreneurial Awards "Materials Agreement" & Reserves The Right To Receive Complimentary Copies Of All Media Material Produced for the Program

Media Should Submit Final Copies To ygbawards@gmail.com
Looking forward to your attendance and coverage.
2019 YOUNG, GIFTED & BLACK (YGB) ENTREPRENEURIAL AWARDS
for
The Continued Pursuit of Success

BLACK TIE
26 BRIDGE
26 Bridge Street
Brooklyn, NY 11201
Wednesday, February 27, 2019
6:00PM - Cocktails & VIP Networking Reception
7:00PM - Dinner Seating
8:00PM - Dinner & Presentations
More Information, Visit: http://www.ygbawards.com
Best regards,
YGB Entrepreneurial Awards Media Team
About the organizer
Click here to subscribe to our text messages.
BACKGROUND
In 2006, the YGB Entrepreneurial Awards program was created with one goal and mission in mind:
To positively empower individuals and communities by highlighting the achievements of the
"Unsung Heroes" whose stories can help inspire others towards making future goals attainable.