2019 Wylie Bluegrass on Ballard Car and Motorcycle Show Entry Form
Description
*** Online Registration has Closed, but YOU CAN STILL REGISTER AT THE SHOW *** There's still room for you!
***Registration is only required for Cars and Motorcycles participating in the show. This event is free attendance for spectators***
Calling all cars and motorcycles and enthusiasts: We will be having a car/motorcycle show during the Wylie Jubilee Bluegrass on Ballard celebration on Saturday, June 29th 2019 from 4pm until 9pm.
Registration is open to any and all cars and motorcycles, and there are several classes to enter and compete in for best in class. The event is participant judged in the following classes:
Car Classes
Pre 50's Car - 50's Car - 60's Car - 70's Car - 80's & 90's Car - 2000 to 2010 Car
2010 & Newer Car - Open Car - Convertible - Tri-Five - Classic Muscle - Modern Muscle
79 & Earlier Mustang - 80 & Later Mustang
81 & Earlier Camaro - 82 & Later Camaro
82 & Earlier Corvette - 84 & Later Corvette
89 & Earlier Mopar - 90 & Later Mopar
Rat Rod - Special Interest
Import - Hot Rod/Street Rod/T-Bucket
Truck Classes
Pre 60's Truck - 60's & 70's Truck - 80's & 90's Truck
2000 + Truck - 4 X 4 - Open Truck
Motorcycle Classes
Cruiser - Sport - Custom

Additional awards will be given for Mayor's Choice, Best Classic/Modern Car, Best Truck & Best Motorcycle
Purchase your registration ticket here in advance via credit card, or register in-person with cash on June 29th. Space will be limited, so buy here in advance to guarantee a spot! The first 100 registrants will receive a T-shirt and dash plaque and sponsor goodie bag. The event is rain or shine and there will be no refunds. Parking is first come first served, if you need club space, please pre-register and email so we know. We'll do the best we can to accomodate, but no guarantees.
Entry point for participants will be on Marble street, East of Ballard Street.
Please email WylieCarShow@gmail.com for any questions. We look forward to seeing you and your sweet ride there!
Map Location Site Downtown Wylie, registration entrance directions.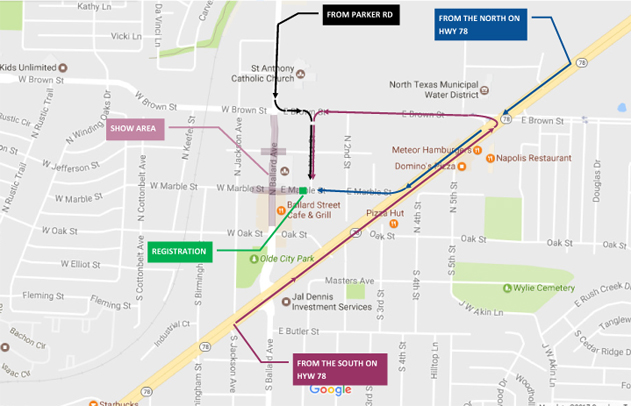 FAQs
Do I have to bring my printed ticket to the event?
We prefer that you bring your printed ticket to the show when you arrive and indicate what class of car you are entering, make and model, under the same registration name as on your ticket.

Car Classes
Pre 50's Car - 50's Car - 60's Car - 70's Car - 80's & 90's Car - 2000 to 2010 Car
2010 & Newer Car - Open Car - Convertible - Tri-Five - Classic Muscle - Modern Muscle
79 & Earlier Mustang - 80 & Later Mustang
81 & Earlier Camaro - 82 & Later Camaro
82 & Earlier Corvette - 84 & Later Corvette
89 & Earlier Mopar - 90 & Later Mopar
Rat Rod - Special Interest
Import - Hot Rod/Street Rod/T-Bucket
Truck Classes
Pre 60's Truck - 60's & 70's Truck - 80's & 90's Truck
2000 + Truck - 4 X 4 - Open Truck
Motorcycle Classes
Cruiser - Sport - Custom