2019 Women In Business Pitch Competition [New Orleans Entrepreneur Week]
Description

Register Today to Attend the Urban League of Louisiana's 2019 Women-In-Business (WIB) Challenge sponsored by Fidelity Bank P.O.W.E.R. on March 27!
The WIB Challenge provides female entrepreneurs with the education, tools, and resources needed to scale their businesses towards profitability and sustainability. For nine weeks, ten semi-finalists participated in a comprehensive business education program, received technical assistance and counseling services, and were introduced to various resources to support their growth plans. Of the ten, four finalists were selected to advance to the pitch competition.
The event will be held during New Orleans Entrepreneur Week (www.noew.org), presented by J.P. Morgan Chase & Co. and produced by the A.B. Freeman School of Business at Tulane University and The Idea Village, on Wednesday, March 27, 2019 at the New Orleans Jazz Market, 1436 Oretha Castle Haley Blvd., New Orleans, LA 70113, from 1:00 pm to 3:00 pm.
During the event, an esteemed panel of judges will select the winner based on the effectiveness of the pitch presentation, scalability of the business model, and proposed use of award funds. A celebrated keynote speaker will also provide a motivational address prior to the announcement of the 2019 WIB Challenge winner.
The Finalists
Charon Flowers Maple – Designum Media Group (www.designummediagroup.com)
A Business-to-Business (B2B) technology company supplying turn-key software solutions based upon the latest technology and utilizing Web-based applications. Designum also offers e-commerce solutions, SaaS (Software as a Service) software, mobile app development and a Scan & Go technology platform.
Sara Reardon – Nola Pelvic Health (www.thevagwhisperer.com)
Provides services to women to treat common yet rarely addressed pelvic health disorders in a manner that is accessible, modern, and convenient via a pelvic health physical therapy platform. Clients access services through in-person clinic sessions, virtual sessions, and online exercise programs.
Leslie Barrow – Southern Comfort Real Estate Services (southerncomfortrealestateservices.com)
A full-service property management company offering clients a "One Stop Shop" for their property management needs. Services include: cash for keys, lock work, tree services, evictions, roof repairs, and minor to full scale upgrade renovations.
Courtney McWilliams – MaryMac's Doggy Retreat (www.marymacsdoggieretreat.com)
A dog daycare and boarding company that specializes in caring for dogs that have anxiety or depression. MMDR follows the Dog Gurus Doggy Daycare Model 2.0 which allows for smaller group play with structured play time, small group play, and one on one attention.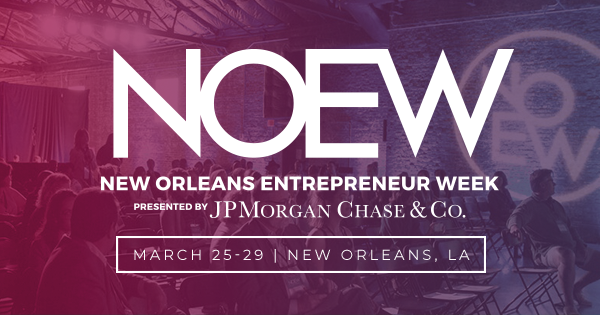 This year's NOEW events cover a wide range of topics including entrepreneurial hospitality, the future of big data, women in tech, growth strategies, connecting New Orleans to the global economy and more. Registration to NOEW is open bit.ly/RegisterForNOEW2019.
.