2019 Wilton Manors Stonewall Pride Parade and Street Festival
Description
In 2019, we will celebrate Stonewall 20-50!
2019 is the 20th anniversary of the Wilton Manors Stonewall Festival, and the 50th anniversary of the Stonewall Riots. We remember the past, celebrate the present, and look forward to the future.
IMPORTANT INFORMATION FOR ORDERING
This year we have simlified the order form so that you can order booth space, parade entries and/or banners all on the same order form. Booth zones (see below) are listed at the top of the list, then parade, and then the banners. Simply check the items you wish as you scroll down the list and proceed to the next page. On the payment page (at the bottom) there are add-on options. On boothspace you can choose an endcap. You can also order electric power and extra tables and chairs if you need.
Zone locations are shown below. Exact booth placement within the zones is not guaranteed as WIlton Drive is undergoing some construction. The Center Stage islocated at 6th Ave and WIlton Drive, which is the highest density area. North of 6th is usually higher density (higher noise level). South of 6th is good for vendors/exhibitors who desire less background noise.
The parade line-up will be at Fort Lauderdale High School and the parade route will proceed north to 26th Street.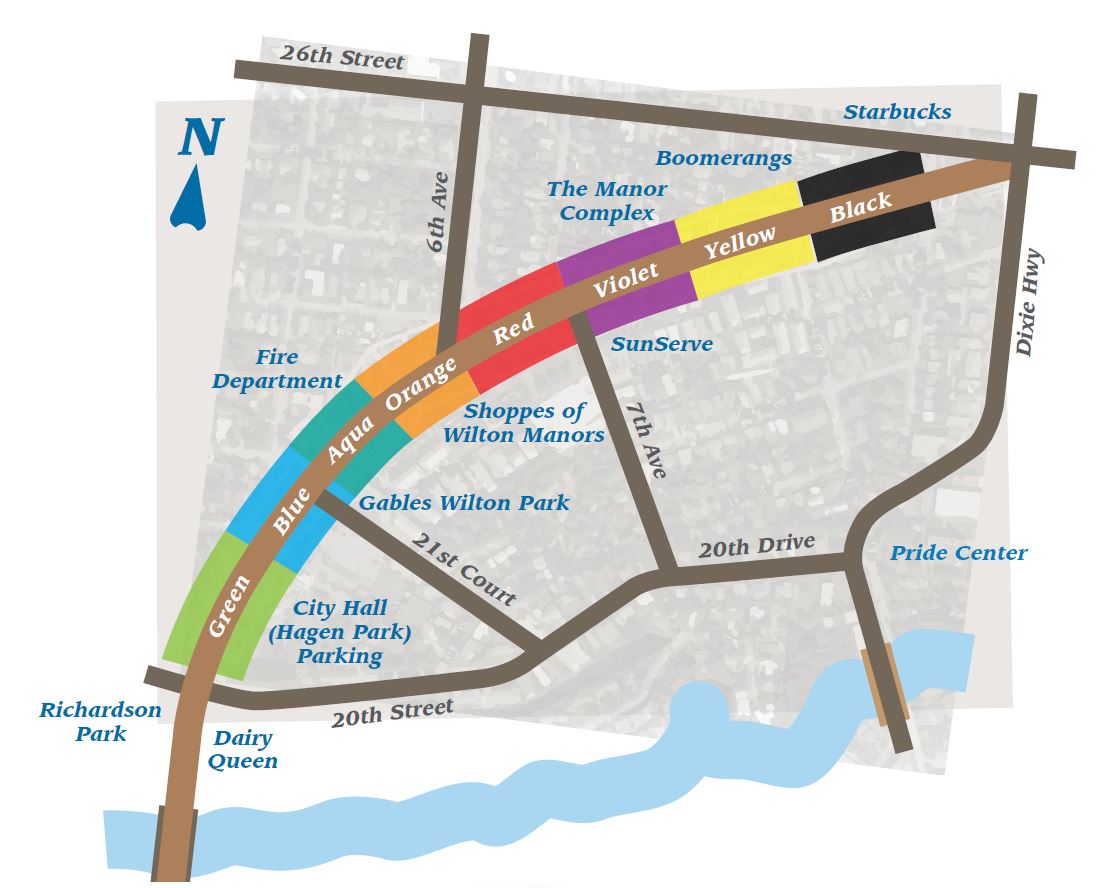 We do offer promotions for 501(c)3 non-profits and for members of the Wilton Manors Business Association and for early bird registration. Discounts apply to booth and parade registrations. See the chart below for the discount codes. Be sure to enter the promo code before making your selection in order to see the promo code pricing. Non-profits must show proof of their 501(c)3 status, WMBA members must be current. (To become a member of WMBA, visit their website to join: wiltonmanorsbusinessassociation.com.) Please note, you can only use one promo code, and promo codes are only valind during the dates indicated.