Location
The Chalet Event Center
5450 China Garden Road
Rocklin, CA 95677
Description
Join us for the 2nd Annual White Party as we transport you to the ultimate Under the Sea themed White Party. Get fashionably wined and dined for dinner, a fashion showcase presented by Sacramento Fashion Week on 30ft long raised runway, and a live DJ for an after-hours party.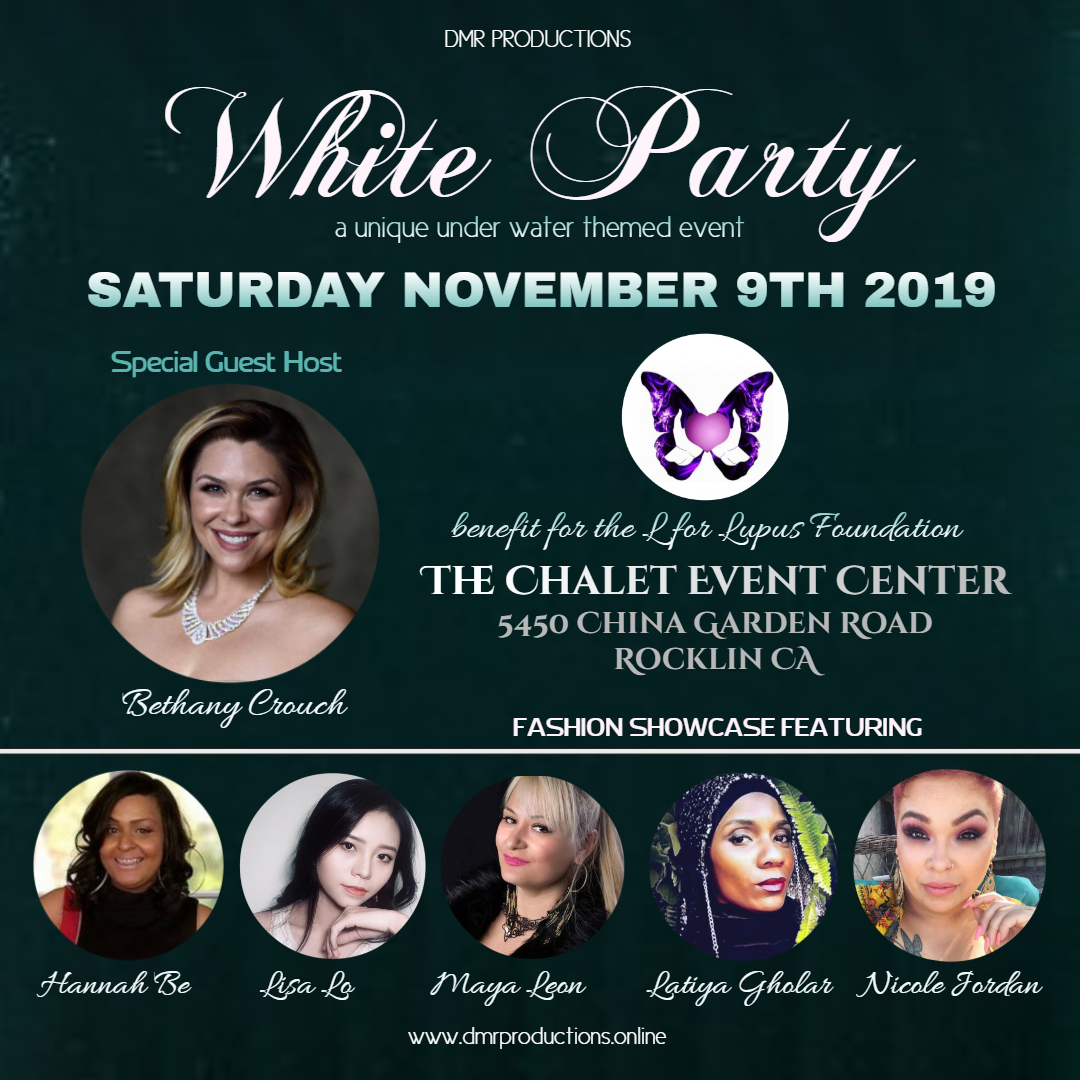 Event Host:
Bethany Crouch
We are thrilled to have Bethany Crouch join the production this year to host. Bethany is currently a guest host on NewsRadio KFBK and is also Comstock's magazine online columnist. For 20 years she has worked as a TV news broadcaster, reporter and producer for NBC, CBS, FOX, and the CW affiliates.
Entertainment:
Buddy Rahming | Stand-up Comedian
Nani Pacal | Contortionist
Featured Designers:
Hannah Be
Image consultant and sustainable wardrobe stylist Hannah Be of Retrospect Vintage Fashion (RVF) blends high-end fashion with vintage pieces giving a couture signature look on a dime. With over 10 years of experience, we look forward to seeing her skills in action once again.
Maya Leon
Designer Maya Leon is not afraid to be spontaneous with her brand Angela De Forsage. Creativity and flexibility of the mind are qualities that are highly valued in her team. Fresh patterns and bright colors are her forte, producing a vibrant avant-garde whimsy in all of her pieces.
Latiya Gholar
Designer Latiya Gholar will be showcasing her American Umma (AU) brand. AU is an exotic covered apparel line that combines Islamic cultural attire with that of our American culture. Modernizing the traditional hijab in previous showcases, we anticipate seeing what new unique pieces she'll bring to the stage this time.
Lisa Lo
Designer Lisa Lo immigrated to the United States from Taiwan in 2009. Growing up with both cultures inspired her to be passionate about bringing out the cross-cultural aspects of fashionable apparel. She creates innovative designs through her artwork by using textiles with a variety of textures and patterns, infusing them with her own style and creativity.
Nicole Jordan
Designer Nicole Jordan has only been designing outfits out of jewelry pieces for less than a year now. However, her designs have already been featured in numerous publications. One of her headpieces was worn by drag queen, Plastique Tiara, in her music video and during her performance on Rupaul's Drag Race: Werq the World Tour. Can't wait to see what she has planned for November 9th
Event Tickets
$65 Dinner Buffet (single person)
$600 Reserved Table (seating for 10)
Tickets include dinner, showcase seating and an after-event party
Dress code: White with your own flair. With the theme of "Under The Sea" this year, think all things nautical, aquatic, whimsical, fantastical, and from a place of imagination. Break out those white tuxedos and white ball gowns because you can't get too fancy. Tasteful costumes that are creative, fun, and of course fashionable are always welcome at this event. What can you do with white?
Bar: Cash Bar with Beer, Wine, and special White Party inspired cocktails. Bring cash with you. Don't forget to tip your bartenders!
Photo Booth: During the night, make sure to stop by our photo-booth and capture magic of the night.
Proceeds from the event will go towards the "L for Lupus Foundation". The organization is a non-profit, whose mission is to build awareness and support for Lupus patients all over the world. Come support, come experience a night to remember - don't miss out.