Description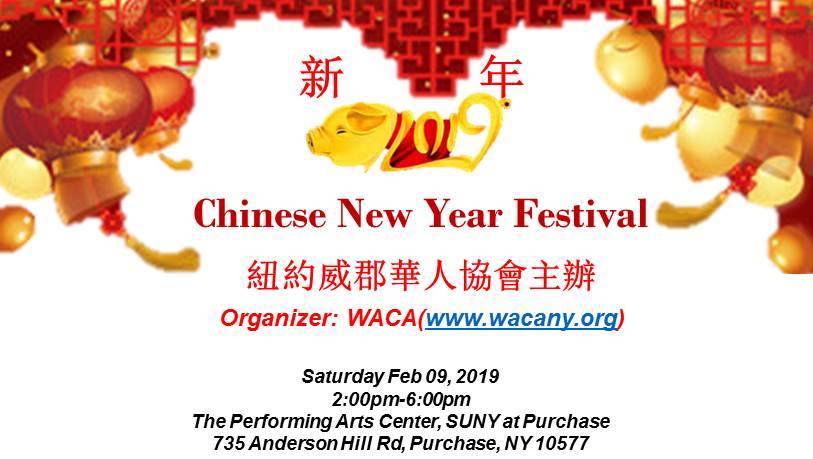 Sponsors:
Regeneron, TD Bank, New York Life
Supporters:
HXGNY, HXNYC, HXSCS, NWCS, CSSW, OCA-WHV, Verizon, ATCMS, FCC, Greenburgh Evergreen Club
Join Us to Unveil Lunar New Year Stamp by US Postal Services!
Please come and join us in the 2019 Chinese New Year Celebration to be held Saturday, February 9, 2019 (2:00 to 6:00 pm) at the Performing Arts Center, SUNY Purchase College.
For the propitious Year of the Pig, the theme of the celebration is "the Culture and Tradition of the Chinese New Year Festival." It will feature Chinese cuisine presentation and food sampling provided by the local Asian restaurants, bakeries and/or individuals; an art gallery showcasing artworks, calligraphy and Chinese painting; handcraft demonstrations such as paper cutting, origami and traditional costumes; martial arts demonstrations including Tai Chi and Lion Dance; as well as Chinese musical instruments performances. On top of all this, there will be a formal program of various performances by professional artists and local art groups, including but not limited to the Chinese acrobatics.
This year happens to mark the 30th anniversary of the Chinese New Year celebration event organized by the Westchester Association of Chinese Americans (WACA). WACA, as in previous years, will hold the upcoming 2019 celebration with generous support from local businesses and organizations.
So, please come and spend an afternoon with us to enjoy the festive atmosphere of the Chinese New Year, to learn about the rich history and culture of China, and to taste the delicacies that this culture has to offer.

Tickets can be purchased at all local Chinese schools, a few select Chinese grocery markets, certain Chinese organizations such as OCA, as well as from online here. There is an early-bird discount for tickets purchased prior to January 28, 2019.
各位朋友,各位侨胞:
2019年初将迎来中国农历己亥(猪)年的春节,纽约威郡华人协会(Westchester Association of Chinese Americans)再次隆重向您推出由本会举办的盛大"中国春节联欢会"活动!
如果您远离故土,却想在异国他乡沉浸于中国新年的欢乐节日气息中;想观赏精湛的中国传统文艺节目;想品尝熟悉的家乡风味,那么就请您携家人、朋友前来参加2019年2月9日星期六下午2时至6时在纽约州立大学坡彻斯分校(SUNY Purchase College)的表演艺术中心(Performing Arts Center)举办的"中国春节联欢会"活动。
本次活动形式多样,内容丰富,集中国文化、艺术、饮食于一体;分琴棋书画、手工艺术、南北饮食、专业和业余艺术表演等几大类别。
您将欣赏到书法和中国画的展示、现场习作及中国传统乐器以和西洋乐器的表演;也可观摩并动手参加剪纸、中国结、折纸、脸部彩绘等手工艺制作活动;以及穿上中国传统服装摄影留念。
南北饮食部分则是请一些当地的中国餐馆及精于烹饪艺术的个人烹制中国各地风味菜肴供大家品尝;另有茶艺展示和品尝台为您服务。
最精彩的是专业演出团体以及本地业余演出团体的精湛舞台节目演出。今年,我们再次有幸请到了专业杂技团为大家表演多种杂技和魔术节目。另外,还有一些当地演出团体和中文学校的各类演出,包括舞蹈、歌曲、乐器演奏、小品等节目。
亲爱的朋友们,请您专门腾出2月9日这一天的下午,前来参加这届洋溢着浓厚的中国传统春节文化气息的联欢活动。在2019年1月28日之前购票,可享受早鸟优惠价。