Description



Welcome To The Registration Site For
The

2019 Weichert® Leadership Retreat!

This year's Retreat will be held in San Antonio, TX, a city overflowing with culture and the adventurous spirit of its past. And we've chosen the Hilton Palacio del Rio – right on the Riverwalk! Break away from the daily grind for three days of networking, dynamic content, inspiring speakers—and fun! This event is designed exclusively for Franchise Owners, Brokers & Managers with Management-focused content. Take this opportunity to collaborate with fellow managers across the country to explore and discover new ways to grow your business. All details and registration info are below. Check back regularly for updates. We look forward to seeing you!




If You Are the Primary Owner: Please register with your RSM. Do not purchase a ticket through this site. All other owners & attendees need to purchase tickets through the site. If you are not sure, contact your RSM.




Come to learn. Leave Inspired!
Our line up of headline speakers and workshops will arm you with the knowledge you need and get you thinking about where to go next with your brokerage. Be inspired and go home with great ideas to implement in your business!


Headliners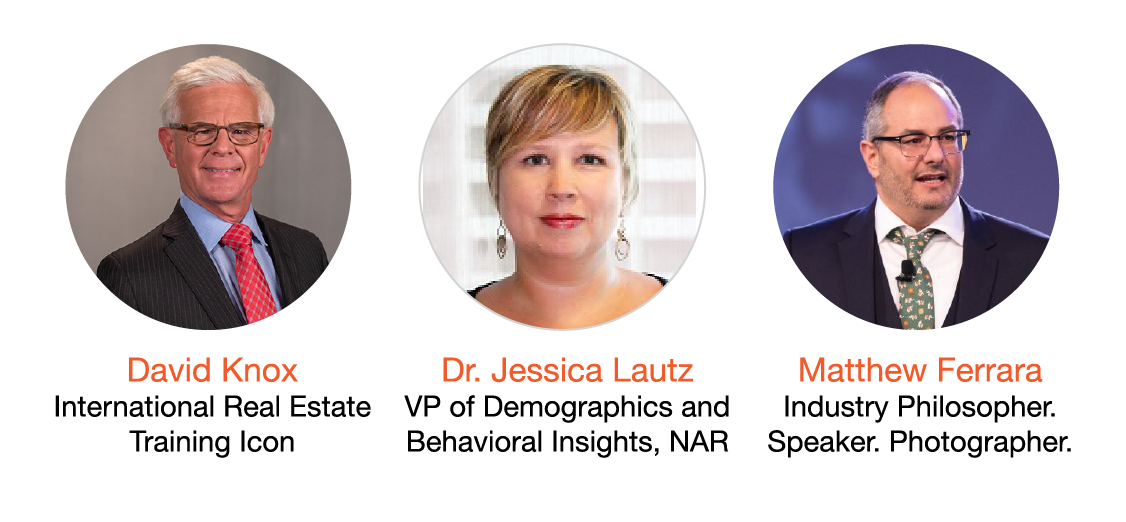 Learning Lab Sessions
The industry is changing. How does your brokerage compete? These interactive sessions will give you ideas and help strengthen your value to your agents and your clients:
Preview myWeichert powered by kvCore - our new smart tech platform

Brokerage Profitability

On-Boarding Agents

Retention Techniques

How to Create an Annual Marketing Plan

2020 Business Planning

Best Practices Panels

Agent Motivation and Improving Production

Taking the Competition Head On to WIN



Tuesday, October 15
th
• Welcome Reception - Stop by for welcome drinks and snacks!
Dinner on own
Wednesday, October 16th
• 9:00 a.m. start
• Full day of General Session & Break-Out Content
All meals on own. Coffee available in Conference Area.
Thursday, October 17th
• 9:00 a.m. start
• Full day of General Session & Break-Out Content
• Evening Event – Get ready to kick up your heels at our Boots & BBQ Bash! You'll be transported off-site for food, music, dancing and fun at our rodeo-inspired send-off.
Breakfast & lunch on own. Coffee available in Conference Area.


Dress is business casual.
Dress for Boots & BBQ Bash is casual. Boots, hats and bandanas welcome!

*Agenda subject to change

Situated on the famous River Walk in beautiful downtown San Antonio, the Hilton Palacio del Rio is just steps away from shopping, dining and world-class entertainment. This landmark hotel features rich South Texas style and is just eight miles from the San Antonio Airport. Riverboat tours load just outside their doors.
Click Here for more information about the Hilton Palacio del Rio, along with a complete list of hotel amenities.



Book Your Room For The 2019 Weichert Leadership Retreat
Weichert Room Block Available. To Reserve a Room in the Block:
Click Link Below:
https://www.hilton.com/en/hi/groups/personalized/S/SATPDHF-WREA-20191012/index.jhtml?WT.mc_id=POG
Or Call Hilton Reservations:
800-HILTONS and refer to the group by name: Weichert Real Estate Affiliates or by Group Code: WREA
IF YOU ARE PLANNING TO COME IN EARLY OR STAY LATE and your dates fall outside of the room block, or if the room block is unavailable on certain days, we recommend calling to book using the phone number provided. Do not try to use the online link.
**Room block limited and is available on a first come, first served basis. Book early to take advantage of our negotiated rates! Once they're gone, they're gone. Room block is open through September 23, 2019 or until filled. Deposit is required. Reservations may be canceled up to 21 days before the event. Please read the hotel booking and cancelation policies on their site prior to booking.


AIRPORT INFO
The closest airport to the event hotel is the San Antonio International Airport. The airport code is SAT. The hotel is approximately 8 miles from the airport. It is an estimated 20 minute drive.
TRANSFERS AND TAXI
Taxis and shuttles are available at San Antonio International Airport. Estimated costs are available on the hotel website
DRIVING DIRECTIONS
Can be found on the hotel website.
PARKING
Self-parking is not available. See Valet rate on hotel website.
For more information about getting to the hotel, visit Hilton Palacio del Rio's website: http://bit.ly/2QGWYAA
COMING EARLY OR STAYING LATE?
There's lots to do in the San Antonio area, from restaurants and shopping to amusement parks to visiting the Alamo. For a list of things to do, visit the hotel website http://bit.ly/2Z4EhK9 or Trip Advisor site http://bit.ly/2ESlU3D



If I register for the event, does that mean I automatically have a hotel room?
No. You must register for the event and then make your travel arrangements separately. For Hotel information and to book rooms, please reference the reservation information provided above in the Hotel & Room Info.
What are my transport/parking options getting to the event?
See Travel Info section above.
Do I have to bring my ticket (printed or mobile) to the event?
Yes, this will expedite your check-in.
Where can I contact the organizer with any questions?
Please click the Contact button at the bottom of the registration site or refer questions to your Broker/Owner/Manager who can refer them to their WREA Regional Service Manager.
PHOTO RELEASE: Weichert Real Estate Affiliates, Inc. (WREA) reserves the right to use any photograph/video taken at any event sponsored by WREA, without the expressed written permission of those included within the photograph/video. WREA may use the photography/video in publications or other media, used or contracted by WREA, including but not limited to: brochures, flyers, invitations, newspapers, magazines, television, websites, social media, etc. By participating in or attending the 2019 Weichert Leadership Retreat or by failing to notify WREA in writing of your desire to not have your likeness used, you are agreeing to release, defend, hold harmless and indemnify WREA from any and all claims involving use of your picture or likeness.
NO REFUNDS WILL BE ISSUED AFTER 9/30/2019.