Description
(SOLD OUT AT EVENTBRITE. TICKETS ARE AVAILABLE AT TRIBECAPAC.ORG KEYWORD SEARCH = WORLD BBOY BATTLE)
The 2019 WBB Pro Bboy Championship Tournament is an exhilarating new fusion of Extreme Break-dancing, Sports and Music featuring World-Class Bboys performing choreographed jaw-dropping routines to win the world title.
The competition takes place on the Tribeca theatre stage enhancing the drama, suspense and thrills of this professional dance sport. This inspiring one-of-a-kind event shows the competitive spirit, amazing skills and great sportsmanship that defines the beauty and essence of the Bboy culture and promises to spark lasting memories in the hearts of children and adults alike.
This competition features renowned Bboy champions Victor and Thesis making a run at the championship title against a lineup that includes Loose Lee, Noe, Bugy, Flonetik, Pop Street, Grzlla, Valme, Boogie B, Dosu, Conan, Baby Rock, Gravedad and Bgirl Kate. Hosted by renowned Bboy pioneer Zulu Gremlin.

---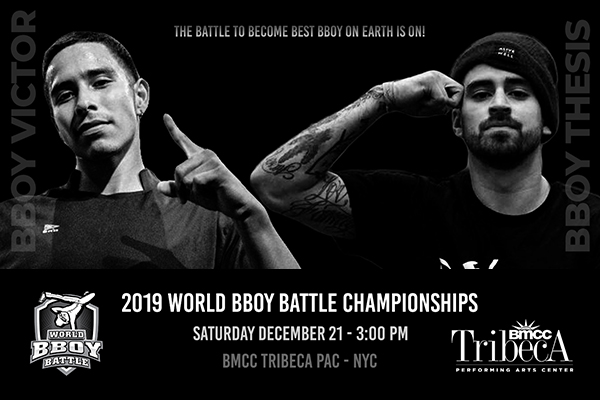 ---



---

---

---
MEDIA
For group and company discounts, and all inquiries, please contact Frankie "Sirswift" Hernandez at fh@worldbboybattle.com or call World Bboy Battle at (866)-255-5990 Ext#1
Pro Bboy Sports Championships, Extreme Break Dancing Championships, Extreme Bboy Sports, Pro Breaking Sports Championships, Biggest Extreme Bboy Sports Event