Description
Back to the Basics: Building a strong Foundation
2019 VUEWorks National User Conference & Training
Don't miss VUECON '19!
---
Wednesday, December 4th: Training Day

3 Levels of Training Courses, based on level of familiarity: Course Topics TBA SOON!
New User
New Administrator
Advanced Administrator
Thursday, December 5th - Friday, December 6th: General Sessions
Sessions to include:
Keynote address with CEO Allen Ibaugh, AICP, GISP
New Features & Enhancements
Client Showcase
Guided Breakout Sessions
... and much more!
Welcome Reception: Location TBA
Thursday, December 5th 6:00-9:00pm
Stay with the "Cool Kids": Group Rate Rooms
Download the Letter of Justification HERE
Invoiced Registration available! Email: knelson@dtsgis.com
Sponsorship Opportunities Available: Please contact Kathy Nelson, Client Engagement Coordinator.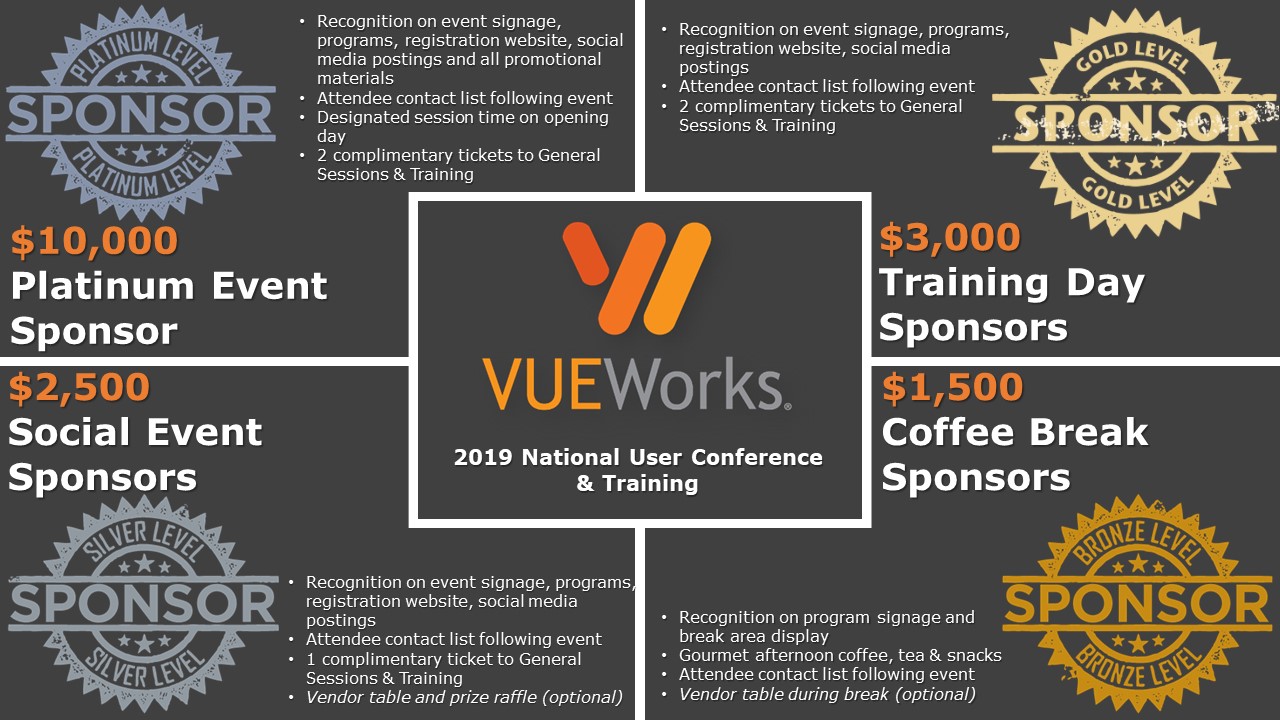 Platinum Event Sponsor $10K
•
Recognition on event signage, programs, registration website, social media postings and all promotional materials
•
Attendee contact list following event
•
Designated session time on opening day
•
2 complimentary tickets to General Sessions & Training
Training Day Sponsor $3K
•
Recognition on event signage, programs, registration website, social media postings
•
Attendee contact list following event
•
2 complimentary tickets to General Sessions & Training
Social Event Sponsor $2.5K
•
Recognition on event signage, programs, registration website, social media postings
•
Attendee contact list following event
•
1 complimentary ticket to General Sessions & Training
•
Vendor table/prize raffle (optional)
Coffee Break Sponsor $1.5K
•
Recognition on program signage and break area display
•
Gourmet afternoon coffee, tea & snacks
•
Attendee contact list following event
•
Vendor table during break (optional)