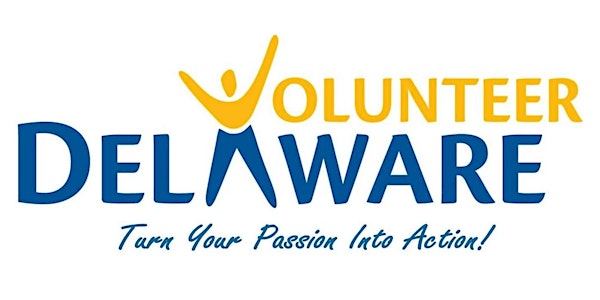 2019 Volunteer Delaware Conference
Location
Dover Downs Hotel and Casino
1131 N. DuPont Highway
Dover, Delaware 19901
Refund policy
Refunds up to 7 days before event
Description
2019 Volunteer Delaware Conference
Elevate Your Volunteer Leadership
The Delaware State Office of Volunteerism is once again presenting the annual Volunteer Delaware Conference.
---
Location: Dover Downs Hotel & Casino
1131 North DuPont Highway; Dover, Delaware
---
Keynote Address
"Elevate Your Day. Elevate Your Leadership. Elevate Your Community. Elevate Our World"
Keynote Provided by Barry Altland
Author, Speaker, Non-Profit Executive
A new era has arrived for leaders of Volunteer Engagement. Gone is the traditional views on volunteerism, community engagement and leadership, replaced with new and exciting ways for caring, compassionate community members to make a difference.
What must you as a leader of Volunteer Engagement know and do to play your role? How prepared are you to take your leadership "game" to the next level?
This open, interactive session will welcome many voices to the learning conversation as we share what you can do to make the most of your conference experience and your leadership role, thereby generating the greatest impact for your volunteers, your community and our world!
---
WORKSHOP Sessions
Morning Sessions 10:30 am – 12:00 pm
---
"Becoming a More Effective Learning Leader for your Volunteers"
Session Provided by Barry Altland
Author, Speaker, Non-Profit Executive
Many leaders of Volunteer Engagement are called upon to serve as a leader of learning sessions of all types for their Volunteers, but most have been ill equipped with the leading-edge knowledge, skill and acumen required to leverage adult learning theory and enhance the way their Volunteers grasp and apply new knowledge.
Simply stated, they are Volunteer Experts, but not Learning Experts.
Participants will embrace the importance of interactive learning that employs self-discovery and social learning principles, while relying less on traditional, didactic approaches to Volunteer learning.
Participants will learn about and be able to apply The Learner Engagement Model, a proprietary tool designed to guide the design and facilitation of interactive learning that models adult learning theory at its highest levels.
Participants will practice crafting open-ended questions, the single most powerful tool in their Learning Leader toolkit, to open learning conversation and invite multiple voices to contribute to a shared learning experience.
---
Measuring and Communicating Volunteer Impact
Session Provided by:
Beth Steinhorn- President, VQ Volunteer Strategies
Demonstrating results goes beyond counting the number of volunteers in your program and the hours of service they provide. This interactive workshop will explore trends and emerging tools designed to demonstrate quantitative and, more importantly, qualitative results that position volunteer engagement as a valuable and effective resource within your organization. Learn some of the latest metrics to track volunteer impact and gain tools to make the case for volunteer engagement as a vital resource.
---
National Service Opportunities in Delaware
Session Provided by:
Charles A. Harris - AmeriCorps *Delaware Program Director
Tara Wiggins - AmeriCorps *Delaware Program Officer
Does your organization have projects and priorities that you do not have the time or resources to accomplish?
Through programs that provide "human capital," for projects, planning grants, capacity building, research, volunteer recruitment, special one-time projects, and more…the Corporation for National and Community Service (CNCS) has a program that may be what you need:
AmeriCorps State and National

VISTA

National Civilian Community Corps (NCCC)

Senior Corps
State Office of Volunteerism staff will inform and explain in detail, potential valuable resources for your organization, as well as share service opportunities for individuals.
---
WORKSHOP Sessions
Afternoon Sessions – 1:15 pm – 2:45 pm
---
Navigating Sticky Situations:Effective Solutions for Everyday Challenges
Session Provided by:
Beth Steinhorn- President, VQ Volunteer Strategies
Volunteers who over commit and under deliver. Individuals who don't follow protocols – but never in front of you. Veteran volunteers who resist change. A colleague who resists working with volunteers. We all encounter sticky situations at some point. Add in the challenge of hundreds of unique personalities, and we are bound to encounter sticky situations on a regular basis.
In this workshop, learn how you can address some of the most common sticky situations and gain strategies to avoid similar situations in the future. Tips will include how to deal with difficult volunteers, take the emotion out of tricky conversations, and ensure that you and the organization's best interests are protected while getting the most out of volunteer contributions.
---
"What Does Volunteer Engagement Mean For You, the Volunteer?"
Session Provided by Barry Altland
Author, Speaker, Non-Profit Executive
So, you are here at a conference for Leaders of Volunteer Engagement, and you are thinking, "But, I am JUST a Volunteer." Let us work together to reframe your thinking! After all, you are a leader, too!
What expectations should every Volunteer have when they choose to engage with and serve alongside an organization? In what ways should a Leader of Volunteer Engagement serve you and your needs, wants and desires? What is their responsibility to you to help you "find your fit?"
This open, interactive session will seek to answer these questions and more as you, the Volunteer, share your voice in this lively learning conversation!
---
Resource Rescue
Assistance for Non-Profits
Session Provided by Delaware Association of Volunteer Administrators
Is your non-profit new or struggling for help? Let this panel from the Delaware Association of Volunteer Administrators come to your aid! Discuss ways to maximize your skills, to write grants, manage volunteers, or create and develop an Advisory Committee/Board of Directors, and expand your profile on social media via Facebook, Twitter, Instagram and others! This interactive workshop will set your course.
---
Service Project
Sleeping Mats for the Homeless Project
Supplies you should bring
Plastic bags (Walmart, Giant, Acme, Walgreens etc.)

Scissors or rotary cutter w/mat

Yard stick or tape measure

"N" crochet hook (metal works better than plastic)
If you do not use these bags you could ask your local stores for the bags from their recycle bins.
Sleeping mats are cut from plastic shopping bags into strips. Strips are then looped together into "plarn". The "plarn" is crocheted into the sleeping mats. Instructions are simple and will be distributed by an instructor. You can participate with this project even if you don't crochet.
All volunteers are welcomed!
---
Cost is $25.00
We are excited to announce that the fee for attending the 2019 Volunteer Delaware Conference this year is $25 per attendee due to a grant we secured for this special event. Not only will you have the opportunity to learn from nationally recognized speakers, every attendee will receive a complimentary book, Engaging the Head, Heart and Hands of a Volunteer" by Barry Altland, a T-Shirt along with other complimentary items. We look forward to sharing this special event with you and encourage you to invite your friends as well.
---
Conference Schedule
8:00 am – 8:55 am Registration, Networking and Breakfast
9:00 am – 9:10 am Welcome and Introduction of Keynote
9:15 am – 10:15 am Keynote Speaker
10:30 am - 12:00 pm Morning Sessions
12:15 pm -1:00 pm Lunch
1:15 pm - 2:45 pm Afternoon Sessions
3:00 PM - 3:30 pm Service Project
---
Find us at
To become a member of DAVA, visit www.davaweb.org and click on "Join Us"