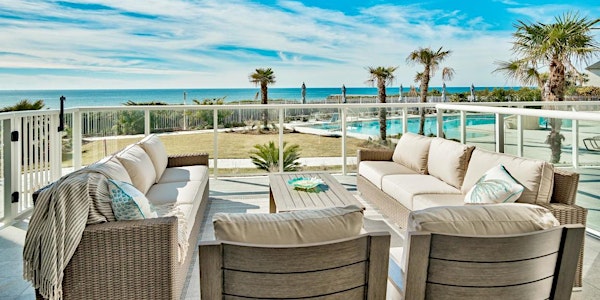 2019 Valentine Tour of Homes
Description
Valentine's weekend typically means romantic dinners and flowers for most, but for South Walton residents and visitors alike, it also signals the highly anticipated annual Valentine Tour of Homes presented by the Cultural Arts Alliance of Walton County. The tour is known for showcasing stunning interiors, architecturally acclaimed homes and picturesque settings bringing inspiration to tour goers' winter weekend at the beach.

This annual event will open the doors to several gorgeously designed South Walton homes to participants on Saturday, Feb. 16 from 10 a.m. - 4 pm and Sunday, Feb. 17 from 12 p.m. – 4 p.m.
This year's homes include...
Home 1
"HGTV Featured Home Built by Vern Yip"
384 W. Water Street
Rosemary Beach
Home 2
"Historic Lakefront Cottage"
205 South Lake Drive
Seagrove Beach
Homes 3 & 4
"Modern Gulf-front Condos"
3820 E. County Hwy. 30A
Units 106 and 201
Thirty One Condos in Seagrove Beach
Home 5
"Bayfront Boater's Dream"
195 E. Mitchell Avenue
Point Washington
Home 6
"Contemporary Waterfront Retreat"
1465 W. County Hwy. 30A
Blue Mountain Beach
Tickets are $35 and available online** as well as the following local ticket outlets, beginning February 7, 2019: Smith's Antiques in Destin, The Foster Gallery in Grand Boulevard Town Center, the Bayou Arts Center in Santa Rosa Beach, Sundog Books in Seaside, and the Hidden Lantern Gallery in Rosemary Beach.
Tickets will be $40 the weekend of the event.
All tickets are valid for the entire weekend with one entry per house. Please note that as most of these homes are privates residencies, they cannot be guaranteed as ADA compliant. Contact the CAA office in advance for questions regarding access.
**PLEASE NOTE** Online purchase receipts will need to be redeemed for a physical ticket at House #6 or #1 on the tour. Event goers will receive an email the week of the event with detailed instructions.