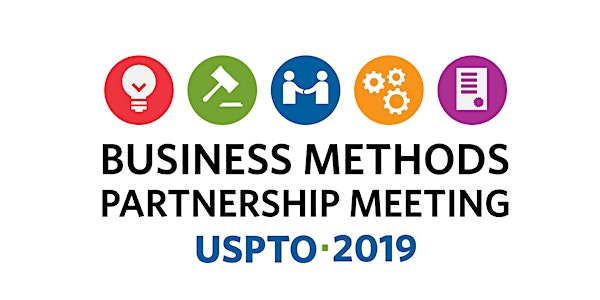 2019 USPTO Business Methods Partnership Meeting
When and where
Location
USPTO Madison Auditorium, Alexandria VA Terminal Annex Federal Building, Dallas TX
Description
United States Patent and Trademark Office Notification of Business Methods Partnership Meeting
The United States Patent and Trademark Office (USPTO) announces the 2019 Business Methods Partnership Meeting to be hosted by the Directors and Managers of the Business Methods workgroup. Members of the public are invited to attend. The Partnership Meeting is an opportunity to bring stakeholders together to share ideas, experiences, and insights and to provide a forum for an informal discussion of many topics specific to the Business Methods area.
The partnership meeting will jointly be held at the Alexandria Virginia Headquarters and the Dallas Texas Regional Office. Members of the public are invited to attend in person at either location. WebEx will also be available to allow individuals to participate remotely.
Sessions will focus on trends, current initiatives, and resources available to practitioners in the Business Method area. Additional sessions will focus on Interview Tips and Best Practices, Subject Matter Eligibility Training, Divided Infringement: Weak Link in Secure Blockchain IP Strategy, and an overview of the Office of Patent Quality Assurance.
Date:
April 2, 2019 from 10:00 AM - 4:00 PM EST / 9:00 AM – 3:00 PM CST
Location:
USPTO MADISON AUDITORIUM (NORTH), Concourse Level, Madison Building, 600 Dulany Street, Alexandria, VA 22313

Terminal Annex Federal Building, 207 South Houston Street, Dallas, Texas, 75202

WebEx
Prior to the start of the meeting, there will be a meet-and-greet event at each location in order to give stakeholders an opportunity to interact with Supervisory Patent Examiners, Quality Assurance Specialists, and the Directors in Business Methods. There will also be additional networking opportunities throughout the day.
Requests for Attendance at the Partnership Meeting:
Requests for attendance will be honored on a first-come, first-served basis according to the time and date of receipt of each request. In order to ensure a broad cross-section of attendees, the USPTO reserves the right to limit the number of attendees from any single organization or law firm. Therefore, organizations and law firms must designate their official representatives. Individuals will be notified of accepted requests for attendance by the USPTO no later than one week prior to the date of the meeting. Non-accepted requesters will also be notified by the USPTO. No one will be permitted to attend without an accepted request.