2019 U.S. Constitution Day and Panel

Wednesday, October 16, 2019 from 11:00 AM to 1:00 PM (CDT)
Event Details
FEATURED PANELISTS
Texas Attorney General Ken Paxton
Ken Paxton is the 51st attorney general of Texas. He was elected on November 4, 2014, and sworn into office on January 5, 2015.
As the state's top law enforcement officer, Attorney General Paxton leads more than 4,000 employees in 38 divisions and 117 offices around Texas. His first major initiative as attorney general was the formation of a special unit dedicated to combating human trafficking in Texas. During its first year of existence, the Human Trafficking and Transnational Organized Crime (HTTOC) section helped arrest the chief executive officer of Backpage.com, the largest online sex-trafficking marketplace in the United States.
Attorney General Paxton is focused on protecting Texans and upholding Texas laws and the Constitution. He graduated from Baylor University, where he served as student body president, earning a B.A. in psychology and an M.B.A. After receiving a law degree from the University of Virginia School of Law, he worked as an attorney at Strasburger & Price, LLP, in-house counsel for J.C. Penney Company, and headed up his own law firm for 14 years in McKinney.
Josh Blackman — South Texas College of Law Houston
Josh is Professor of Law at the South Texas College of Law Houston who specializes in constitutional law, the United States Supreme Court, and the intersection of law and technology. Josh is the author of the critically acclaimed Unprecedented: The Constitutional Challenge to Obamacare.
Josh was selected by Forbes Magazine for the "30 Under 30" in Law and Policy. Josh has testified before the House Judiciary Committee on the constitutionality of executive action on immigration. He is an adjunct scholar at the Cato Institute. Josh is the founder and President of the Harlan Institute, the founder of FantasySCOTUS, the Internet's Premier Supreme Court Fantasy League, and blogs at JoshBlackman.com. Josh leads the cutting edge of legal analytics as Director of Judicial Research at LexPredict. Josh is the author of over two dozen law review articles, and his commentary has appeared in The New York Times, Wall Street Journal, Washington Post, USA Today, L.A. Times, and other national publications.
Josh clerked for the Honorable Danny J. Boggs on the U.S. Court of Appeals for the 6th Circuit and for the Honorable Kim R. Gibson on the U.S. District Court for the Western District of Pennsylvania. Josh is a graduate of the George Mason University School of Law.
Harold R. DeMoss Jr.
Harold R. DeMoss Jr. is a former Judge of the United States Court of Appeals for the Fifth Circuit. Judge DeMoss was nominated to the United States Court of Appeals for the Fifth Circuit by President George H.W. Bush on June 27, 1991. The American Bar Association rated DeMoss Unanimously Qualified for the nomination. Hearings on DeMoss' nomination were held before the United States Senate Committee on the Judiciary on September 26, 1991, and his nomination was confirmed by the unanimous consent of the U.S. Senate on November 27, 1991, and he received his commission on December 2, 1991. DeMoss assumed senior status on July 1, 2007.
A native of Houston, Texas, DeMoss graduated from Rice University with a Bachelor of Arts degree in 1952 and the University of Texas School of Law with a Juris Doctor in 1955. After serving in the United States Army from 1955 to 1957, he joined the Houston law firm Bracewell & Patterson, where he became a partner and remained until his appointment to the bench.
Charles C. Foster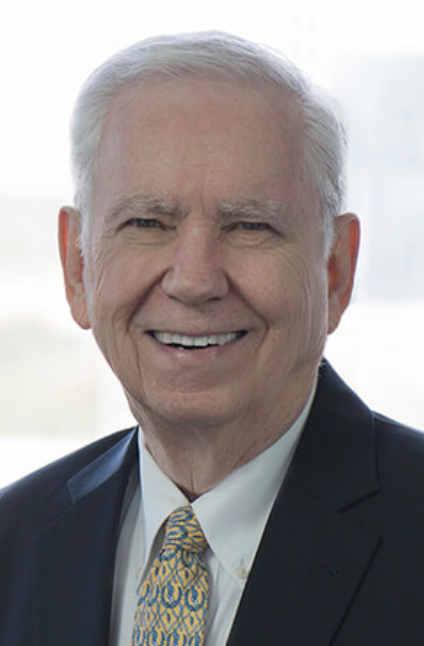 Charles C. Foster is the chairman of Foster LLP based in Houston and has been recognized as a Best Lawyer in America, Chambers USA Senior States people, Who's Who Legal, and Corporate Immigration Thought Leader. His practice focuses on representing multinational companies and foreign investors regarding U.S. immigration law.
Charles received both his J.D. and undergraduate degree from The University of Texas at Austin. He lectures frequently before legal, academic, and professional organizations in Texas and throughout the United States and has published numerous articles on U.S. immigration law.
He served as a senior immigration policy advisor to President George W. Bush in the 2000 and 2004 presidential campaigns and as an immigration policy advisor to Barack Obama in the 2008 campaign.
He is the Honorary Consul-General for the Kingdom of Thailand.
Save This Event
When & Where

The Ballroom at Bayou Place
500 Texas Street
Houston, TX 77002


Wednesday, October 16, 2019 from 11:00 AM to 1:00 PM (CDT)
Add to my calendar
Organizer
The Downtown Rotary Club of Houston is a 501 (c) organization meeting twice each month for social fellowship and service. Join us and be a part of something big!  
Our members are committed to the ideals of Rotary International® and are dedicated and invested in making Houston, Texas, and the world a better place for all and…to have fun doing it. The Downtown Rotary Club of Houston membership is open to men and women who are recognized for their leadership, want to be socially active and dedicated to community service. No individual may join Rotary on their own.
A current member of the Rotary Club of Houston Downtown must sponsor an individual for membership and subsequently that individual must be approved by the Downtown Rotary Club of Houston Board of Directors. Guests of members are welcome to visit the club to learn more about Rotary and our community and worldly involvement.