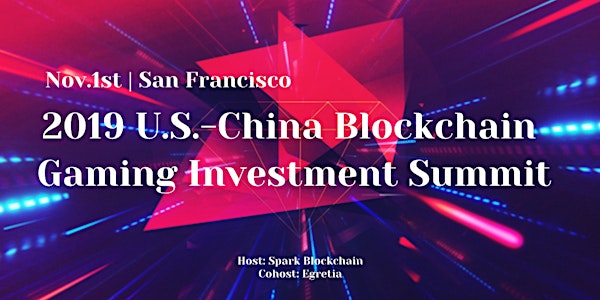 2019 U.S.-China Blockchain Gaming Investment Summit SF
DON'T MISS OUT!
When and where
Location
Mind The Bridge Innovation Center 450 Townsend Street San Francisco, CA 94107
Refund Policy
Contact the organizer to request a refund.
Eventbrite's fee is nonrefundable.
About this event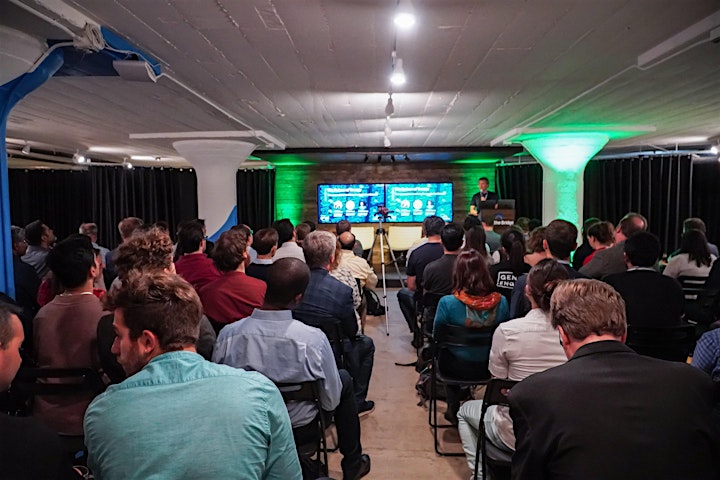 When blockchain technology met gaming, the potential growth bring the both industry to a more dynamic era. Innovations in the field of blockchain gaming have pushed the limits of NFTs and other gaming assets to become the frontier of the imagination.
With the massive growth of the gaming and blockchain industry, what is the most excited topic today? What are the opportunities for the gaming and blockchain? What are the difference point of views from Asian Market?
2019 U.S.-China Blockchain Gaming Investment Summit is focusing on the gaming industry during the San Francisco Blockchain Week #SFBW19. The summit will attract more than 150 industry leaders and enthusiasts from China and U.S., including top developers, designers, publishers, game communities, projects, institutional investors, and more.
The summit will focus on the new applications in the industry, providing a forum for people to share inspiring insights and present excellent projects, enhancing the communication between different fields. The event will cover popular topics, such as the status quo of traditional and blockchain gaming industry, digital assets, game design, distribution, and promotion.
Focus on Adoption
Discuss the most popular topics associated with gaming and blockchain, including digital assets management, game design, and distribution, future of blockchain games.
Explore Potentials
Explore the best projects in the gaming industry, keep informed of the trend, and find unparalleled investment opportunities.
Connect Resources across the Globe
Break the barriers between the gaming and blockchain industry, connect the best resources in different countries and help you expand the global market.
Speakers & Agenda:
1:00 PM - 1:30 PM Check-in
1:30 PM - 1:45 PM Keynote Speech
How to Make an Investment in Gaming Industry
- Miko Matsumura, GP of Gumi Cryptos
1:45 PM - 2:00 PM Keynote Speech
The U.S. & China Blockchain Gaming Industry in 2020
- Zhen Cao , Partner at JLAB
2:00 PM - 2:15 PM 2019 Egretia Global DApp Contest Info Session
2:15 PM - 2: 45PM Panel : How to Build Business Model and Boost Revenue
- Mo Dong, Co-Founder of Celer Network
- Simon Zhu, CEO at BitMovio
- Illia Polosukhin, Co-Founder of NEAR
- Haotian Li, Listing Director of OKEx
2:45 PM - 3: 15PM Panel : Blockchain Game Assets & NFT Opportunity
- Joe Zhou, CEO of FirstBlood
- Jesse Liu, Marketing Director of Ontology
- Victor Fang, Founder & CEO of AnChain.ai
- Andrea McGinty, COO of BLOCKADE GAME
3:15 PM - 3:45 PM Panel: New Opportunity in Gaming Market
- Xiahong Lin, Partner of Continue Capital
- Yubo Ruan, Founding Partner of 8 Decimal
- Qi Zhou, CEO of QuarkChain
- Jay Chen, Managing Director of Krypital Group
3:45 PM - 4:15 PM Panel Three: Innovation for gaming industry
- Yunpeng Ding, BD Director of GXChain
- Devin Finzer, Co-Founder at OpenSea
- Tong Shen, CEO of Block Kingdom
- Garrett Kinsman, Cofounder of Nodle
Host: Spark Blockchain
Spark Blockchain is leading blockchain consulting and incubation service provider in North America. Headquartered in Boston, it radiates its influence through NY, LA, SF, China, ASEAN, etc. Since its establishment, it has quickly established a leading position in North America's blockchain community and has established great cooperative relations with top-tier projects and investment funds in China, and the United States.
Cohost: Egretia
The 2019 Egretia Global DApp Contest is the first development competition designed for the HTML5 developers build on top of the Egretia platform. The Contest is planned to launch on October 1st 2019 and will be open to global developers applying EGT, Egretia's digital token, for in-game payment in their DApps.
Strategic Partner:
8 Decimal, Gumi Crypto, Continue Capital, U.S.Blockchain, Block Kingdom, BitShares, Blockchain Gaming Center, Krypital Group, JLab, Celer Network, QuarkChain, NEAR Protocol, Cocos-BCX, BitMovio, OpenSea, FirstBlood, AnChain.ai, GXChain, Ontology, Subdream, BLOCKADE GAME, Nodel, OKex.
Media Coverage:
Reuters, Yahoo Finance, Market Watch, CCN, UseTheBitcoin, Crypto Ninjas, TheStreet, MoringStar, Jinse Finance, Mars Finance, ChainNews, Gaming Report, Blockchain Gaming Journal