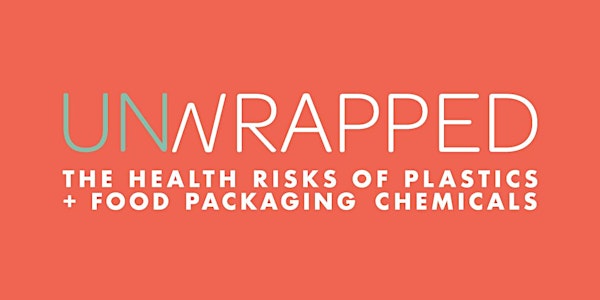 2019 UNWRAPPED: The Health Risks of Plastic and Food Packaging
Event Information
Location
1400 Multiversity
800 Bethany Drive
Scotts Valley, CA 95066
The UNWRAPPED conference- translating the scientific evidence that food packaging threatens human health.
About this event
Chemicals leach from food packaging and people ingest nano- and microplastics with their foodstuffs. But what are the human health risks? Together, we explore the science and plan action to protect public health.
Join us for the UNWRAPPED conference June 12-14, 2019. Two and a half days of jam-packed, interactive sessions designed to educate and energize participants about food packaging chemicals and plastics. Located at the state-of-the-art 1440 Multiversity venue in redwood-forested mountains near San Francisco, this international convening will bring scientists, advocates, journalists, science communicators and government agency representatives together to examine the health threats of food packaging.
Leading scientists will release a consensus statement about the health risks of chemicals in food packaging. Journalists will discuss best practices for translating science to effect systemic change. Strategy sessions will foster collaborative science-based solutions among scientists and advocates, toxics and plastic pollution advocates, leaders in medicine and public health, and companies seeking to provide safer products. Participants will leave empowered to use their understanding of the science on how chemicals in food packaging threaten human health.
Your invite is exclusive to you!
This event is by invite only. Please find your code on your invitation. Please contact the UNWRAPPED Conference committee at unwrapped@upstreamsolutions.org to request an invitation or if you have questions.
Accommodations
Information about reserving rooms at the fabulous 1440 Multiversity will follow after you have registered for the conference with rooms ranging from $241 to $495 per night including meals.
Transportation
Do you need transportation to and from the event? Buses will be picking up and returning participants from downtown San Francisco and the San Francisco International Airport. Departure time will be approximately 2:30pm on June 12th and return will be after the conference at 5:00pm. Travel time between the airport and the conference venue is approximately 1.5 to 2 hours. Please indicate on the ticket form if you are interested and we will follow up with you.
Questions?
Please contact unwrapped@upstreamsolutions.org
Date and time
Location
1400 Multiversity
800 Bethany Drive
Scotts Valley, CA 95066