Description

UCL Neuroscience Symposium - 10th Anniversary
#UCLNeuroDomain
Now in its 10th year, the renowned UCL Neuroscience Symposium is a fantastic opportunity to find out more about the latest research in neuroscience at UCL. With over 800 UCL Neuroscientists expected to attend, delegates will have the chance to create new cross-disciplinary links and foster collaboration between basic and clinical researchers.
We are delighted to announce that Professor Li-Huei Tsai from the Picower Institute for Learning and Memory, MIT will deliver the keynote address with a talk on 'Network level approaches to studying Alzheimer's Disease' .
To mark the 10th anniversary of the event and to close the symposium, there will be will be a panel discussion around the theme of 'The Future of Neuroscience', replacing the usual afternoon keynote. Members of the panel can be found below. .
There will be two large poster sessions which will feature over 120 research posters.
POSTER SUBMISSIONS ARE NOW CLOSED.

The Jon Driver Prize for young scientists closes on Wednesday 1 May - see below for more details.
For more information on the 2019 UCL Neuroscience Symposium contact Maya Sapir
---
Keynote Speaker
Speakers


Panel Members
---
Programme
8.15am - Registration
9.00am - 5pm - Talks
5pm - 6pm - Drinks Reception
The full programme is available here: Programme (pdf)
---
Early Career Neuroscience Prize
Each year the UCL Neuroscience Domain presents the Early Career Neuroscience Prize to two UCL neuroscientists. The prize aims to recognise outstanding work published in the past year by early career UCL neuroscientists in any field of neuroscience.
Winners will receive a prize of £750 and are given the opportunity to present their work at the annual UCL Neuroscience Symposium.
The deadline to apply is 5pm on Monday 18 March 2019.
Full details on how to apply are available here
---
Poster Submission - NOW CLOSED.



All attendees were eligible to submit posters when registering to attend but due to limited space this is on a first come, first served basis. You will be notified by Friday 10 May if your poster has been accepted.
There will be a prize for the best research poster. All research posters submitted will be considered and a short list will be judged on the day. More details will be given closer to the event day.
Please note the following details in order to ensure you submit correctly:
Poster submission is part of the registration process, no posters will be accepted on the day that have not been submitted in advance
All poster details must be complete at time of registration, you will not be able to add information to your submission once you have completed registration

Details required for submission are:

Poster type (research or lab poster)

Poster category

Poster title

Poster authors

Poster abstract (200 words)

The deadline for submitting posters is Monday 22 April, 5:00pm.

Poster submitters will be notified by Friday 10 May if their poster has been accepted or not.
Research Poster Themes:
Developmental Neuroscience

Neural Excitability, Synapses, and Glia: Cellular Mechanisms

Disorders of the Nervous System

Sensory and Motor Systems

Homeostatic and Neuroendocrine systems

Cognition and Behaviour,

Novel Methods, Resources and Technology Development

Other e.g. history of neuroscience, public awareness of neuroscience, resource posters
Size:
Poster boards are A0 portrait (841mm wide x 1189mm high). All posters must fit in this space. We regret that we cannot accept any landscape posters wider than 841mm.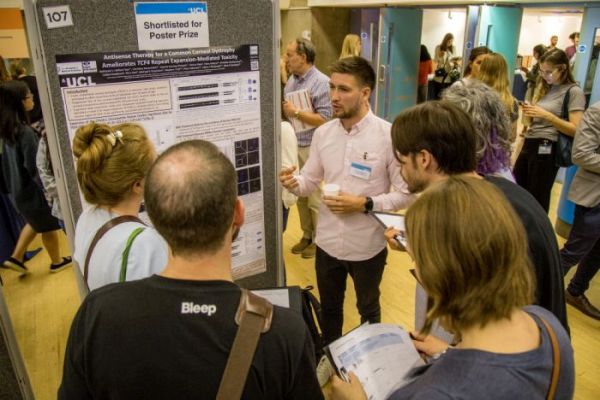 ---
Jon Driver Prize - Deadline Wednesday 1 May

To honour the memory of Jon Driver, an annual Prize will be awarded to outstanding young neuroscientists from UCL. Awards will be announced at the UCL Neuroscience Symposium in June. Winners will be asked to give a short presentation of the work that the award was given for.

Details on eligibility and how to apply can be found here:
https://www.ucl.ac.uk/research/domains/neuroscience/research/jondriverprize/index

Deadline: Wednesday 1 May
---
Sponsors
We are immensely grateful for the support of all our sponsors:
Gatsby Computational Neuroscience Unit at UCL
Sainsbury Wellcome Centre for Neural Circuits and Behaviour
UCL Business
UCL Division of Biosciences
UCL Division of Psychiatry
UCL Ear Institute
UCL Faculty of Brain Sciences
UCL Institute of Neurology
UCL Institute of Ophthalmology
UCL Psychology and Language Sciences
UCL School of Pharmacy
UCLH Biomedical Research Centre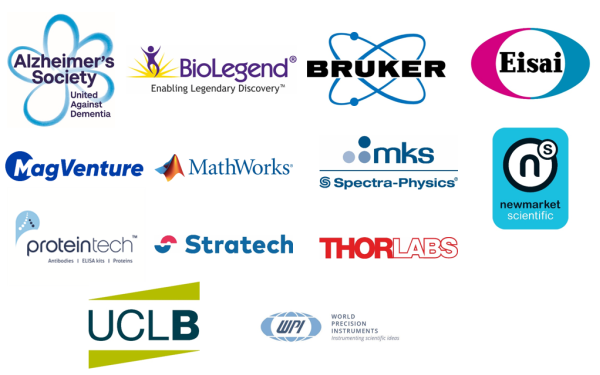 ---
Important Points to Note
Attendees
This meeting is open to all researchers (PhD students, postdocs, research associates and Principal Investigators) working on any aspect of neuroscience within UCL, or partner NHS organisations (UCLH, Moorfields Eye Hospital, Great Ormond Street Hospital, Royal Free Hospital, associated Mental Health Trusts).
Due to the popularity of the event, entry is only guaranteed for those that have pre-registered.
A limited number of tickets will also be made available to:
UCL BSc/MSc students on neuroscience-related courses;

Neuroscience colleagues with affiliation to the Francis Crick Institute.
To confirm authenticity of your registration, please use your UCL/NHS email address when registering (i.e. do not use gmail, hotmail etc).
If you are affiliated to the Francis Crick Institute please use your primary organisation's address.
Access
We want to make this event as inclusive as possible.
Access to the UCL Institute of Education and all the event space (on Level One) we will be using within it are step-free, with enough room to manouevre wheel chairs and mobility aids
The main lecture theatre (the Logan Hall) has a hearing assistance system
There are nearby accessible toilets
We can provide for a range of dietary requirements
Please let us know when registering if you have any access or dietary requirements so we can try to make reasonable adjustments. Alternatively you can email Maya Sapir or call 0207 649 8009.
View the full Accessibility Guide for the UCL Institute of Education
Photography
There will be photographs taken during the symposium. In registering for this symposium you are agreeing that your image may be used in future UCL promotional material.
CPD
This is not an accredited Continuing Professional Development (CPD) event but the learning hours can be logged as part of your CPD record. A certificate of attendance is available to all attendees via UCL Life Learning for the purpose of recording learning hours. Please contact Maya Sapir after the Symposium if you would like a certificate.
Sponsorship
If you wish to sponsor this event and exhibit at the trade exhibition, please contact Maya Sapir for more information about sponsorship opportunities available.
Privacy
We are collecting your name, email address, job information, and information about any dietary requirements and access requirements in order to administer your event attendance. Your data will be used by the conference planning team solely for the purpose of managing the UCL Neuroscience Symposium.
Please refer to our Event Attendee Privacy Notice for more information.
Please note that Eventbrite is a third-party service that is not owned or managed by UCL. You should refer to Eventbrite's terms and conditions of privacy policy as we do not accept any responsibility or liability for their policies.
Eventbrite operates in the USA and subscribes to the EU-US Privacy Shield, which commits subscribers to adhering to European standards of data protection. For further details, please see:
If you wish to attend one of our events but do not wish to register via Eventbrite, please contact Maya Sapir.
The UCL Research Coordination Office will remain responsible for your personal data as data controller and all queries should be directed to RCOcomms@ucl.ac.uk.
Cancellation Policy
Notice of cancellation must be given by email to Maya Sapir by Friday 7 June at 5pm
If you fail to send a notice of cancellation to organisers by Friday 7 June we will request a £10 cancellation fee from the department account string specified on your registration form.
We will accept name changes for attendees. Please inform Maya Sapir 10 working days prior to the event on 020 7679 8009 (Internal: 8009) or email.
If name changes aren't notified 10 days in advance a name badge cannot be guaranteed for the alternate attendee.
Contact
If you have any questions about the event please contact Maya Sapir.
---