2019 UAS DRONES Disaster Conference Miami presented by Motorola Solutions
Sales Have Ended
Ticket sales have ended
Thank you for your interest in the 2019 UAS DRONES Disaster Conference presented by Motorola Solutions. Ticket sales have now ended. Please contact cnascimento@airt.ngo for additional information.
Sales Have Ended
Ticket sales have ended
Thank you for your interest in the 2019 UAS DRONES Disaster Conference presented by Motorola Solutions. Ticket sales have now ended. Please contact cnascimento@airt.ngo for additional information.
Description

Conference Description

Hurricane Florence, Hurricane Michael. Two storms that wreaked havoc across large portions of the Southeastern U.S. in 2018.

Florida International University in Miami is home to the National Hurricane Center, and it is also home to our flagship UAS DRONES Disaster Conference presented by Motorola Solutions.

You won't want to miss year two of the landmark UAS DRONES Disaster Conference that started it all. Join us as we explore the advancements made in unmanned aircraft systems and related technologies for public safety and disaster management. Educational workshop panels combined with live flight demonstrations will highlight the latest strategies, tactics, and technology in the marketplace.

Parking, lunch, and refreshments each day is included in the conference price.

This is a second-year event scheduled to be in extremely high demand by attendees. We strongly advise that interested attendees secure their conference pass early using our eary bird pricing offer to attain maximum savings.

As an attendee at #UASDISCON19, you will join a select group of professionals who are striving to achieve excellence in the emerging realm of unmanned systems and public safety.


---

*** Special "MOTO Pass" Pricing from Motorola Solutions for Public Safety and Emergency Management Professionals ***

Credentialed public safety and emergency management professionals are eligible for special 50% discounted pricing on the normal conference pass price. This special "MOTO Pass" offer is presented by Motorola Solutions to help educate first responders and emergency personnel about the latest unmanned aviation solutions for public safety and disaster response. Public Safety "MOTO Pass" ticket holders must present professionals credentials upon arrival at conference.

---
Conference Attendee Profile
Leaders, Planners, Operators.

Law Enforcement, Police


Fire, Search and Rescue


Emergency Medical Services

Government and Emergency Management

Academia

Industry and Non-Governmental Organizations
---
Attendee Benefits
Public Safety, Emergency Management, Disaster Response

Learn first-hand from experts using UAS for public safety and emergency management operations.


Meet thought leaders, solutions providers, and other stakeholders for 1-to-1 interactions in VIP setting.


Expand your network of UAS subject matter experts and solution providers.


Experience live flight demonstrations of cutting-edge UAS technology at on-site test range.


Support AIRT, 501(c)3 non-profit, NGO focued on airborne public safety and disaster aid.


---
Content Program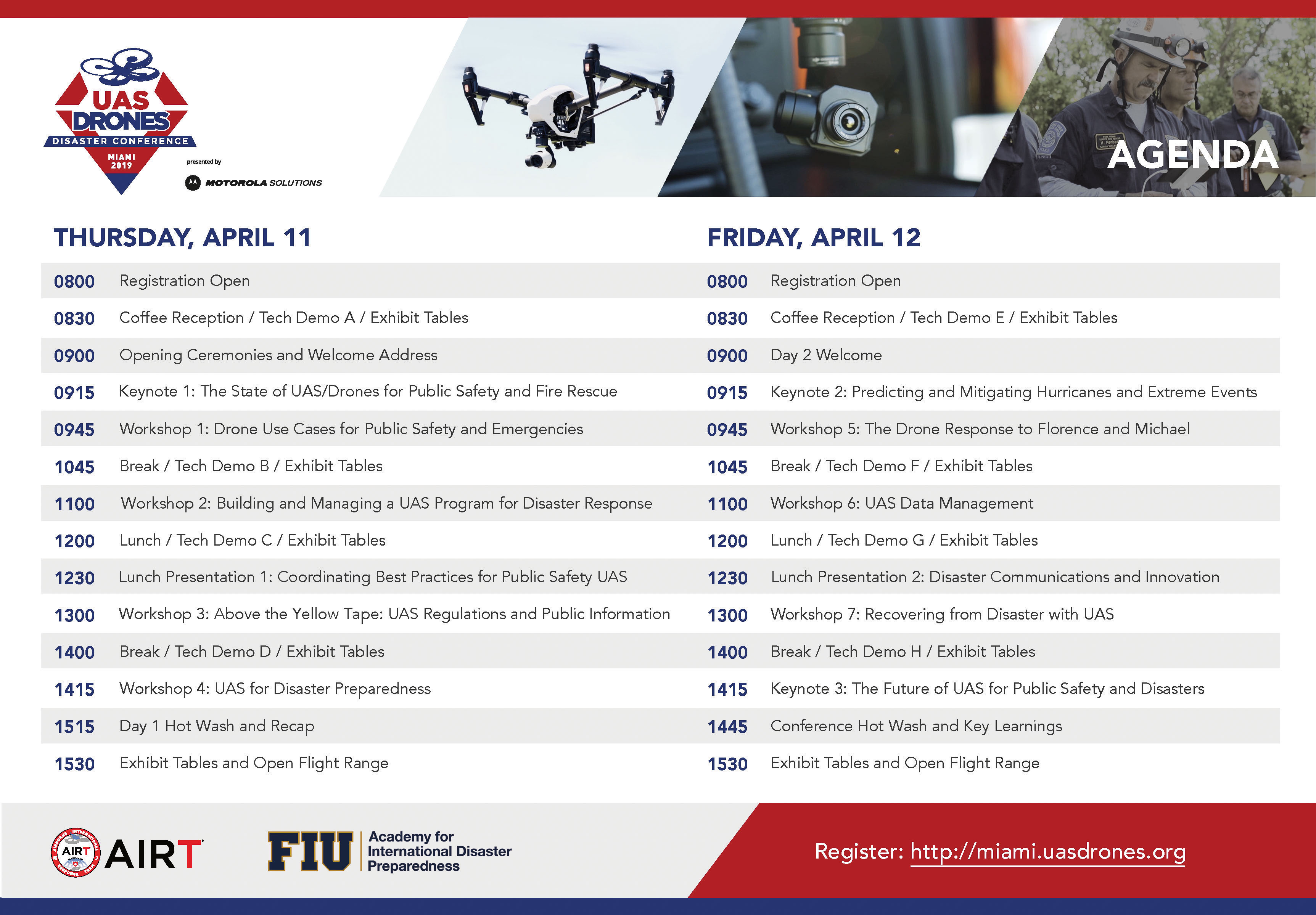 For updated agenda, visit UASshows.org



UASDISCON will cover essential UAS public safety topics, including:
The current landscape of UAS for emergencies and disaster response.

The legal, regulatory, political, and public opinion environment surrounding public safety UAS operations.

Tips for starting and growing a professional UAS aviation operation for your organization.

UAS use cases for public safety and emergency management.


The strategies and tactics should you use for your organization's UAS program.


---


Notes
1) The two-day conference will feature keynote speakers, panel moderators, and panel speakers in a compelling, educational workshop format.
2) Cutting-edge solution providers will display the latest unmanned aircraft systems and associated technology during the conference.
3) Live flight demonstrations showcasing the latest UAS technology will take place between sessions at our on-site test range only steps away from the confernce floor.

4) Register now to secure your spot a this limited-capacity technology and training conference.
5) Coffee breaks, lunch, educational sessions and demonstrations included in the registration fee.


---
Credit Card Details
1) Please advise us if your credit card was issued outside of the United States as our payment processor will not be able to authorize the transaction.
2) If you are unable to register using a credit card, please contact Claudia Nascimento at cnascimento@airt.ngo or Martha Donato at mdonato@uasdrones.org and we will make arrangements for your payment by check or PayPal.


---
Conference Beneficiary and Sponsorship Information

Proceeds from the UAS DRONES Disaster Conference presented by Motorola Solutions will benefit AIRT, INC., a Florida-registered 501(c)3 non-profit, non-governmental organization that provides innovative airborne capabilities to help people and organizations prepare for, respond to, and recover from complex emergencies and major disasters.

For more information about AIRT, please visit http://airt.ngo
For additional information including sponsorship and exhibitor information, please visit www.uasshows.org